Roy Orbison Backup Band Personnel
In the early 1950s, Roy was backed on stage by his Wink Westerners. Then, by the Teen Kings who also often backed up Warren Smith. When the Teen Kings broke up, in December 1956, Roy used the Sonny Burgess Band and the musicians that were part of the Stars Inc. package tours. Then, backed up by pick-up groups until he was joined by the Candy Men in 1961. The Art Movement performed with Roy from the late 1960s to Mid-late 1970s.
Candy Men: Dewey Martin - drums, Robert Nix - drums, Bobby Goldsboro - guitar, Barry Booth - piano, band director, Paul Garrison - drums, Billy Sandford - lead guitar, Billy Gilmore - bass, John R. Atkins - guitar,
The Art Movement: Billy Dean: guitar, Roger Bryan: guitar, Keith Headley: piano, Terry Widlake: bass, Bob Munday: drums, John Switters: percussion
Late 1977 to 1981: Ron Price: guitar, Chris Price: guitar, Reg Price: keyboards, Don Price: bass, Eric Price: drums, Terry Elam: percussion
1980s: Bucky Barret: guitar, Jim Cook: guitar, Jim Kirby: keyboards, Terry Elam: percussion, Jim Johnson: bass, Marshall Pearson: drums, Susan Benett: vocals, Barbara South: vocals, Richard Law: vocals
Trader-Price + Ron Price Lead Guitar, Roy Orbison 1977-1981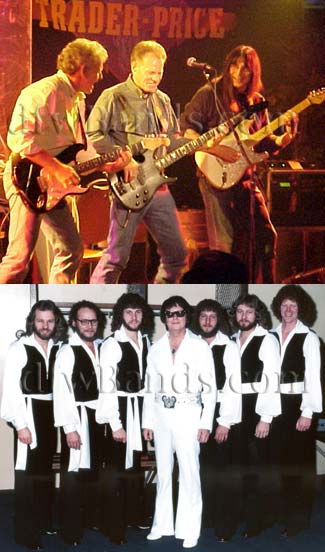 Trader-Price's combination of impeccable harmonies and energized performances has won the hearts of music fans and inspired the support of fellow performers like Reba McEntire and the late Roy Orbison. The band is a uniquely talented, self-contained group whose members are not only great singers but excellent musicians and songwriters as well.

Trader-Price consists of Chris Price on guitar, brother Dan on bass, and brother Erick on drums. Keke Johnson handles the lead guitar work. Chris sings lead and all the brothers sing harmony. Dan, Chris and Erick formed a band while in college, and after a move to Nashville, Roy Orbison heard one of their demo tapes and took them under his wing. The band toured and wrote with Roy for five years, and one of the songs that came from that interval was Orbison's 1981 Grammy-winning duet with Emmylou Harris, "That Lovin' You Feelin' Again," which Chris co-wrote with Orbison. The Prices returned to Oklahoma to build a recording studio and concentrate on their own careers, and became friends with a steel guitar player named Narvel Blackstock who was playing in the band of up-and-coming Reba McEntire. In 1989, Blackstock, who was by then Reba's manager and husband, inquired about the Price brothers material and they answered with a demo tape. Their debut album, which included the single "Sad Eyes", a remake of Robert John's pop hit, was followed by the hit video of their own song "Lately Rose."

1992 found the group on a two-month engagement with a tour line based from Helsinki, Finland. Their experiences included making fast friends in Finland and the newly independent Baltic Republic of Estonia, and introducing Scandinavians to modern country music. Although the music was unfamiliar, the Trader-Price trademark of harmony vocals won them acclaim on that side of the world. As live audiences and radio audiences have discovered, Trader-Price's unique combination of talent in singing, songwriting and musicianship makes them one of country music's most impressive and entertaining groups.
Ron Price - Lead Guitar Roy Orbison, Second From Left In Bottom Picture.
Ron Price - Lead Guitar, Second from left seen in bottom picture with Roy Orbison dressed in White. Ron Price was a member of The Good-News Band 1972-1973. Good-News Band Personnel: Ron Price - Lead Guitar & Vocals, Linda Edmond - Vocals, Bob Brenner - Bass & Vocals, Danny Piano Chesnut - Hammond Organ, Piano & Vocals, John Morgan - Campco Drums Factory Artist, Drums & Vocals.
Click Here For Return To Link Page