"Tom Malone b. Honolulu, Hawaii June 16, 1947"
(Musician Extraordinaire With: Blues Brothers, Late Night Letterman, Gil Evans, Brenda Lee, Saturday Night Live Band, John Belushi and Dan Aykroyd, Les Elgart, The Supremes, ,Stevie Wonder Marvin Gaye, The Temptations, Gladys Knight and the Pips, James Brown, Pink Floyd, Paul Simon, Diana Ross, Frank Zappa. Stevie Winwood, Ray Charles, James Brown, Sam & Dave, The Band, and Warren Covington & The Tommy Dorsey Orchestra, See Complete List At Bottom )
Ten Questions with Tom "Bones" Malone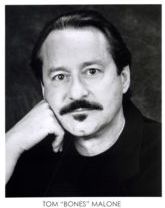 How did you begin in music?
I started on the violin when I was five years old...weekly lessons and kiddy orchestras. I gave up at age ten to play the tuba in the marching band.
Why is music important to you?
Music always interested me for some reason. I remember when my parents purchased their first record player when I was four. I would play "war" with my toy soldiers to 1812 Overture by Tchaikovsky. My mother always encouraged me. Music is all I have ever done.
You play a number of instruments ranging from trombone to baritone sax to piccolo. How many different instruments do you play on a regular basis? How do you manage to balance performing at a high level on so many different instruments?
I play piccolo, flute, alto flute, soprano sax, alto sax, tenor sax, baritone sax, piccolo trumpet, trumpet, flugelhorn, bass trumpet, euphonium, trombone, bass trombone, tuba, electric bass and synth programmer. I play them all professionally. I also arrange music and produce records. I do not practice as much as I should, so I try to get the most out of each hour of practice. There is quite a bit of "carry-over" from one brass instrument to the next. Fifteen minutes on the piccolo trumpet does wonders for the corners of the embouchure which helps all of the wind instruments. I would play much better if I practiced more. Practice is the only way to improve.
What advice can you give to someone wanting to perform on more than one brass instrument with different sized mouthpieces? Is there a "formula" you can use to choose the right mouthpieces for each instrument?
Choose a mouthpiece that works for you. Center your embouchure so that the mouthpiece placements form "concentric rings" (Maynard Ferguson). Do not overblow, and don't play too loud in the upper register of the trumpet. This may cause a "stretching" of the skin of the upper lip that vibrates. This type of damage will affect your ability to play the other brass instruments. Also, do not use extreme pressure of the mouthpiece on the lips.
Breathing is the most important aspect of playing and/or doubling on brass or woodwinds. Most trombone players who attempt to play the trumpet put too much air into the trumpet. The trumpet only requires half the air of the trombone. Conversely, most trumpet players who attempt to play the trombone do not put enough air into the trombone. It took me many years to understand this concept. Similar analogies can be made towards playing the saxophone family, clarinet family and flute family.
My first brass instrument was the tuba. Playing the tuba is a lesson in itself on breathing!
Select a mouthpiece appropriate to the type of sound you want and the register you want to play in. Larger, deeper mouthpieces produce a great sound, but require a powerful embouchure for sound, range and control. I play the Bach 6 1/2 AL mouthpiece on a Bach 16M trombone. This mouthpiece is a little larger than most commercial musicians play, most play 12C mouthpieces and smaller trombones like Bach 12 or King 2B or Conn 6H. The Bach 6 1/2 AL opens up my sound...I only recommend this mouthpiece to trombonists who are willing to put in the time. When I was younger I practiced all the time.
While an undergraduate at North Texas State, you played weekends with Les Elgart, The Supremes, Little Stevie Wonder, Marvin Gaye, The Temptations, and Gladys Knight and the Pips, to name a few. How did you get your "break" into playing with these groups?
My first "big-time" gig was playing lead trumpet with Brenda Lee at a club in Jackson, Mississippi when I was in college in Hattiesburg. The gig was six nights (Monday thru Saturday). I always passed out after playing a big, long high C in the middle of the show, but I always hit the note. I had to hitch-hike back and forth to Jackson every night as I was going to class every day. Every night from 2:00AM to 6:00AM I was waiting on the side of the road for a ride. I spent this time evaluating the music business. The gig paid $16 per night.
I joined the musicians' union in Jackson and started working with local bands up there. Jerry Lane, an older trombone player, was one of these bandleaders. Jerry contracted a big band for a gig in Louisiana led by Warren Covington. The band was billed as The Tommy Dorsey Orchestra. Warren liked the way I played. The next time he needed a band in the Mississippi area he called me to contract. I put together a great band of musicians from Jackson, Hattiesburg, and New Orleans.
The following year I transferred to North Texas State University. Warren continued to use me as a contractor for his band in the Texas-Oklahoma-Lousiana area. Warren gave my name to other big band leaders in New York area who needed bands for gigs down south. I became established as the contractor for North Texas State musicians. A typical gig was in Houston (300 miles away). We would load up four cars with musicians and instruments, drive to the gig, sight-read the charts (no rehearsal) and drive back that night just in time to go to class at 9am. This is how I got myself through college.
Some Motown acts from Detroit got my name from Leon Breeden who was the Lab Band director at North Texas at the time. I put together big horn sections for several mini-tours.
I drove into Dallas twice a week to record radio commercials and station ID's. I played with the Ringling Brothers Circus, Fort Worth Rodeo and Ice Capades while still in college.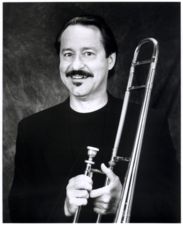 When you were in the Saturday Night Live Band, you met up with John Belushi and Dan Aykroyd, and you had a hand in the deveopment of the now famous "Blues Brothers." How did the "Blues Brothers" come to be?
I was arranger for the Saturday Night Live show in the late 1970's. One day I got a call to meet with Danny and John to discuss an arrangement for a comedy skit. Dan & John had a concept of two sleazy musicians who wore ill-fitting black suits and black hats. At Danny's request I did a chart on "Rocket 88" by James Cotton for the Saturday Night Live Band. The band was quite good at that time. Some of the musicians were: Bob Cranshaw on bass (Sonny Rollins, Lee Morgan, Dizzy Gillespie), Alan Rubin playing trumpet, Lou Marini on sax, Howard Johnson on baritone sax & tuba (Gil Evans, Charles Mingus), Steve Jordan playing drums (Kieth Richards), and Paul Shaffer on keyboards.
We rehearsed the band and pitched the idea for the show for several weeks until the skit was finally selected for the show. "Hey, Bartender" was the first chart that made the airwaves. The response was great--letters, cards and phone calls came in. We did another appearance on the show. "Jake & Elwood" got a record deal with Atlantic Records. They decided to form their own band separate from the SNL band. Dan and John selected Marini, Jordan, Schaffer, and myself from the SNL band. Matt Murphy was recommended by the late Doc Pommus, John Belushi's blues guru. I selected Steve Cropper, Duck Dunn, Alan Rubin, and Tom Scott.
Although we have unlimited storage space here at the OTJ, to list all of the names you've been associcated with might cause a bandwith crisis! Of all the people you've worked with, is there anyone who "sticks out" in your mind?
Gil Evans was probably the most influential person musically and personally. He was a musical "father" to me (same age as my real father). I worked with him for the last fifteen years of his life. He encouraged me to improvise whatever came to mind. When I tried something adventurous he was the first to compliment me. Gil had his own band from 1936 to 1988 (52 years). His most famous work was perhaps his arrangements for Miles Davis (Sketches of Spain, Miles Ahead, Porgy and Bess, etc.). When Gil was in his seventies he continued to listen to new music and refused to live in the past. He always looked for new young musicians to bring new style and energy to his music.
Stevie Wonder, Frank Zappa. Steve Winwood, Ray Charles, James Brown, Sam & Dave and The Band also come to mind.
Who are some of the musicians that have most influenced you as a player and composer/arranger?
In addition to the names listed above, some arrangers and composers include: Claude Debussey, Igor Stravinsky, Don Sebesky, Henry Mancini, Stan Kenton, Billy Byers and Jerry Hey.
Some of the musicians that have had an influence on me are: Urbie Green, Bill Watrous, Carl Fontana, J.J Johnson, Curtis Fuller, Fred Wesley, Bruce Fowler, Bill Reichenbach, George Roberts, David Taylor, Conrad Herwig, Maynard Ferguson, Chuck Findlay, Jon Faddis, Randy Brecker, Clifford Brown, Freddie Hubbard, Lee Morgan, Dave Sanborn, Ronnie Cuber, King Curtis, Michael Brecker, Jimi Hendrix, Howard Johnson, Lenny White, Mark Egan, and Don Grolnick.
You currently perform with the CBS Orchestra on David Letterman's "Late Show." What would be Tom Malone's "Top Ten" rules for being a professional musician. (The non-starving type?)
Show up on time.
Be nice to everyone (whether you like them or not).
Keep your "chops" in optimum condition.
Keep your instrument in optimum condition.
Wear appropriate, clean clothes.
Present a clean, well-trimmed appearance regardless of your style, length of hair, beard, tattoes, earrings, etc.
Make yourself easy to locate. Beepers, cell phones, answering services, answering machines, multiple telephones, call-forwarding - whatever it takes.
Business cards - Let people know what you do (instruments you play, arranging/composing, singing, contracting) and how to reach you. The business card saves a lot of talking and writing things down on scraps of paper. The business card also tells people in a dignified way that you want to do business without a big "song and dance" or self-promotion rap.
Learn to play every style of music.
Memorize as many songs as you can.
In your many years as a successful freelance musician, what have you learned about the business end of music? How have you learned to manage your own success?
You never know who you are going to meet, where you might meet them, and where a new contact might lead. See #2 above.
If you are called to do a job that you don't really want to do: ask for more money. You can market yourself as either a Pinto or a Mercedes.
If you turn down a job always recommend the most qualified person to do it in your place. The employer will remember you for your recommendation. The qualified person will remember you, too.
When you came to Ball State University for a Jazz Festival, we learned that you are quite the computer user. As perhaps one of the busiest musicians in New York, how has technology affected how you organize your life and communicate and interact with the musical world?
Computer literacy is essential for employment in almost any field. I use my computers for e-mail, word proccessing, faxing, book-keeping, check printing, as well as arranging and sequencing music. I have several laptop computers and a big PowerPC Macintosh home computer. I sometimes keep several on at the same time. One on-line, one to arrange, one to print the chart I just finished, one for backup of the other functions. One is usually running self-diagnostic programs to keep the hard disk healthy and avoid crashes.
I was a beta testor for Overture when it was owned by Opcode Systems.
Tell us about your newest CD, "Soul Bones."
"Soul Bones" is an instrumental rhythm & blues album that I arranged and co-produced at Muscle Shoals Sound Studios in Sheffield, Alabama.
Muscle Shoals was one of the world centers of rhythm & blues music during the seventies and eighties. I used some of the same musicians who played on Mustang Sally , Land of 1,000 Dances (Wilson Pickett), Think , Respect , Natural Woman (Aretha Franklin), Tell Mama (Etta James), Old Time Rock N Roll (Bob Seeger), When A Man Loves A Woman (Percy Sledge), Slow Train Coming (Bob Dylan), The Staple Singers, Dr. Hook, Johnny Taylor, Bobby Bland, Little Milton, etc.
The concept is: traditional R&B rhythm section, trombone melody with seven horns in the background. R&B standards like Groove Me, Mr. Big Stuff, Soulful Strut, Hard To Handle, Knock On Wood, When A Man Loves A Woman, The Weight, plus some more obscure songs in the same style.
The trombone has disappeared as a melody instrument recently. During the 1940's and 1950's Tommy Dorsey and Glenn Miller made the trombone the featured melodic instrument. I am going for a slightly different style.
What are the most important skills a trombonist should learn in order to be successful as a commercial player?
Get a good sound.
Be able to play high notes, low notes and everything in between.
Be able to change registers quickly (flexibility).
Be able to play loud, soft and anywhere in between with control.
Be able to articulate every style.
Be able to play every style of music: Latin, Reggae, Jazz, Big Band, Rock, Pop, Ska, Symphonic (classical), Jewish, Show Tunes, Bossa Nova, Marches, etc.
Be able to improvise in any of the above styles.
Be able to play anything at sight the first time.
Be able to play at any tempo: slow, fast and anywhere in between.
Listen carefully to the other musicians on the gig. Follow the lead instrument's phrasing exactly. Blend with the other instruments' tone quality, volume and intonation.
You have been incredibly successful in just about every aspect of the New York music scene: performing, arranging, producing, and composing; which aspect of your professional life you enjoy the most?
I enjoy it all. I feel lucky to have had opportunities presented to me.
With such a rich background and impressive list of accomplishments, what do you see Tom Malone doing in the next five years?
I plan on doing more arranging, producing, and performing as a soloist. Also more clinics. I love working with younger people. Many people from my age group have become bitter and set in their ways. Many have not been able to change with the times. I like younger people who are energetic and willing to learn.
---
Tom Malone b. Honolulu, Hawaii June 16, 1947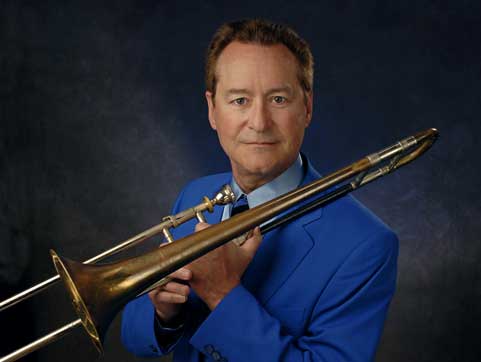 Tom "Bones" Malone began his professional career on a job playing lead trumpet with Brenda Lee at a club in Jackson, MS, while enrolled at the University of Southern Mississippi. In response to a call from Warren Covington, leader of The Tommy Dorsey Orchestra, he expanded into contracting musicians. After transferring to North Texas State University, Malone continued working as both a player and a contractor for a variety of groups. Upon graduation, Malone worked in bands of Woody Herman (1969), Duke Pearson (1970), Louie Bellson (1971), Doc Severinsen and Blood, Sweat & Tears (1973). In 1973, Malone began a close, 15-year association with Gil Evans, who exerted considerable musical influence on him. With Evans, Malone recorded seven albums and toured Europe, Japan and the Far East.
A call in the early 1970s from Saturday Night Live (SNL), a new,revolutionary, late-night comedy show on NBC, proved highly fruitful for Malone, who arranged for the show from 1975 to 1985. A single SNL comedy skit featuring John Belushi and Dan Aykroyd mushroomed into The Blues Brothers; Malone wrote the chart for that first skit, then continued as an integral member of the Blues Brothers musical organization. His writing and performance may be found on all Blues Brothers recordings and in The Blues Brothers (Universal) film score. In 1993, Malone reunited with SNL veterans Paul Schaffer, keyboards, and Will Lee, bass, in the CBS Orchestra, now in its eighth year as house band for The Late Show with David Letterman. In 1997, Blues Brothers 2000 was released on Universal; the film score includes considerable contribution by Malone.
As a leader, Malone is featured on Standards of Living (Big World) and Soul Bones (Malaco). An extremely active writer and performer in New York, Malone may be heard on a list of jazz, R&B, rock and classical recordings far too extensive to ennumerate. A versatile musician, Malone plays piccolo, flute, alto flute, soprano sax, alto sax, tenor sax, baritone sax, piccolo trumpet, trumpet, flügelhorn, bass trumpet, euphonium, trombone, bass trombone, tuba, electric bass, and synthesizer programmer. In addition to performing, arranging, producing and composing, Malone is an active clinician in educational settings. Malone plays Bach trumpets and trombones and Selmer saxophones. Joshua Brown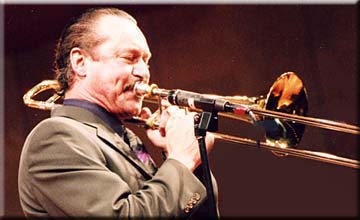 Tom Malone - (Photo Joshua Brown ITA)

Tom "Bones" Malone joined the CBS Orchestra on November 1, 1993. On the show each night he is seen playing a variety of horn instruments, including the trombone, trumpet and saxophone. Before joining the CBS Orchestra, Malone contributed approximately 25 arrangements to the "Late Show with David Letterman". He is probably best known, though, for his work on "Saturday Night Live" as the musical director for the "SNL" band from 1981-85. Malone has performed with such acts as James Brown, Pink Floyd, Paul Simon, and Diana Ross, as well as playing network themes on shows such as "CBS This Morning," "Murder She Wrote," and the 1992 Olympics theme on CBS. "Bones" Malone is originally from Sumrall, Mississippi and currently lives in Manhattan.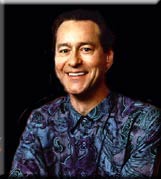 Tom has a couple of (very nice!) jazz CDs, does extensive studio work, has written and/or scored for TV and movies ("Sister Act") and continues to do so, and still has time to be a helluva nice guy. He plays a variety of instruments, and plays them all very well, but his trombone work (including a method book or two) is very, very special. He's currently with the Letterman band and, as usual, is involved in several musical projects.

Discography:
(all credits are for trombone unless otherwise noted)

19-- Smith, Lonnie Liston- Exotic Mysteries
19-- Charles, Ray- Genius & Soul: 50th Anniversary Col (Sax, Horn Arrangements)
19-- Crawford, Hank- Heart and Soul
19-- King, B.B.- King of the Blues
1970 Galbraith, Rob- Nashville Dirt (Producer)
1971 Ten Wheel Drive- Peculiar Friends
1971 McRae, Carmen- Mrs. Magic
1973 Blood, Sweat & Tears- No Sweat (Horn)
1974 Evans, Gil- Gil Evans' Orchestra Plays the Musi (Synthesizer, Bass, Flute, Trombone)
1975 Cavaliere, Felix- Destiny
1975 Woods, Phil- New Phil Woods Album (Brass)
1975 Evans, Gil- There Comes a Time (Synthesizer, Trombone, Tuba, Piccolo, Bass Trombone)
1975 Cobham, Billy- Funky Thide of Sings (Trombone, Piccolo)
1975 Clarke, Stanley- Journey to Love (Trombone, Brass)
1975 Sanborn, David- Taking Off
1976 Free Creek- Summit Meeting
1976 Matthews, Dave- Shoogie Wanna Boogie
1976 Murphy, Elliott- Night Lights
1976 Turrentine, Stanley- Man with the Sad Face
1976 Evans, Gil- Live '76
1976 Clarke, Stanley- School Days
1977 Matthews, David- Dune
1977 Roden, Jess Band- Player Not the Game
1977 Steig, Jeremy- Firefly
1977 Miles, Barry- Sky Train
1977 Band- Islands
1977 Harlow, Larry- Raza Latina (Tuba)
1977 Colon, Willie- Metiendo Mano (Synthesizer, Tuba, Harp)
1978 Average White Band- Warmer Communications
1978 Helm, Levon- Levon Helm
1978 McCoy, Van- My Favourite Fantasy
1978 Benson, George- In Your Eyes
1978 Blues Brothers- Briefcase Full of Blues (trombone, trumpet, bari and tenor sax, vocals)
1978 Frank Zappa- Zappa in New York (Horn)
1978 Band- Last Waltz (Trombone, Euphonium, Flute (Alto), Horn, Bass Trombone, Horn Arrangements)
1978 Zager, Michael- Let's All Chant
1978 Barbieri, Gato- Ruby, Ruby (French Horn)
1978 Sanborn, David- Heart to Heart
1978 Average White Band- Warmer Communications... and More
1979 Bear, Richard T- Red Hot & Blue (Horn)
1979 MacDonald, Ralph- Counterpoint (Horn)
1979 Turner, Tina- Love Explosion
1979 Johnson, Michael- Dialogue
1979 Carter, Ron- Parade (Bass Trombone)
1979 Ford, Robben- Inside Story
1979 Dyson, Ronnie- If the Shoe Fits
1979 Thomas, Tasha- Midnight Rendezvous
1979 Franks, Michael- Tiger in the Rain
1979 Simon, Carly- Spy
1979 Spyro Gyra- Morning Dance
1979 DaCosta, Paulinho- Happy People
1979 Rich, Buddy- No Jive
1979 Lynsey De Paul's - Tigers and Fireflies (Brass, Reeds and Flutes)
1980 Akkerman, Jan- 3
1980 Shaw, Marlena- Take a Bite
1980 Blues Brothers- Blues Brothers [OST] (Trombone, Arranger, Horn, Saxophone)
1980 Blues Brothers- Made in America (Trombone, Arranger, Horn, Sax (Tenor and Bari)
1980 Spyro Gyra- Catching the Sun
1980 Spyro Gyra- Carnival
1981 King, B.B.- There Must Be a Better World Somewh
1981 Geils, J. Band- Freeze Frame
1982 Vandross, Luther- Forever for Always for Love
1983 Jeffreys, Garland- Guts for Love
1984 Reed, Lou- New Sensations (Arranger, Horn)
1984 Footloose- Footloose (Trombone, Horn Arrangements)
1984 Evans, Gil- Live at Sweet Basil, Vols. 1 & 2
1984 Evans, Gil- Live at Sweet Basil, Vol. 2
1985 Tribute to Kurt Weill:- ribute to Kurt Weill: Lost in the
1985 Bley, Carla- Night-Glo
1986 Tyler, Bonnie- Secret Dreams & Forbidden Fire (Trombone, Horn Arrangements)
1986 Winwood, Steve- Back in the High Life
1987 Jackson, Joe- Will Power
1988 Ingram, James- Never Felt So Good
1989 Byrne, David- Rei Momo
1991 Davis, Miles- Miles & Quincy Live at Montreux
1991 Tom Malone- Standards of Living
1992 One O'Clock Lab Band- Best of One O'Clock
1992 Lynch, Valeria- Sin Red
1992 Tune- Tune (Saxophone)
1992 Geils, J. Band- Houseparty: Anthology
1992 Colvin, Shawn- Fat City (Guitar, Vocals (bckgr))
1992 Wall, Jeremy- Stepping to the New World
1992 Sister Act- Sister Act (Arranger, Orchestration)
1992 OBrien, Tim- Remember Me (Guitar (Steel))
1992 Metheny, Pat- Secret Story
1992 Colon, Willie- Baquine de Angelitos Negros (Synthesizer)
1992 Frank Zappa- You Can't Do That on Stage Anymore, vol. 6
1992 Blues Brothers- The Definitive Collection
1992 Lavoe, Hector- Voz
1992 Tico Alegre All Stars- Live at Carnegie Hall (Trumpet)
1993 Belden, Bob- When the Doves Cry: The Music of Pr (Trombone, Trumpet)
1993 Best of Mountain Stage Live, Vol. 5 (Guitar, Vocals)
1993 Cash, Rosanne- Wheel (Harmony Vocals)
1993 Leigh, Keri- No Beginner (Trombone, Trumpet, Sax(Bari and Tenor), Producer)
1993 Lee, Will- Oh!
1993 Canales, Angel- Sabor Con Angel Canales (Trumpet)
1993 Tom Malone- Eastern Standard Time
1994 Godchildren of Soul: Anyone Can Join (Trombone, Arranger, Horn Arrangements)
1994 Subdudes- Annunciation (Guitar, Vocals, Slide Guitar)
1994 Bullock, Hiram- World of Collision (Trombone, Trumpet, Saxes)
1995 Kooper, Al- Soul of a Man: Al Kooper Live
1995 Winwood, Steve- Finer Things
1995 Pfister Sisters- New Orleans (Guitar)
1995 Johnson, Howard- Gravity!!! (Tuba)
1995 Harlow, Andy- Campesino (Sax (Baritone))
1996 Melingo- H20
1996 Band- High on the Hog (Trombone, Trumpet, Sax Horn Arrangements)
1996 Singing Singles- Singing Singles
1996 Harris, Eddie- Last Concert (Arranger)
1996 Hartley, Wallace- Wallace Hartley & The Titanics (Trombone, Trumpet, Sax,
Horn Arrangements, Executive Producer)
1996 Purdie, Bernard- Soul to Jazz (Arranger)
1996 Washington, Albert- Brighter Day (Trombone, Trumpet, Saxes)
1996 Frank Zappa- Läther
1997 Spyro Gyra- Best of Spyro Gyra: The First Ten Y
1997 Mandrill- Fencewalk: The Anthology
1997 Lauper, Cyndi- Sisters of Avalon
1997 Meco- Best of Meco
1997 Rada, Ruben- Montevideo (Trombone, Saxophone)
1997 RCA Victor 80th Anniversary, Vol. 6 (Synthesizer, Flute, Trombone)
1997 Frank Zappa- Have I Offended Someone?
1998 Woody Herman- Keep On Keepin' On
Laws, Hubert- Say It with Silence
Faro, Rachel- Refugees
Saint & Stephanie- Saint & Stephanie
Fox, Neal- Painting
Lewis, Webster- On the Town
Pepper- Pepper
Rosie- Better Late Than Never
Carter, Ron- Standard Bearers
-
Tom "Bones" Malone Plays Bach Trombones & Trumpets,
Selmer Saxophones, Artley Alto Flute,
King Bass Trombone, Selmer Piccolo Trumpet