"Novation XioSynth"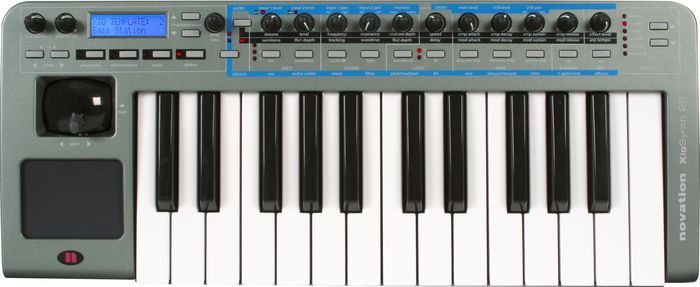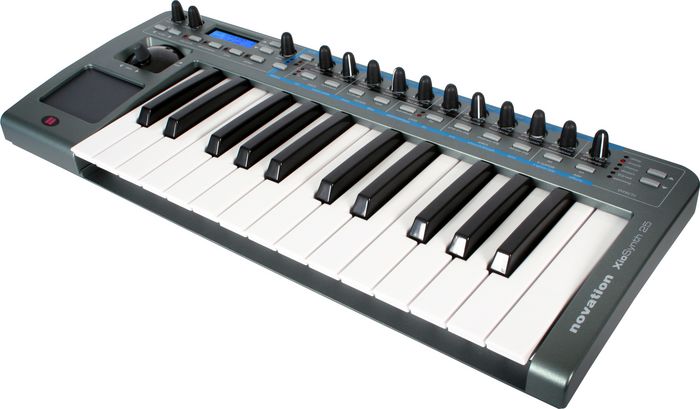 Novation XioSynth 49 Synthesizer & Controller Keyboard
Modern synthesis and complete MIDI control in one affordable package. Novation's stylish, compact and highly affordable XioSynth 25 offers a staggering amount of classic and cutting edge sounds, many from internationally acclaimed artists, along with its X-Gator patch programmer and optional filter distortion. It has everything required for producing music on the move through its audio interfacing and MIDI control capabilities.
Novation-class synthesizer with updated features The XioSynth features a mono-timbral Novation synth engine with 8-voice polyphony. In addition to 3 oscillators (17 waveforms each), 1 Filter (varying types), 2 LFOs (32 waveforms each), an arpeggiator and multi-effects board, this subtractive synth also boasts some brand new facilities such as the X-Gator patch programmer. The X-Gator can be made to gate each patch to create unique 16-32 step rhythmic patterns for every onboard sound, all automatically synchronised to MIDI clock from a sequencer; just press and hold one key to groove along to a track with style.
Novation sound The XioSynth features 200 hard-hitting onboard patches, utilizing a new optional filter distortion to produce an even greater range of sounds than on previous synths; from the distinctive clean British sound to the filthiest and grittiest of sonic characters. Furthermore, 60 of the onboard sounds come from internationally acclaimed artists and producers from a variety of musical genres, namely James Zabiela, Ferry Corsten, Rennie Pilgrem, Roots Manuva, Shimon, and Skeewiff. As such, every one of the patches on the XioSynth is eminently and instantly usable for creating synthesized music of any kind.
High quality audio interface The XioSynth includes an ultra-low latency two-in/two-out audio interface for high-quality recording and playback. This allows you to record a microphone with phantom power as well as simultaneously stream the onboard synth audio directly to the sequencer via the USB cable. You can also plug a guitar straight into the XioSynth for DI recording while also recording via microphone.
Flexible MIDI controller for software or hardware In addition to synthesizing and audio/MIDI interfacing, the keyboard is also a comprehensive control surface with 11 knobs and buttons (doubled to 22 by a Group A/B switch), plus a freely assignable touchpad and joystick. All of these controls are pre-programmed in 16 onboard Templates, so that the XioSynth can instantly control many software applications straight out the box. Add to this many more Templates online, a free Template Editor software application and hybrid modes for simultaneous synthesizing and MIDI controlling, and you have an extremely versatile package for producing or performing.
Highly Portable Simply connecting the keyboard over USB is all that's required to start recording, synthesizing and MIDI controlling. As the device is class compliant, no drivers are required for Windows XP or Mac OSX (although some are provided to improve latency and stability in some apps). Furthermore, if wanting to excape the confines of the studio for a while, the USB cable can be unplugged and the XioSynth can be powered by batteries, functioning as a standalone synth completely separately from the computer.
Novation XioSynth 25 Features:
Synthesizer One part, 8-voice polyphonic 3 Oscillators, 17 Waveforms 2 LFOs, 32 Waveforms Multimode resonant filter section with various filter options Extensive modulation capabilities Arpeggiator with latch X-GATOR with latch Direct streaming of synth into computer via USB
Keyboard Keys: 25 Type: Semi-weighted Velocity curves: 7
Pitch and mod wheel mechanism Pitch wheel lever: Rubberised - centre return spring loaded left to right motion Mod/control lever: Rubberised - spring loaded front to back motion
X/Y touchpad Touchpad: 1 x touch sensitive 45x60mm Parameters: 2 assignable in X direction 2 assignable in Y direction
LCD display LCD: 2 x 16 character silver Blue LED backlit
MIDI interfacing MIDI: 1 MIDI Out USB MIDI: 1 In/1 Out
Audio Interfacing Inputs: 1 XLR (with phantom power) 1 TS Jack Outputs: 2 TS Jack (L/R) 1 stereo Headphones Jack
Other interfacing Data ports: 1 x USB 1.1 Sustain pedal: 1 x 1/4" Jack Input
Controls Rotary potentiometers: 11, 0-270? rotation Rotary encoders: 1, 360? continuous DATA wheel Buttons: 11 function switches Group B switch General operation: 4 Mode and Menu select buttons Keyboard Octave Up and Down buttons Synth Menus/Audio mode select button Effect Select buttons (Synth Mode) Template/Bank/Page Up/Down buttons Line/Phones Volume pots
General Battery operation: 6 x standard 'AA' Size External power supply: Standard 'centre positive' 9V DC 600mA (Novation PSU6) Size (25): 468 x 68 x 190 (mm) w x h x d Size (49): 798 x 68 x 190 (mm) w x h x d Weight (25/49): 1.4/1.6kg
System requirements Operating system: Mac OSX 10.2.4 or greater or Windows XP Computer spec: Apple G3/400 GHz or Pentium 600 MHz or better Interfacing: USB 1.1 compatible USB connector
Templates (16 preset onboard, more available on Novation website) 1. Apple Logic 7 2. Steinberg Cubase SX3 3. Ableton Live 5 4. Cakewalk Sonar 5. Native Instruments - Absynth 3 6. Native Instruments - B4 7. Native Instruments - FM7 8. Native Instruments - Pro53 9. Gmedia - Oddity 10. Novation V-Station 11. Novation Bass Station 12. reFX Vanguard 13. Linplug Albino 2 14. Gmedia - Minimonsta 15. Spectrasonics - Atmosphere & Trilogy 16. User Template.
INFORMED SUGGESTIONS... M-Audio: Axiom 25 USB MIDI Controller 25 key version.
R E V I E W OVERVIEW Novation's XioSynth combines a high quality USB audio interface with MIDI and high-end stand-alone synthesizer capabilities. The combination of these features in a highly affordable keyboard makes it a unique all-in-one production tool as well as an amazing bargain. In addition, XioSynth's compact design and USB compatibilty or battery powered function makes it an excellent choice for producers on the move.
FEATURES Synthesizer The XioSynth features a mono-timbral Novation synth engine with 8-voice polyphony. In addition to 3 oscillators (17 waveforms each), 1 Filter (varying types), 2 LFOs (32 waveforms each), an arpeggiator and multi-effects board, this subtractive synth also boasts some brand new facilities such as the X-Gator patch programmer. The X-Gator can be made to gate each patch to create unique 16-32 step rhythmic patterns for every onboard sound, all automatically synchronised to MIDI clock from a sequencer; just press and hold one key to groove along to a track with style. The XioSynth also comes with 200 onboard patches which you can tweak and distort using the optional filter distortion to create an even greater range of sounds; from clean and sparkly to grimey and gritty. In addition, 60 of the patches were created by acclaimed artists and producers such as Roots Manuva, Skeewiff, Shimon and James Zabiela.
Interface The XioSynth's included USB powered interface features 2 Audio Ins / 2 Outs for high quality recording and playback as well as 1 MIDI out and 1USB MIDI in/out. An onboard interface like this is rare to find on a keyboard and allows you to record from the inputs, as well as simultaneously stream the onboard synth audio directly to the sequencer via the USB cable.
MIDI Controller In addition to synthesizing and audio interfacing, the keyboard is also a comprehensive MIDI keyboard with 49 semi-weighted keys, a control surface with 11 knobs and buttons (doubled to 22 by a Group A/B switch), plus a freely assignable Touchpad and joystick. All of these controls are pre-programmed in 16 onboard Templates, so that the XioSynth can instantly control many software applications straight out the box. Add to this many more Templates online, a free Template Editor software application and hybrid modes for simultaneous synthesizing and MIDI controlling, and you have an extremely versatile package for producing or performing.
Additional features include rubberized pitch and mod wheels, backlit LCD display, sustain pedal input, USB, 9V DC, or 6x AA battery powered, and MAC or PC compatiblity.
K E Y F E A T U R E S - USB MIDI controller, synthesizer, and audio interface in one - 49 semi weighted keys - synthesizer features 8-voice polyphonic, 3 oscillators, 17 waveforms, 2 LFOs, 32 waveforms, 200 onboard patches - multimode resonant filter section with various filter options - extensive modulation capabilities - arpeggiator with latch - X-GATOR with latch - direct streaming of synth into computer via USB - rubberized pitch and mod wheel lever - assignable X/Y touchpad - 11 assignable function switches, group B switch, octave up/down buttons - blue LED backlit LCD display - interface features 1 MIDI Out, USB MIDI: 1 In/1 Out, Audio In 1 XLR (with phantom power)/1 TS Jack, Audio Out 2 TS Jack (L/R) - 1 stereo headphones jack - 1 sustain pedal input - powered by USB, 6 x AA battery or optional 9V DC power supply - compatible with MAC and PC
Novation XioSynth Summary Price New Novation XioSynth @ Musician's Friend Manufacturer URL http://www.novationmusic.com/ Ease of Use 7.5 (11 responses) Features 8.9 (10 responses) Expressiveness/Sounds 8.5 (11 responses) Reliability 8.2 (9 responses) Customer Support 8.4 (5 responses) Overall Rating 9.2 (10 responses) Submit a review for this product!
---
Street Price Monthly Special: $399.00 lab price: $449.99 list price: $599.99 available: yes item #: eq-707
Review
Page: 1 2 (Show 10 | 25 | 50 | 100 reviews per page) Showing 1 - 10 of 11 reviews
Advertisement Product: Novation XioSynth Price Paid: UNKNOWN Submitted 09/15/2008 at 03:56pm by chuck Email: kermit230 at aol<dot>com
Ease of Use : 7 It has a little bit of a learning curve to it. The layout isn't exactly the most intuitive. But as far as on the spot tweaks go, everything you could want to do or need is accessible.
As with all of these keyboards, the presets are always lame and gimmicky. They're not ever useful so much as they are really just there to show off all of the bells and whistles you'll never use.
Editing patches is easy once you learn. And the manual isn't so bad.
Features : 10 It's got 10 note polyphony in it's modeling. That's pretty freakin' sweet for a keyboard of it's size.
It has some built in effects, such as reverb and delays... But the parameters to customize these effects are pretty weak, and they don't sound all that great to begin with either.
It also functions as a two input recording interface...So when you're given the option to get a usb recording interface for $149, or a usb recording interface with a midi keyboard with analog synth modeling on it for $100 more, you shouldn't have to think about it too long. BTW, it also has phantom power on it for condenser mics. Not the greatest mic pre-amps in the world, but perfect for demoing.
It has midi out, but not a standard midi in unfortunately. However, you can send midi in through the USB interface on it (which it can also be powered by). So not that big a deal.
Expressiveness/Sounds : 8 As far as the sounds are concerned.... Here is where everyone bumps heads. Let me explain:
Having built some of my own analog synth gear (modular components), I can speak knowledgeably and truthfully as to the differences between analog and digital wave generators. They are EXACTLY THE SAME!!!! An oscilloscope doesn't lie. Tests of both modular gear and this xiosynth proved to be indistinguishable to both the scope and more importantly, my ears. There weren't really any major artifacts in either, other than some noise floor.
Where the two worlds collide is the analog vs. digital FILTER!!! This is where the magic happens in my opinion. A DCO going to an analog VCF will sound identical to a VCO going to a VCF. However, the same cannot be said about the opposite. A VCO to a DCF sounds just as bad as a DCO to a DCF.
Just about every DCF I have ever heard sounds unnatural, with the exception of the Virus stuff. This is because of whatever algorithm they're using to sweep through the frequency range and the number of ticks in the rotary encoder. It is never a smooth sweep, and it never sounds right to my ears. However, it isn't all that terrible. It just still doesn't touch the real deal.
This keyboard does lack aftertouch that it's big brother, the x-station has. If I had to do it again, I would have bought the x-station instead.
Reliability : 8 Hasn't quit on me yet. But it is made of plastic. Seems like it could be prone to damage if not babied. However, my bandmate has an x-station he's used with bass foot pedals for a few years now with no issues at all.
Customer Support : No Opinion
Overall Rating : 10 I love this thing for all of it's functions. It's small, useful, and sounds good as a modeling synth. I can't complain in the least. The number of functions it has for the price was fantastic.
--------------------------------------------------------------------------------
Product: Novation XioSynth Price Paid: USD 299 Submitted 05/08/2008 at 07:53am by squeak_D
Ease of Use : 9 I'm running the latest OS for this unit--or at least the latest from what I can tell :) The presets on this synth are quite good. I was honestly pretty shocked when I ran through them. Good sonic quality, and this synth does a great job at emulating that analogue sound. All I can say about the sounds is they're PHAT PHAT PHAT! Editing patches is so easy on this unit. There are 11 knobs on the little panel of this synth and they all have mulitple functions. There are also 11 buttons with numerous functions under those knobs as well. What I really like is that that if you turn a knob it doesn't JUMP to the setting like some other synths. If you have a knob set at 64 and switched functions to use the same knob for another controller function.., if the knob was set at 127 for that controller and you went back to the previous controller the sound won't be affected until the knob reaches the original position of 64. GREAT FEATURE!!!!!!!!!!!!!!!!!!!!!!! The manual I can't really comment on yet. It's a PDF on disc. There's a Quick Start Guide, but I haven't even used it. This synth is not hard to figure out. I think it has a logical layout.
Features : 9 Poly on this unit IS NOT 8! That's a misprint because the poly is really 10 notes. WOW 10 freakin notes on this little thing! That really make for some THICK patches. The keyboard action isn't too bad. It's supposed to be semi-weighted, and I have to say it does feel like a semi-weighted keybed. Not the best one I've used, but it's got a little weighted action to it. Upon return the keys have a litte buzz to them, but nothing to be alarmed about at all. The keys are touch sensitive, but do not have aftertouch. There are also several velocity settings to tailer them to your style of playing. It has several effects and what's really crazy is they ALL can be used at the same time and adjusted separately for each OSC. The effects also have parameters you can adjust as well. Midi is VERY GOOD. After all this isn't just a synth, but also a full blown midi controller. Midi options are very good. There are numerous temps to use and you can make your own. There is no sequencer, but it does have the XGator function that allows you to program some cool rhythmic movements for the patches. This Xio is also an audio interface! How cool is that :) There is even a mic jack with Phantom Power. Oh I almost forgot.., there was one HUGE feature left off on this synth. I consider it huge because it's a double featured unit as it functions as a synth and midi controller. There is only ONE midi jack on the synth. It only has MIDI OUT, and does not have a MIDI IN jack. It would be nice to have the option of using a larger keyboard to control the sounds of the Xio. This thing also ships with some software to get you started too.
Expressiveness/Sounds : 9 If you're looking for acoustic emulation DO NOT BUY THIS SYNTH! This IS NOT for those types of instruments. This keyboard is designed to simulate the sound of an analouge synth. This unit will work well for many styles. Especially in the electronica genre. This will also work for rock and metal as there are some killer synth leads you can program. The effects are pretty good. Nothing stellar, but they get the job done. It reacts to my playing very well. The velocity settings are easy to adjust too.
Reliability : 8 I'm sitting on the middle of the fence on this subject at the moment. The keys are great, body is plastic, but it's a small synth, sockets and connections feel secure, BUT the knobs raise some serious concerns for me. Those knobs can pop of with very little pressue. I've read reviews about this and tested it out, and with the lightest upward pressure on a knob POP! The SOB came right off in my fingers. THAT IS A PROBLEM FOR ME! These knobs don't sit deep on the posts, rather they sit shallow which is why they pop off so easily. I have every intention of using this in my set up, but I'm going to contact Novation and order a pack of replacement knobs. With regular gig use one is bound to pop off.
Customer Support : No Opinion Haven't tried customer support yet, but I will be contacting them to order some spare knobs.
Overall Rating : 9 Overall I'm very pleased with this little synth. I'm blown away at how many features Novation packed into this synth! People were complaining about wanting more knobs ect..., but I say what the hell are they crying about. This is a 25 key synth. How much room do some of you think Novation is working with here. On the panel this little synth has 23 buttons 14 knobs, pressure pad, joystick, and an LCD screen. They squeezed all of that on a 25 keys unit!!!!! I think they did very well working with a VERY LIMITED SPACE. I love the sounds on this unit. The presest are great, but you don't buy this puppy soley for the presets. It's a synth and those little knobs and buttons are there for you to create your own patches. I compared this to the MicroKorg and the Ion. I personally think this little synth is better than both the Korg and Alesis. The only thing it doesn't have compared to the others is a vocoder. My only wishes were that the knobs were more secure and that it had a MIDI IN jack.
--------------------------------------------------------------------------------
Product: Novation XioSynth Price Paid: USD 299 Submitted 04/22/2008 at 01:43pm by Matt Email: mpet at prime-line-products<dot>com
Ease of Use : 7 Ok, I've had the Xiosynth 25 for about 4 weeks now, I have to say, I absolutely love this thing!!! I'll say, downright honestly, that this isn't the easiest piece of equipment to use. There are alot of parameters amongst a lot of sub-menues, but once you figure out the few tricks to pull them up, editing a patch becomes a breeze. Some of the pre-sets on here are quite usable right out of the box, some need a little personal editing, but doing so isn't a problem. One thing i would suggest, Novation may wish to include a hardcopy manual (they only include a CD-ROM tutorial, and my computer is in bad condition) but it is easily available for download from the Novation website.
Features : 9 The features on this thing are immense! Just take a look at whats listed on MusiciansFriend.com! There are multiple built in effects, an 8 key polyphony (which can be set to monophonic) 3 different oscillators, 2 LFOs, an Arpregiator, AND a sequencer! It can be used as a MIDI controller, a Synth, or BOTH!
Expressiveness/Sounds : 9 There are multiple controls allowing you to adjust velocity, aftertouch, breath, release, decay, sustain etc. I use my XioSynth in an experimental rock band, in various ways. I can see the Xio being used in practically any genre. The sounds are great, and even greater when you control them to your liking!
Reliability : 9 Hasn't failed me so far! I do plan on gigging with this in the near future, and I would definitely replace it if lost or Stolen.
Customer Support : No Opinion Haven't dealt with them yet, so far so good!
Overall Rating : 10 I love this thing, it's like my new baby! I'm using it as much as possible in my band. I've been playing bass for 7 years, now adding the synth, and i love it! For a long while I had a major interest in buying the MicroKorg, then about 2 months before I bought this it was shown to me by our producer in the studio and I was instantly convinced that this is what I needed!
--------------------------------------------------------------------------------
Product: Novation XioSynth Price Paid: GBP 169.00 Submitted 02/15/2008 at 04:24pm by ry
Ease of Use : 5 I use mine with a macbook running Logic Studio. Plugged it in, selected xiosynth in the prefrences - sorted. Truely plug in and play.
As for the synth - What a pain in the ass! I hate having to trawl through menus and this is the worst interface I've encountered on a synth. For me it's laid out very illogically. If it was my primary sound source I guess i would have spent some more time with it but I luckily have a number of other synths to turn to.
Features : 10 Other reviews here sum this up pretty spot on. I'm using it as a midi controller on stage and as an audio interface + controller at home.
Normally I would have to lug my live rack up to my studio, patch everything in - nightmare. with the xiosynth I can just set up my macbook powering it off usb and plug straight into my monitors - It's a godsend. Truely portable.
I have been recommending Xiosynth to all my friends looking to get a setup together. Awesomely flexible
Expressiveness/Sounds : 8 Not the best keyboard in the world , and the knobs are a bit too bunched and fiddly for my liking - but considering what you get for the price this is to be expected.
The onboard sounds vary - some are excellent but I feel it has a very "shiney" feel to it. It seems very good for Nu skool breaks and ubermodern dance genres.
Reliability : 8 I gig regularly with it and have had no problems. It is a bit flimsy though - certainly not built for stage.
Customer Support : 10 When I first bought it middle B didn't work. Novation sent me a replacement straight away.
Overall Rating : 8 If it were lost or stolen I'd probably buy the xiosynth 25 model for use at home and get an Akai MPK49 for stage use. It's really not good for regular live use but then Im only using it as a replacement cos my old edirol controller got trashed. but it's certainly worth the ??169 I paid for it - bargain of the week.
I've been writing music for 8 years and gigging regularly for the last 4 years. Between me and other band members we use: Macbook + PCs running Logic studio, Reason 4, NI Komplete, Sonar 6 Roland Jupiter 8, Jen sx1000, Yamaha RMX1, EMU E5000 Ultra, Korg Ms2000, Edirol FA101 Audio Interfaces.
--------------------------------------------------------------------------------
Product: Novation XioSynth Price Paid: Euros 249 Submitted 01/04/2008 at 05:20pm by lenny Email: lenny_zuber at yahoo<dot>com
Ease of Use : 6 Ok, honestly you need to get used to it - but, that's the way it is with any new synth. Just considering of what they packed into this little box it's definatly no wonder that you have to step through the sub-meues. But, exacactly thats what makes this machine so incredible. It looks so innocent, but actually it's a rocket. I gave it a 6 because yes, if you want to get to the details it needs some getting used to, but if you just want to use the presets, recording and controllers it's as easy as apple pie.
Features : 10 All the way up there!!! Come on, is there anything else out there that has all these features in one little keyboard and that for THAT price??? Ofcourse, the keys aren't the best, but hey, it's not a digital piano. Some wrote you can not play more than 8 notes at a time. Well, I only got ten fingers and anyway there are only 25 keys. And with sounds that fat I don't think you need more than 2. It has a MIDI out and what for should it have a MIDI in. It's fully controllable via music software over USB. The patches are preset to most DAWs, but you can also set your own. The arpegiator and the x-gator are just the cherries on top.
Expressiveness/Sounds : 9 It was not built to sound like any acoustic instrument. Probably its use is more for Industrial, Trance, Experimental and such sorts. It does remind me of some older analog synths, yet surprises with absolutly new sounds too. Sharp like a razor and smooth and warm like warm milk with honey. The built in effects are useable. One thing for sure, this synth is NOT static. It's versatile depending on the user.
Reliability : 9 Have not had it long enough. Though I am pretty sure it's gonna be around for a long time. The reliability to power it up via USB (even using a USB to power outlet transformer - which I've tried), or the supplied pcu, or using batteries makes sure this baby stays on.
Customer Support : 9 Quick customer support. Used it twice and within a day I got answers.
Overall Rating : 10 I would definatly buy this one again if it were lost, stolen or even if it would break down on me. (Unless something better comes out - which I doubt for now). I've benn playing keys for 30 years now (OH MY GOSH, time passes by f***ing quick) and have a small collection of synths over this time period. Just since about a year now I invested into "modernising" my setup from an old ATARI running on cubase to an IBM laptop running LIVE 7 - and I must say it looks like I can throw my old synths away now (just joking). But honestly, all I need now to make, record and produce music is in reach of my finger tips: XIOSYNTH and a good computer with an awsome sofware. This synth (or whatever you may call it) is an all-in-one box and even more.
--------------------------------------------------------------------------------
Product: Novation XioSynth Price Paid: USD 299.00 USED Submitted 12/01/2007 at 07:48pm by Terry Email: saxman2 at comcast<dot>net
Ease of Use : 9 Mine came with an owner's manual on CD Rom, and a "user guide" on hard copy. Editing patches is about as easy as it gets for a synth with a full pallette of editing parameters. Most everything pertinent to the tweaking of a sound is found in knobs on the front panel which even makes tweaking very easy on the fly.
Features : No Opinion Polyphony is 10 voices on the 49 key version and 8 on the 25 key version. They both have very useful effects if not spectacular. You'll find delay, reverb, chorus, distortion, eq, panning among others. You can download new patches from novation's website, but you must backup your custom patches or lose them. Feel of the keyboard is surprisingly nice for a synth in this price range, but no aftertouch (you can't have it all i guess). Their is a sequencer of sorts onboard, and it's called X-Gator which allows you to gate up to 32 notes in sequence for creating your own arp rhythms. I haven't used X-gator, and may never have a need for it, so i cannot give you a play by play on this feature.
Expressiveness/Sounds : 9 IMHO, there aren't alot of useful preset patches for 70's or 80's pop, but more for techno, rave, trsnce etc, however, that's not to say that this synth isn't capable of creating moog-like leads/pads/brass, because if you take just a little time to tweak, you can come up with some uncanny replicas of a Moog/ARP type sounds, and they can be as phat as you need them to be with the 3 oscillators at your disposal. There are 17 different waveforms to go with the 3 oscillators, so you can come up with any synthesized sound you need.
Reliability : No Opinion The build quality is just Ok, which is probabky why you can get this synth so cheap. My biggest beef with this synth are the labelings above and underneath the various buttons. You can barely make out what they say, so yo9u must memorize what each function each button performs, because on a dark stage...forget it, yu'll never be able to read what the functions are. Novation could have chosen a much better contrasting color to label their function buttons with.
Customer Support : No Opinion Novation's website seems good.
Overall Rating : 10
--------------------------------------------------------------------------------
Product: Novation XioSynth Price Paid: UNKNOWN Submitted 07/21/2007 at 12:24pm by Dan
Ease of Use : 8 OS 1.0.7
The presets are great - Out of the 200 there are only 30-50 that I'd even consider overwriting (which is a bit of a dilemma but, more on that later).
Overall the ease of use is not too bad but anytime there is so much crammed under such a small surface the ease of use won't be as good as it could be.
Features : 9 This is pretty well covered in the other reviews but I don't think there can be much argument against the fact that there are a lot of features in a very small footprint here. I would have like a MIDI In port but that's not a deal-breaker.
The X/Y touch pad is a very nice extra that I use a lot and the X-Gator gives instant motion to sounds (If a classic synth from the 80's would have had the X-Gator feature it probably would have been an automatic ticket to classic/cult status today!)
The casing is plastic (and, frankly, not very sturdy feeling) and has with a finish that looks metallic. If I were gigging with it then I would have definitely preferred metal but the plastic does keep the weight down and the thought of putting th Xio in a backpack for when I travel makes me like it even more. The key-action is better than that of most of my other synths but the lowest "C" key on mine has noticeably more resistance than the other keys and it doesn't always spring all the way back up. If I tap/hit the key 2 or 3 times with fairly high velocity when I first start a playing session then it solves that issue but then after it has sat idle for a while the problem returns. I'm sure it's just an issue with mine and, again, not a deal-breaker nor enough of an annoyance to bother sending it in for repair.
Expressiveness/Sounds : 9 I know the Xio traces its lineage back to the A-station/K-Station and I'm sure it's probably more similar to the KS4/KS5 (which I've never used) but sound-wise, I think it sounds a lot different than the A-Station. E.g. When oscillators are detuned on the Xiosynth the beating is far more pronounced. The Xiosynth seems to be able to get not only grittier but also smoother as well E.g. there's a pad called "The Mellow One" that is the basic 80's warm pad sound done very well. I tried and tried but could never quite get a similar pad to sound just right on my A-Station. That might be partially due to my programming deficiencies but I can also tell there can be a soft/floaty/chorusy sound quality on the Xio that just doesn't seem to be there on the A-Station.
The presets include great sounds in all categories: Leads, basses, pads, and SFX. Thanks to some of the odd-ball LFO shapes and one-shot mode there are SFX that the Xiosynth can make that you'd normally think came from a synth with more of a modular architecture.
Some other standout presets (off the top of my head) are floaty pad, Roots Manueva's two string patches, and...the list could go on and on.
The Xiosynth's sound is punchy and that's why I think the Xio compliments the Ion/Micron very well. I think a 2 VA + 1 ROMpler set-up of a Xiosynth, Ion, and Roland JV/XP or Kurzweil ROMpler would cover nearly any sound I'd ever need. (Other VAs I own are: Waldorf Micro-Q, Yamaha AN200, Nord Micro Modular, Roland SH32, RedSound DarkStar XP, Alesis Ion, Alesis Micron, Novation Nova, Novation A-Station. I also own the following analogs/digilogs: Ensoniq ESQ-M, Roland Juno 60 and JX3P, Dave Smith Instruments Evolver)
Reliability : 9 It seems reliable - I haven't noticed anything yet that would make me hesitant to use it live but then again I've only had it for a few weeks and it has led a nice safe life just sitting in my room - I don't gig and it has not been taken on the road. I'll give it the benefit of the doubt with a 9 because I've never had a bit of trouble with my A-Station in 5+ years of use.
Customer Support : 10 Oli and the crew at Novation/Focusrite have always been responsive to my emails and friendly.
Overall Rating : No Opinion I know there are people out there that will not like any synth that's not analog (and some that take it a step further and won't even like a synth unless all of its analog components have discreet circuitry) and there are also people that won't look at any VA other than something like a Virus TI but personally I'd be very satisfied to use the Xiosynth as one of my main sources for synth based music.
...and so, back in April of 2002 I got a pretty good deal on my A-Station for $515 new; now, just a little over 5 years later, to get a new Xiosynth for $299 sure seems like progress to me - It's a great time to be into the synth hobby!
--------------------------------------------------------------------------------
Product: Novation XioSynth Price Paid: UNKNOWN Submitted 04/04/2007 at 06:30pm by eisix
Ease of Use : 7 Today I went out to my favourite music shop in a mission to buy a Xiosynth 25. I was really looking forward to it and finally in the shop I spent quite a bit of time for a final test of the Xiosynth. This is what I found out: Yes it's easy to use and you have all those control knobs and an expression pad to shape the sounds, It's all there. Editing patches though turned out not to be as convenient as I had expected. First most of the interesting parameters for sound shaping are hidden deeply somewhere inside the menus. All buttons and knobs have multiple functions. Second your left hand spends most of the time on tha data encoder knob. Doing so and probing what you are doing with your right hand on the keys you find the display hidden underneath your left hand most of the time. Summing up I can't say that I experienced perfectly intuitive handling. Finding out which parameters really affect the sound and tweeking them to the desired values takes much longer than the attractive layout would suggest. The Manual could also be more detailed. The rest is straight forward - nothing to complain.
Features : 7 You have three things in a compact package. 1. A versatile midi controller which is not controllable itself by another midi controller due to the lack of a midi in. It offers 11 freely assignable control knobs which is absolutely okay. 2. A usb audio interface that offers mono input only and which is routed perfectly into you computer with minimal latency - very good. Synth output works in stereo. 3. The synth deserves to be dealt with in detail. Besides that you have perfect mobility and the XGator which is really cool . The Xio also looks beautiful.
Expressiveness/Sounds : 6 The synth was the main reason for me to go for the Xio and I am a bit disappointed with it. First of all I'd like to point out that you can set a big variety of parameters to shape your sound and there are all waveforms you need - even a handful of digitally sampled instruments. Three OSCs, two LFOs, ring mod, noise generator and six effects suggest that everything should be possible with this synth. And indeed you can even hear from the presets that the Xio does definately not belong to the crap category. But when compared to a VA synth with a real good DSP engine you will find that there is a big difference. Novation advertise that some of the presets result from the work of top producers. Still my opinion is that many of these sound too edgy and similar to one another. Half of the presets suck big time. I owned a Korg EA-1 MK2 Groovebox before and I got rid of it because its sound capabilities are so limited. The Xio sounds much better of course but not good enough to play it for keeps. It simply lacks warmth and that certain something. Ever heard a Virus? Or even the Alesis Ion or Micron? Then you know what I'm talking about.
Reliability : No Opinion
Customer Support : No Opinion
Overall Rating : 7 Finally I decided to leave the Xio in the shop as I discovered the Alesis Micron which until that day nobody advertised to me. The price is the same. And believe me, the Xio does not compare to that one in terms of sound and DSP power - it doesn't even come close. All in all the Xio is a fresh, feature-rich, cool and versatile synth which one must like. Nevertheless in terms of VA synthesis and in-depth sound richness there are better choices.
--------------------------------------------------------------------------------
Product: Novation XioSynth Price Paid: UNKNOWN Submitted 02/20/2007 at 03:05pm by wiedema
Ease of Use : 9 Very easy to use. You take it out of the parcel, you put batteries into it, (AA Size, Mignon, 6x) you switch it on, there comes life into the display and several leds, you tap on: play/synth, you choose a preset (with poti "program/data" and you begin to play. When I did that for the first time, I was using headphones, a pair of good ones. And I can tell you: The Sounds are mostly good ones. You will recognize that suddenly. On the touch pad you can change the sound from the beginning in a fascinating way. This Board is easy to use. Really.
Features : 8 8 Tones Polyphony. Absolutely enough for my needs. Delay, reverb, chorus, distortion, EQ, Vol, panning. Pressure sensitive keys. Feel is OK. It has an arpeggiator and an x-gator, which you can both set on and off with one fingertip. I still did not use the keyboard with my PC. I use it als a stand alone synth.
Expressiveness/Sounds : 9 This is where this little keyboard shines: Wonderful synthesizer sounds. You can change Modulation and Pitch with kinda joy stick, and in addition you have a touch pad for other parameters. I enjoy it very much to change sounds and give them a special character. Effects are not top, but absolutely useful. This Board is so small (I have the 25 Keys Version!) you can easily take it everywhere. And you can play, play, play. And the sounds are professional quality. Don't believe it, when someboy says, they are cheesy. The sounds are mostly very impressiv. Very much "synthesizer kind" of sounds. Good dynamic. They have a character of their own. I own also the Korg TR61, which is a very fine synthesizer, but this little beast Xiosynth is really challeging me, to create sounds.
Reliability : 7 No problem.
Customer Support : 8 Bought it over ebay from a professional dealer with guarantee. Should be no problems.
Overall Rating : 10 This is a fine, a characterful little synthesizer. Makes you wanna play all the time and fiddle with the potentiometers and create sounds. I was studying tests and reviews for a long time, and the decided for the Xio. Its not multitimbral thats right. But it has fresh an energetic sounds, wonderful pads, etc. You can play up to 8 Tones same time. It is small, it has character, it has normal keys with a good feeling, (made me decide against the microkorg) it sounds very, very good, and the price is a steal. Only two octaves? You can switch between the octaves in a moment! Really easy. I would buy it again. I enjoy it very much. You can put batteries into it, you can take it with you everywhere, you can play sitting in your bed, its a piece af transportable modern music. Best bang for the buck! Without any doubt.
--------------------------------------------------------------------------------
Product: Novation XioSynth Price Paid: CAD 395 Submitted 11/07/2006 at 08:57pm by screamlab Email: screamlab<at>rogers dot com
Ease of Use : 6
The Xio is quite simple to use... with one caveat: If you have a webcam installed you may encounter conflicts, including BSOD's when installing the drivers. Try disabling or uninstalling any webcams on your system if you have issues... Beyond that, it interfaces great with Cubase, it's easy to tweak up the sounds, and it combines three useful devices in one... I personally find the internal sounds too 'edgy'; perhaps I'm comparing too much with my real analog synths... I find myself turning down the filter frequency on a lot of sounds to make them fit into a mix... Abrasive leads sell synths, but a good mix do not make! The manual is pretty good, and Novation is publishing more resources by the day on their website.
Features : 8 8 note poly, monotimbral The built in effects are good, except for the reverb which I find rather nasty... The fact that all LFO's and FX will sync to MIDI is amazing, and works great. The Xgator is another great addition, and makes it simple to create complex rythmic gating... cool.
Expressiveness/Sounds : 8 As mentioned earlier, I think the sounds are all too bright and edgy. Maybe I'm just old. I'd say it's targeted at trance/electro type music more than anything else, but it's a good excuse for me to reprogram, so no complaints. The keyboard, joystick, and X/Y pad are all good controllers, quite responsive... and fun. The keyboard is a bit 'clacky' and light... so we'll have to see how it stands up to time.
Reliability : 8 Well, I'll let you know in a while, it's my hotel rig so will be travelling lots... if it fails I'll post comments, but I suspect it's going to be pretty reliable (my other Novation gear has never failed...)
Customer Support : 5 Hmmm.... sent a couple emails to Novation about driver issues (webcam conflict, BSOD), no reply after a week. Not good. Other than that, no opinion...
Overall Rating : 8 Does just what I need, and assuming it holds up, I'd replace it if I lost it... but it stays pretty close to me these days so that's unlikely.