"Jimmy Rushing"
James Andrew Rushing (August 26, 1903 - June 8, 1972) From Oklahoma City, Oklahoma, Featured vocalist of Count Basie's Orchestra from 1935 to 1948.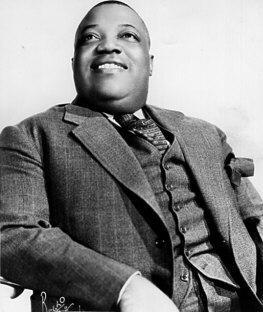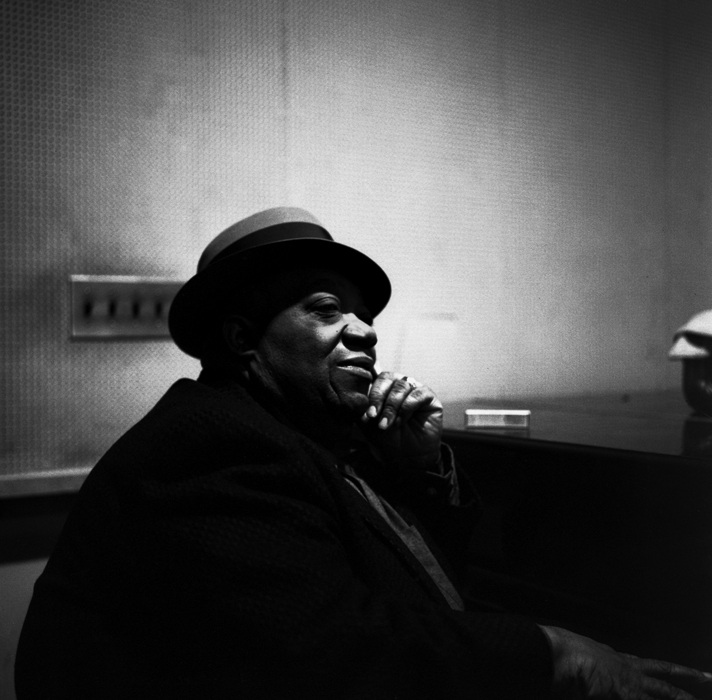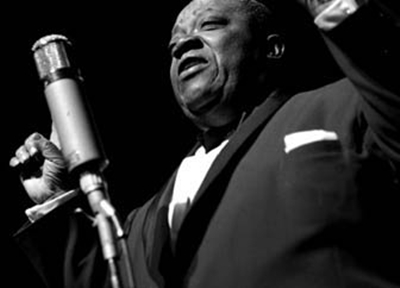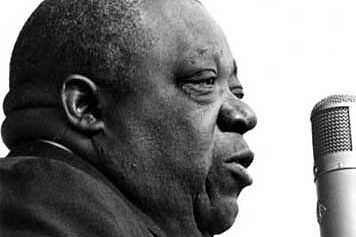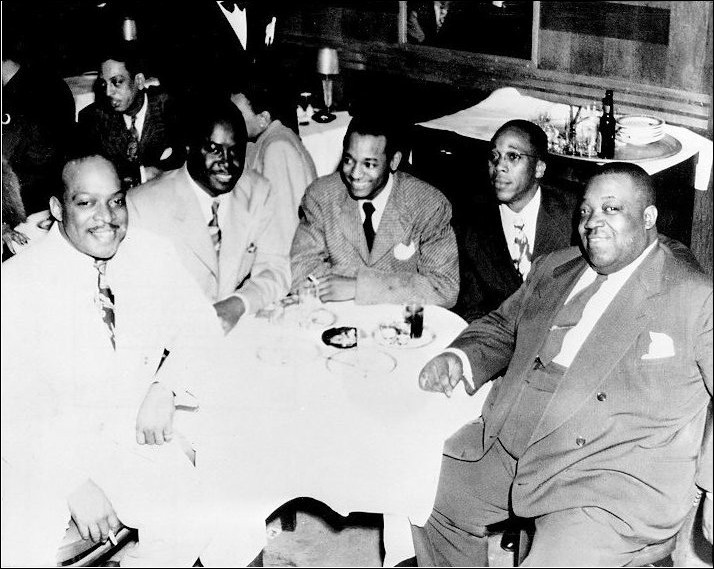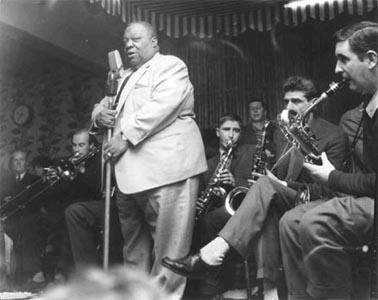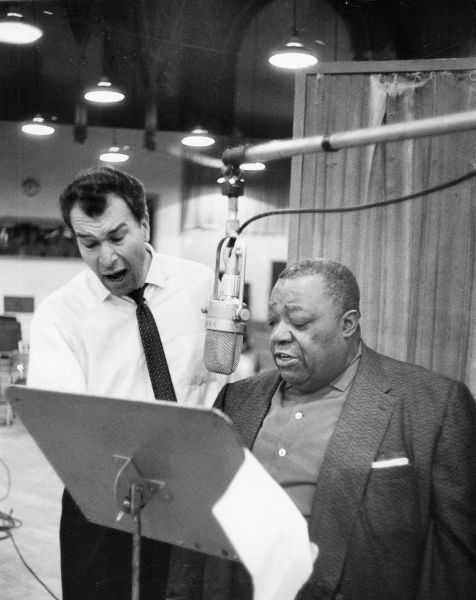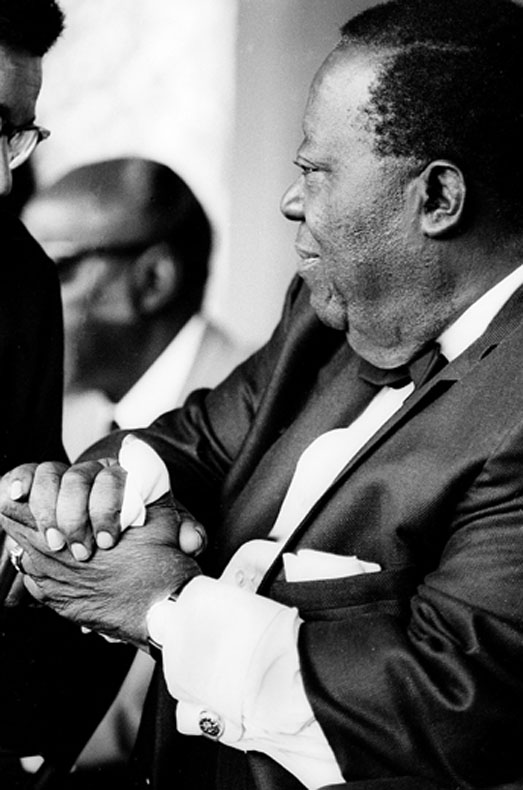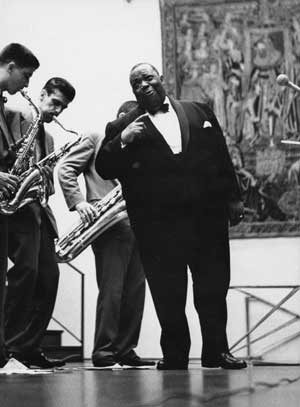 "Jimmy Rushing"
James Andrew Rushing (August 26, 1903 - June 8, 1972) (known as Jimmy Rushing) was an American blues shouter and swing jazz singer from Oklahoma City, Oklahoma, best known as the featured vocalist of Count Basie's Orchestra from 1935 to 1948.
Rushing was known as "Mr. Five by Five" and was the subject of an eponymous 1942 popular song that was a hit for Harry James and others. He joined Walter Page's Blue Devils in 1927, then joined Bennie Moten's band in 1929. He stayed with the successor Count Basie band when Moten died in 1935.
Life and career
Rushing was born in Oklahoma City, Oklahoma, on August 26, 1903, into a family with musical talent and accomplishments. His father, Andrew Rushing, was a trumpeter and his mother and brother were singers. Young Jimmy took to the family vocation and was a success, touring the Mid-West and California as an itinerant blues singer in the years 1923 and 1924 before moving to Los Angeles, California, where he sang with Jelly Roll Morton. Rushing got a gig singing with Billy King before moving on to Walter Page's Blue Devils in 1927. He, along with other members of the Blue Devils, defected to the Bennie Moten band in 1929.
Moten died in 1935, and Rushing joined Count Basie for what would be a 13-year gig. Due to his tutelage under his mentor Moten, Rushing was a proponent of the Kansas City jump blues tradition, best evidenced by his performances of "Sent For You Yesterday" and "Boogie Woogie" for the Count Basie Orchestra. After leaving Basie, his recording career soared, as a solo artist and a singer with other bands.
When the Basie band broke up in 1950 he briefly retired, then formed his own group. He also made a guest appearance with Duke Ellington for the 1959 album Jazz Party.
His build earned him a nickname and a signature song, "Mr. Five by Five" ("he's five feet tall and he's five feet wide"). His best known recordings are probably "Going to Chicago" with Basie, and "Harvard Blues", with a famous saxophone solo by Don Byas.
Rushing was a powerful singer who had a range from baritone to tenor. He could project his voice so that it soared over the horn and reed sections in a big-band setting. Count Basie claimed that Rushing "never had an equal" as a blues vocalist. George Frazier, author of "Harvard Blues", called Rushing's distinctive voice "a magnificent gargle".
After he became ill with leukemia in 1971, Rushing's performing career ended. He died on June 8, 1972, in New York City, and was buried at the Maple Grove Cemetery, Kew Gardens, in Queens, New York.
References
Dance, Stanley. (November 1998). Duke Ellington: Jazz Party. Jazz Times. Accessed September 8, 2007.
Barlow, William (1989). "Looking Up At Down": The Emergence of Blues Culture, pp. 245-46. Philadelphia: Temple University Press. ISBN 0-87722-583-4.
---
Jimmy Rushing (James Andrew Rushing)
born: 26. August 1901 (oder 1903 oder 1902), Oklahoma City, Oklahoma/USA
died: 8.June 1972, New York, New York/USA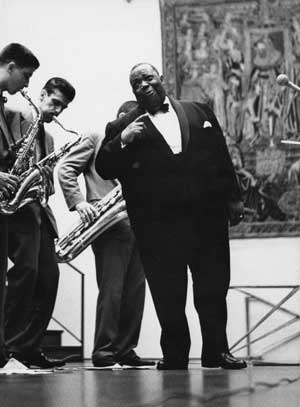 Jimmy Rushing is known for his full voice possessing a high degree of individuality hardly to be found with any other blues or jazz singer of the period. He actually is a tenor, but the sonority of his voice makes him sound more like a baritone. Rushing's mother was a church organist, his father played trumpet. Rushing himself had had a musical education, could play the violin as well as enough piano to be able to accompany himself. In Los Angeles he had performed at private parties together with pianist Jelly Roll Morton. In 1925 and from 1927-29 he toured with the Blue Devils Band of bassist Walter Page, in 1929 became a member of the Bennie Moten Orchestra in Kansas City. In Moten's band Rushing was not mainly responsible for the blues, but rather for the lyrical ballads. His voice shaped the sound of the Count Basie Orchestra when the pianist took over the Moten band after the leader's death in 1935. Basie preferred a repertoire of strongly blues influenced pieces, whether original blues tunes or sentimental songs with a blues tinge. Rushing, affectionately known as "Mr. Five by Five", had a couple of popular successes with Basie in the late 1930s and 1940s, among them titles like "Evening'" (1936), "Good Morning Blues" (1937), "I Want a Little Girl" (1940), "Goin' to Chicago Blues" and "Harvard Blues" (1941). He stayed with Basie until 1950, then led his own septet for two years performing at New York's Savoy Ballroom. In the 1950s and 1960s he recorded albums with swing musicians in the mainstream style of the period, working together with the likes of Buck Clayton, Joe Newman, Buddy Tate and others. In 1958 he toured with Benny Goodman, in 1960 he sang with the Dave Brubeck Quartet at New York's Basin Street East.
Jimmy Rushing belongs among the most important singers in jazz. His voice is clearly different from the rural, musically uneducated blues musicians whose style often compare more to declamation than singing. His exact phrasing gives his interpretations a certain clearness even when he paraphrases, when he changes single notes into little melismatic melodies. Rushing uses a technique of African American singing developed in the blues as well as the religious musical traditions: "shouting", a sudden start of a phrase, often begun on a high and especially loud note, then falling dynamically as well as melodically, often being repeated to further strengthen the intensity of its effect. One good example of his technique can be heard in "Harvard Blues" from 1941. The lyrics here do not refer to cliché formulas of the blues tradition but rather to a non-blues world – the student scene of Harvard University would be hardly accessible for a Black person at that time. The recording begins with two solo choruses of tenor saxophonist Don Byas. Jimmy Rushing follows with two choruses using the usual 12 bar a-a-b text structure. He then sings a very effective shout chorus over the lines "Reinhardt, Reinhardt, I'm a most indifferent guy", accompanied by some pretty unconventional blues harmonies written for the band by arranger Tab Smith. The orchestra ends the recording with an instrumental chorus. Rushing's heir in the Basie Orchestra was Joe Williams, who came from different roots as a ballad and blues singer, was influenced more by singer/bandleader Billy Eckstine. [Wolfram Knauer]
PS: The differing birth dates come from different sources provided by Rushing himself on several occasions (interviews etc.). The year 1901 is given on the social security application form he filled out in 1936 which can be seen in facsimile on the Rushing website (see below).
---
Encyclopedia entries:
Leonard Feather: The New Yearbook of Jazz, New York 1958
Leonard Feather: The Encyclopedia of Jazz, New York 1960
Ian Carr, Digby Fairweather, Brian Priestley: Jazz. The Essential Companion, London 1987
Barry Kernfeld (ed.): New Grove Dictionary of Jazz, London 1988
Martin Kunzler (ed.): ro-ro-ro Jazz-Lexikon, Reinbek bei Hamburg 1988
Philippe Carles, André Clergeat, Jean-Louis Comolli: Dictionnaire du Jazz, Paris 1988
John Chilton: Who's Who of Jazz. Storyville to Swing Street, London 1989
Carlo Bohländer, Karl Heinz Holler, Christian Pfarr: Reclams Jazzführer, Stuttgart 1989
Austin Sonnier Jr.: A Guide to the Blues. History, Who's Who, Research Sources, Westport/CT 1994
Philippe Carles, André Clergeat, Jean-Louis Comolli: Dictionnaire du Jazz, Paris 4/1995
Steve Holtje & Nancy Ann Lee (eds.): MusicHound Jazz. The Essential Album Guide, Detroit/MI 1999
Ian Carr & Digby Fairweather & Brian Priestley: Jazz Rough Guide, Stuttgart 1999
Leonard Feather & Ira Gitler: The Biographical Encyclopedia of Jazz, New York 1999
Ian Carr & Digby Fairweather & Brian Priestley: Jazz, The Rough Guide. The Essential Companion to Artists and Albums, London 2000
Scott Yanow: Swing. The Essential Listening Companion, San Francisco 2000
Barry Kernfeld (ed.): New Grove Dictionary of Jazz, London 2001
no year given:
Jimmy Rushing: Sings the Blues, London o.J. [sheet music] (T: vocal/piano arrangements of "Goin' to Chicago Blues"; "Sent for You Yesterday", "Baby, Don't Tell On Me"; "Blues in the Dark"; "Don't You Miss Your Baby"; "Good Morning Blues"; "I Left My Baby"; "Harvard Blues"; "Take Me Back Baby"; "Undecided Blues"; "Evil Blues"; "You Can't Run Around Blues")
NN (ed.): The Basie Style, London o.J. [sheet music], p. 68-69 (T: piano solo arrangements of "Jimmy's Blues")
1954:
Mary Lou Williams: My Friends the Kings of Jazz. Mr. 5 x 5 had a ten block voice. Mary Lou Williams writes about Jimmy Rushing, in: Melody Maker, #1075 (24.Apr.1954), p. 5 (F) [digi.copy]
1956:
Kurt Mohr: "Jimmy Rushing" (Vanguard), in: Jazz Hot, #112 (Jul/Aug.1956), p. 40 (R) [digi.copy]
1957:
Paul Oliver: Jimmy Rushing - The Formative Years, in: Jazz Monthly, 3/10 (1957), p. 2-3 (F)
Raymond Horricks: Jimmy Rushing, in: Raymond Horricks: Count Basie and His Orchestra. Its Music and its Musicians, London 1957 [book], p. 147-159 (F)
Whitney Balliett: Hot, in: Whitney Balliett: Collected Works. A Journal of Jazz 1954-2000, New York 2000 [book: St.Martin's Press], p. 21 (R: "The Jazz Odyssey of James Rushing Esq."; reprint from 1957)
NN: Jimmy Rushing will tour with Humph, in: Melody Maker, 27.Apr.1957 (F)
Burt Korall: I've got to get to a Blues, in: Melody Maker, 7.Sep.1957
Douglas Hague: Jimmy Rushing Tells His Story, in: Jazz Journal, 10/9 (Sep.1957), p. 1-3, 5, 36 (F/I)
Humphrey Lyttelton: Rushing tour is a great thrill, in: Melody Maker, 21.Sep.1957
Max Jones: Jimmy Rushing hits the top of his form, in: Melody Maker, 14.Sep.1957
Humphrey Lyttelton: My Biggest Thrill, in: Melody Maker, 12.Oct.1957
Max Jones & Sinclair Traill: Collectors' Corner, in: Melody Maker, 12.Oct.1957, p. 8
Kurt Mohr: Jimmy Rushing - "On ne peut pas aimer le jazz et ne pas aimer Basie", in: Jazz Hot, #126 (Nov.1957), p. 15-17 (F/I)
Humphrey Lyttelton: Jimmy Rushing's talking machine, in: Melody Maker, 14.Dec.1957
1958:
Leonard Feather: The Blindfold Test. James Session, in: Down Beat, 25/2 (1958), p. 31 (BT)
Stanley Dance: If This Ain't the Blues, in: Melody Maker, 15.Feb.1958, p. 14 (R)
NN: Goodman und JATP mit Rushing und Turner. US-Stars überschwemmen im Mai ganz Westdeutschland, in: Westjazz, 3/33 (May 1958), p. 5 (N: tour dates) [digi.copy]
Ralph Ellison: Remembering Jimmy, in: Ralph Ellison: Shadow and Act, New York 1964 [book: Random House], p. 241-246 (F; Reprint, from: Saturday Review, 12.Jul.1958)
NN: Jimmy Rushing Is Back in the Centre Court, in: Melody Maker, 20.Sep.1958, p. 5
NN: Rushing gastiert mit Humph in Deutschland, in: Jazz Podium, 7/9 (Sep.1958), p. 180 (N: tours Germany) [digi.copy]
Kurt Mohr: Jimmy Rushing et Billie Holiday à l'Olympia, in: Jazz Hot, #138 (Dec.1958), p. 37, 39 (C)
1959:
NN: Dizzy Gillespie & The Newport Jazz Festival, Frankfurt 1959 [program booklet: Konzertdirektion C. Ebner] (F)
Gene Lees: Caught in the Act. Jimmy Rushing & Harry Edison & The Trademarks, Blue Note, Chicago, in: Down Beat, 26/19 (17.Sep.1959), p. 42-43 (C)
1960:
Charles Fox & Peter Gammond & Alun Morgan & Alexis Korner: Jazz on Record. A Critical Guide, London 1960 [book: Grey Arrow], p. 273-274 (F)
Max Jones: No gimmicks for Rushing, in: Melody Maker, 19.Mar.1960, p. 15 (R: "Rushing Lullabies")
Ralph J. Gleason: Jimmy Rushing - "Rushing Lullabies" (Columbia), in: Down Beat, 27/5 (3.Mar.1960), p. 41-42 (R)
Pete Welding: Jimmy Rushing / Jack Dupree - "Two Shades of Blue" (Audio Lab), in: Down Beat, 27/22 (27.Oct.1960), p. 48 (R)
1961:
George Hoefer: Caught in the Act. Jimmy Rushing/Dave Brubeck Quartet, Basin Street East, New York City, in: Down Beat, 28/5 (2.Mar.1961), p. 44 (C)
John S. Wilson: Jimmy Rushing & Dave Brubeck - "Brubeck and Rushing" (Columbia), in: Down Beat, 28/6 (16.Mar.1961), p. 32 (R)
Pete Welding: "Jimmy Rushing and the Smith Girls" (Columbia), in: Down Beat, 28/17 (17.Aug.1961), p. 38-39 (R)
Max Jones: Rushing swings the singing Smiths, in: Melody Maker, 9.Sep.1961, p. i (R: "The Smith Girls")
"J.W.N.": Paul Barbarin & Jimmy Rushing at the Colonial Tavern, in: Coda, 4/8 (Dec.1961), p. 5 (C)
1962:
Yannick Bruynoghe: Rushing, Jimmy, in: Stanley Dance (ed.): Jazz Era. The 'Forties, London 1962 [book: The Jazz Book Club & MacGibbon & Kee], p. 208 (short F)
NN: news..., in: Jazz Podium, 11/2 (Feb.1962), p. 32 (N: with Harry James) [digi.copy]
Fred Norsworthy: Jimmy Rushing with the Al Grey Octet, in: Coda, 5/1 (Aug.1962), p. 16 (C)
1963:
Stanley Dance: Jimmy Rushing, in: Stanley Dance: The World of Count Basie, New York 1980 [book], p. 17-27 (I von 1963)
1964:
Sinclair Traill: In My Opinion - Jimmy Rushing, in: Jazz Journal, 17/1 (Jan.1964), p. 14-15 (BT)
Ira Gitler: Caught in the Act. Stan Getz, Count Basie/Jimmy Rushing, Philharmonic Hall, New York City, in: Down Beat, 31/4 (13.Feb.1964), p. 37 (C)
1965:
Helen McNamara: Pack My Bags and Make Me Getaway. The Odyssey of Jimmy Rushing, in: Down Beat, 32/8 (8.Apr.1965), p. 22-24 (F/I)
Stanley Dance: Caught in the Act. Buddy Tate/Jimmy Rushing, Jazz in the Garden, Museum of Modern Art, New York City, in: Down Beat, 32/21 (7.Oct.1965), p. 37-38 (C)
1966:
André Francis: Jazz, Bourges 1958 [book: Solfèges / Éditions du Seuil]; reprint: Bourges 1966 [book: Solfèges / Éditions du Seuil], p. 98 (short F)
1967:
Max Jones: The Potent Rushing, in: Melody Maker, 26.Aug.1967, p. 10 (R: "Listen to the Blues")
1969:
John McDonough: Jimmy Rushing - "Gee, Baby, Ain't I Good to You" (Master Jazz Recording), in: Down Beat, 36/1 (9.Jan.1969), p. 26-27 (R)
Max Jones: The Men Who Make the Blues. Jimmy Rushing, in: Melody Maker, 10.May 1969, p. 10 (F)
Chris Albertson: Jimmy Rushing. A Stury Branch of The Learning Tree, in: Down Beat, 36/23 (13.Nov.1969), p. 17, 38 (F/I)
1971:
Dicky Wells & Stanley Dance: The Night People. Reminiscences of a Jazzman, Boston 1971 [book], passim (F)
Barry McRae: AB Basics. A Column for the Newcomer to Jazz. Jimmy Rushing, in: Jazz Journal, 24/2 (Feb,1971), p. 32 (F)
John Norris: Heard and Seen. Jazz in Toronto. Jimmy Rushing, Ray Bryant, The World's Greatest Jazz Band, Duke Ellington, Sonny Greenwich, in: Coda, 9/12 (Mar/Apr.1971), p. 45-46 (C)
NN: Potpourri. Jimmy Rushing reconvalensces after heart attack, in: Down Beat, 38/18 (28.Oct.1971), p. 11 (N)
1972:
Antonin Truhlar: My Friend the Blues, in: Blues Notes, 4/15-16 (1972), p. 50 (F/O)
NN: Jimmy Rushing 1903-1972, in: Jazz Magazine, #202 (1972), p. 4-5 (F/O)
Ralph J. Gleason: Perspectives. Jimmy Rushing and the Blues, in: Rolling Stone, #113 (1972), p. 30 (F)
Whitney Balliett: New Coming, in: Whitney Balliett: Collected Works. A Journal of Jazz 1954-2000, New York 2000 [book: St.Martin's Press], p. 362-363 (F/O; reprint from 1972)
NN: Potpourri. Jimmy Rushing at Half Note, in: Down Beat, 39/4 (2.Mar.1972), p. 11 (N)
John S. Wilson: Jimmy Rushing, Blues Singer with Intense Voice, Dies at 68. Considered a Great Male Jazz Vocalist - Performed With Count Basie Troupe, in: New York Times, 9.Jun.1972 (F/O) [vert.file] [digi.copy]
Max Jones: Rush - the swinger, in: Melody Maker, 17.Jun.1972, p. 34 (F/O)
NN: Jimmy Rushing Dead, in: Melody Maker, 17.Jun.1972, p. 3 (F/O)
NN: Rushing Rites Draw. 300 Including Basie, in: New York Times, 13.Jun.1972 (F/O: funeral) [vert.file] [digi.copy]
Frank Driggs: Jimmy Rushing 1903-1972, in: Coda, 10/8 (Jul/Aug.1972), p. 31 (F/O)
J. Atterton: Jazz (funeral), in: Melody Maker, 1.Jul.1972 (F/O)
NN: Jimmy Rushing gestorben, in: Jazz Podium, 21/7 (Jul.1972), p. 217 (O)
Bill Esposito: Little Jimmy Rushing's Been Here and Gone, in: Jazz Journal, 25/8 (Aug.1972), p. 6 (F/O)
Humphrey Lyttelton: Rushing, in: Jazz Journal, 25/8 (Aug.1972), p. 4-5 (F)
NN: Jimmy Rushing, 1903-1972, in: Down Beat, 39/14 (17.Aug.1972), p. 10 (F/O)
Pete Lowry: Jimmy Rushing, 1903-1972, in: Jazz Digest, 1/8 (Aug.1972), p. 2 (F/O)
NN: Potpourri. Benefit for Rushings widow, in: Down Beat, 39/18 (9.Nov.1972), p. 11 (N)
1973:
Duke Ellington: Jimmy Rushing, in: Duke Ellington: Music Is My Mistress, New York 1985 [book; Reprint, O: Garden City 1973], p. 232-233 (F)
John McDonough: Jimmy Rushing - "Who Was It Sang That Song", in: Down beat, 40/15 (1973), p. 24 (R)
1974:
Bud Freeman: Jimmy Rushing, in: Bud Freeman: You Don't Look Like a Musician, Detroit 1974 [book], p. 39 (F)
1981:
Art Lange: Jimmy Rushing - "Mr. Five by Five", in: Down Beat, 48/8 (Aug.1981), p. 42 (R)
1982:
André Francis: Jazz (nouvelle édition), Malesherbes 1982 [book: Microcosme / Seuil], p. 108 (short F)
1984:
Leslie Gourse: The Kansas City Singers. Tell Them Little Jimmy Rushing, he's Been Here and Gone, in: Leslie Gourse: Louis' Children. American Jazz Singers, New York 1984 [book], p. 71-74 (F)
1985:
Count Basie & Albert Murray: Good Morning Blues. The Autobiography of Count Basie, New York 1985 [book: Random House]
Jack Winter: Jimmy Rushing. Mr. 5x5, in: Coda, #203 (Aug/Sep.1985), p. 12-13 (I)
1989:
Jacques Lacava: Jimmy Rushing, in: Noel Balen (ed.): Les grandes voix du jazz, Paris 1989 [book: Jazz Hot], p. 18-19 (F)
1993:
Dan Morgenstern: The Singers, in: Dan Morgenstern: Jazz People, New York 1993 [book], p. 247, 253 (F)
Frank Tirro: Jimmy Rushing, in: Frank Tirro: Jazz History, New York 2/1993 [book], p. 82 (F)
1997:
Preston Love: The Love Letters. Remembering Mr. Five-by-Five, in: The Jazz Rag, #43 (Mar/Apr.1997), p. 12 (F)
1998:
Gary Giddins: Visions of Jazz. The First Century, New York 1998 [book: Oxford University Press], p. 184-188 (F: chapter "Jimmy Rushing. Swinging the Blues")
1999:
Charles Graham & Dan Morgenstern (eds.): The Great Jazz Day, Emeryville/CA 1999 [book: Woodford Press], p. 59 (short biography)
William Russell (ed.): "Oh, Mister Jelly". A Jelly Roll Morton Scrapbook, Copenhagen 1999 [book: Jazz Media], p. 558-561 (I)
Frank-John Hadley: Jimmy Rushing & Friends - "Oh Love" (Vanguard), in: Down Beat, 66/11 (Nov.1999), p. 65-66 (R)
2000:
Frank Büchmann-Moller: Is This To Be My Souvenir. Jazz Photos from the Timme Rosenkrantz Collection 1918-1969, Odense 2000 [book: Odense University Press], p. 154 (short F/photo)
2001:
Horace A. Porter: Jazz Country. Ralph Ellison in America, Iowa City 2001 [book: University of Iowa Press], p. 22-25 (F: chapter "Reducing the Chaos of Living to Form. The Affirmative Voices of Jimmy Rushing and Mahalia Jackson"); p. 27-31 (F: chapter "Soul Brothers Charlie Christian and Benny Goodman. Jazz, Race, and Cultural Exchange")
John Latham: Jimmy Rushing Remembered. John Latham shares his memories of a great concert in 1959..., in: The Jazz Rag, #70 (winter 2001), p. 17 (F)
2002:
Larry L. Quilligan: 'Mr. Sunshine', in: Mississippi Rag, Apr.2002, p. 1-2, 4 (F); response, by Tom Pletcher, in: Mississippi Rag, May 2002, p. 5 (letter)
2004:
Duncan Schiedt: Jazz in Black & White. The Photographs of Duncan Schiedt, Bloomington/IN 2004 [book: Indiana University Press], p. 44-45 (F/photo)
Lawrence McClellan Jr.: The Later Swing Era, 1942 to 1955, Westport, CT 2004 [book: Greenwood Press], p. 102-104 (F); p. 287 (short F: biography)
2005:
Frank Driggs & Chuck Haddix: Kansas City Jazz. From Ragtime to Bebop - A History, New York 2005 [book: Oxford University Press], passim (F)