"PASIC Drum Rudiments"
---
Notation Key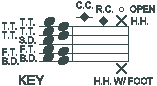 TT = Tom Tom
SD = Snare Drum
FT = Floor Tom
BD = Bass Drum or Kick Drum
CC = Crash Cymbal
RC = Ride Cymbal
HH = High Hat
---
The 40 rudiments on this page are identified as the Percussive Arts Society International Drum Rudiments, and include the original Twenty-Six Essential Rudiments of Drumming as identified by the National Association of Rudimental Drummers and other rudiments that have been developed over the years.
The original 26 rudiments are noted by an asterisk (*) - the notations for some will be different than the NARD notations. These Rudiments are presented in the order identified by PASIC.
---

6. Double Stroke Open Roll *


13. Thirteen Stroke Roll *


14. Fifteen Stroke Roll *


15. Seventeen Stroke Roll


19. Single Paradiddle-Diddle

26. Flam Paradiddle-Diddle *


34. Lesson 25 (Ratatap) *