"William F. Ludwig Jr. dies aged 91, 2008"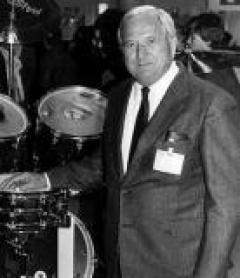 By Rob Hughes, Monday, March 31st 2008
William F. Ludwig Jr., the former president of Ludwig Drum Co. and son of the company's founder has passed away in his hometown of Chicago at the age of 91 after recent ill-health.
Ludwig's father, William F. Ludwig Sr., and his brother Theobold built the Ludwig & Ludwig Drum Company around an innovative bass drum pedal they invented in 1908 to meet the needs of professional drummers. Ludwig went on to become the world's largest drum company in the 1920s.
As a young man, Bill Ludwig saw the fortunes of the American drum industry rise and fall. The advent of talking movies put theatre drummers out of work and the stock market crash of 1929 forced his father to sell the company to C. G. Conn in 1930.
In 1937, William F. Ludwig and William F. Ludwig II founded the W.F.L. Drum Company. In 1955 C. G. Conn exited the drum business and sold the Ludwig name back to Wm. F. Ludwig II. Under his guidance, the Ludwig Drum Company once again became the world's largest drum company.
A milestone in Ludwig history came in February 1964 when the Beatles made their historic appearance on The Ed Sullivan Show with Ludwig drums featured prominently. The resulting demand for the brand forced Ludwig to add a night shift.
The Ludwig family sold the company to Selmer in 1981, which later relocated manufacturing from Damen Avenue in Chicago to North Carolina.
Bill Ludwig worked as a consultant for Selmer and though he no longer had a vested interest in Ludwig Drums, he had for decades acted as a goodwill ambassador on behalf of Selmer and, later, Conn-Selmer. He appeared regularly at major industry events such as the NAMM shows, the Frankfurt Music Fair, the Chicago Drum Show, and PASIC.
In 1993 PAS inducted him into the Percussive Arts Society Hall of Fame. His father was already a member, having been inducted in 1972. They are the only father-son members of this elite group with the exception of the Zildjian family. Source.