"C. G. Conn Band Instrument Factory"
(Circa. 1911)
Shown in numerical order, we thought we would share these very interesting images from the collection of Daniel Oberloh that depict the working environment at the Conn factory, early in the twentieth century. We have done our best to clean them up and resize them for better viewing. These images are from the post card series originally offered by C.G. Conn of there newly built factory in Elk Hart Indiana c.1911.
A big thank you to our friend James Reid for providing his collection of post cards and allowing us to display the complete set.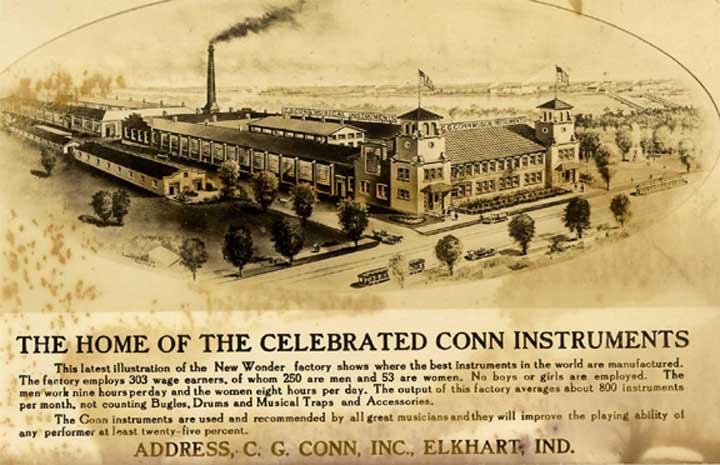 A brand spanking new factory to replace the previous one that burned down.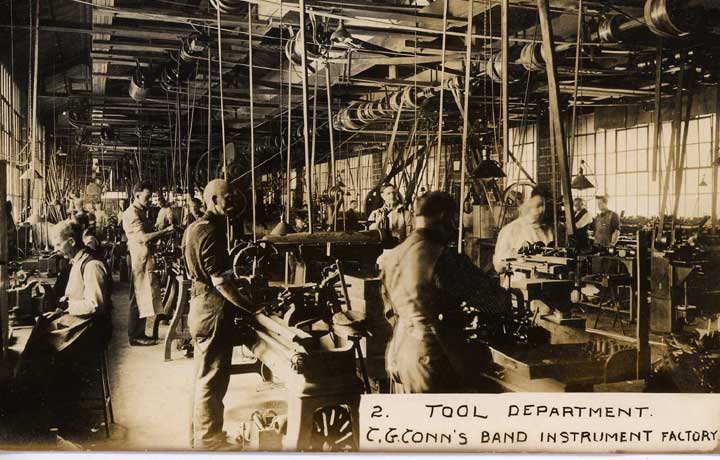 Creating band instruments requires a great number of special tools, forms and jigs. The Machining department is where most of the tooling is made to order.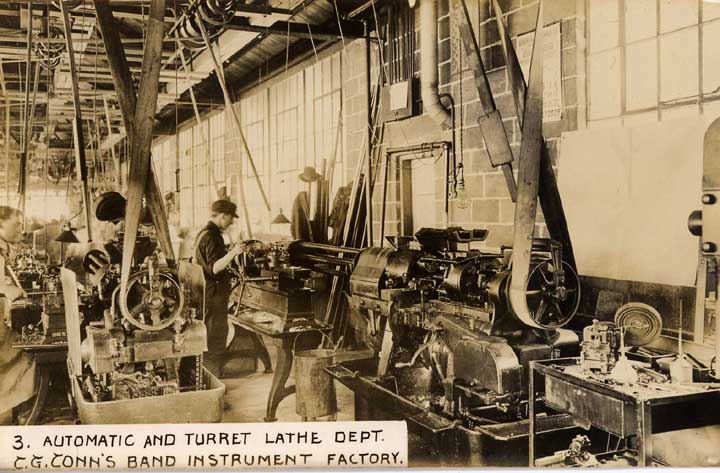 These are the machines that make parts like valve cap, stems and finger buttons.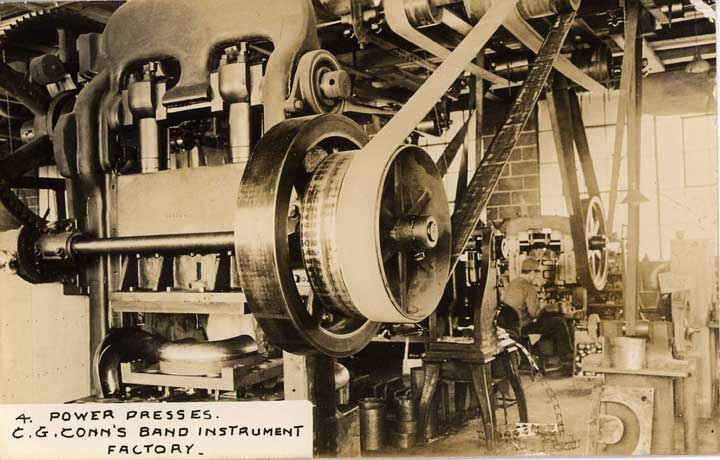 Back then, large presses were fitted with custom dies that stamped out sheets of brass into the rough parts of sub-assembled. This press is stamping out one of the half sections for a tuba bottom bow.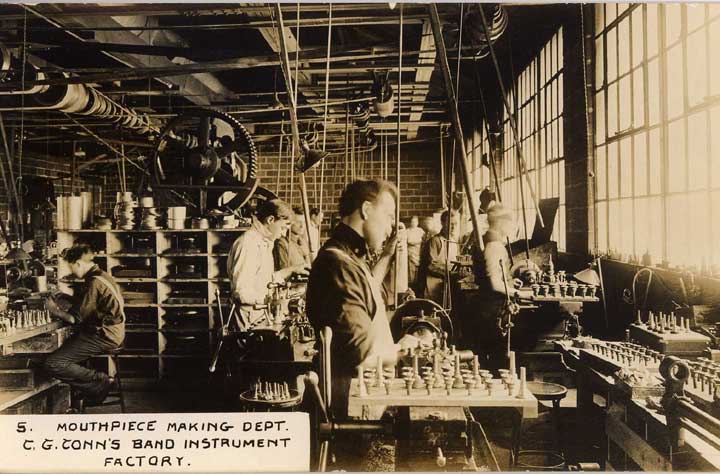 Making mouthpieces, lots of mouthpieces.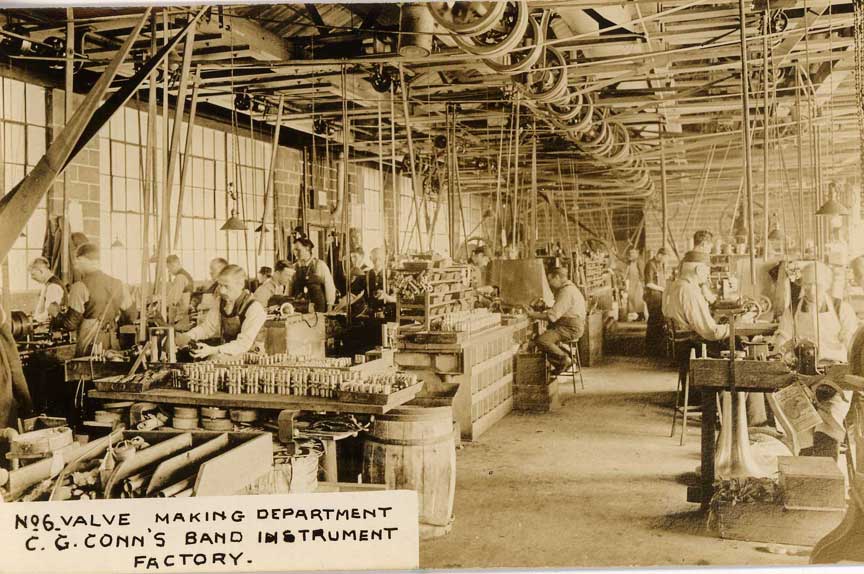 The "valve department", where many small pieces are made and put together creating the valve assemblies for all brass instruments.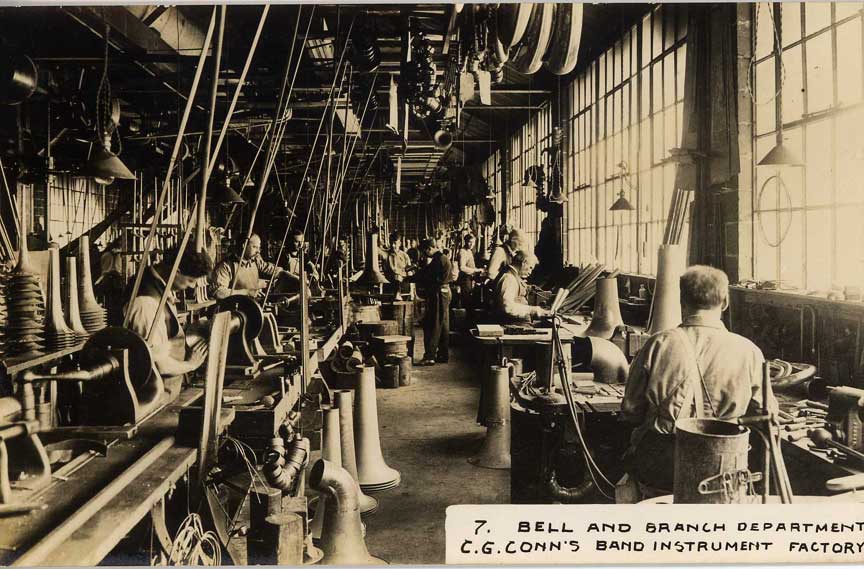 The "Bell Spinning department" is where brass instrument bells are formed on spinning-lathes. The process is one that calls for a high degree of skill.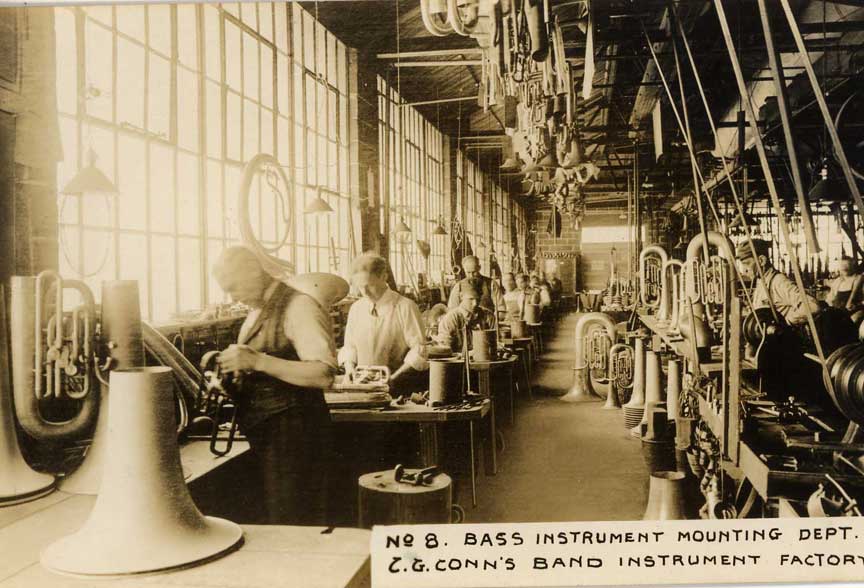 Assembling tubas, euphoniums,... all the big iron.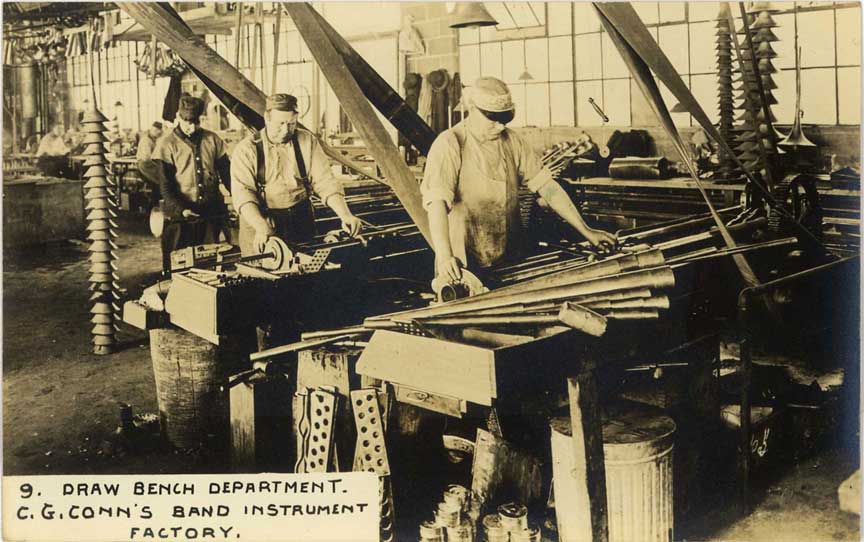 Draw benches are used for extruding brass tubes to the desired size and taper.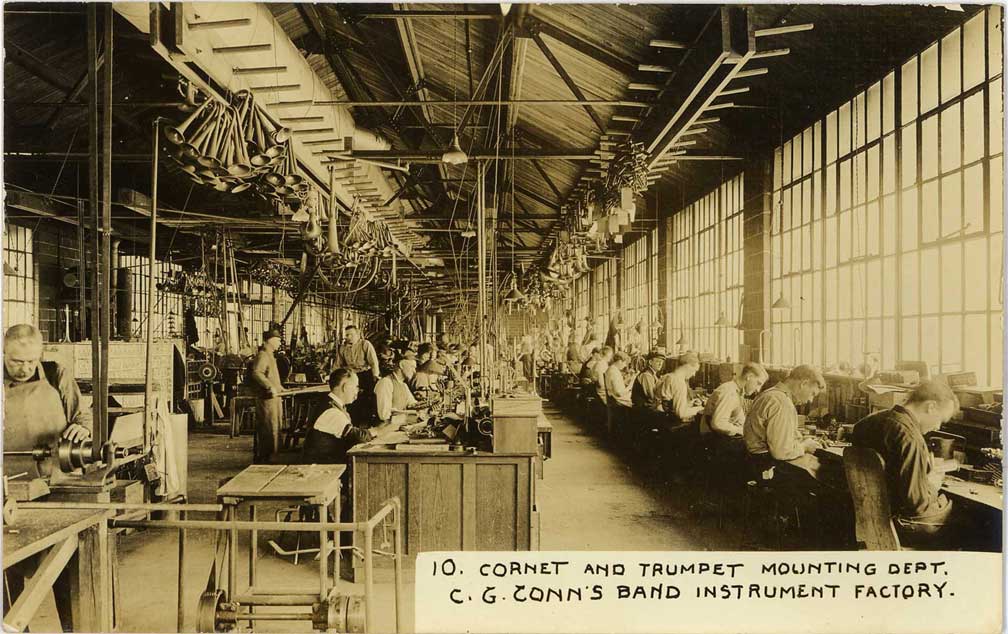 Assembling trumpets and cornets.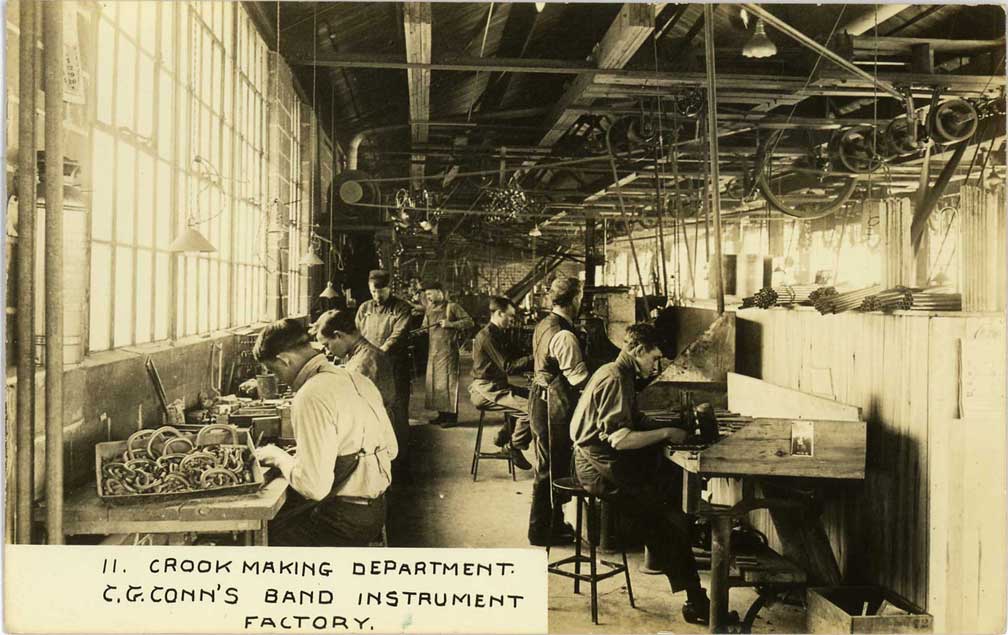 making macaroni.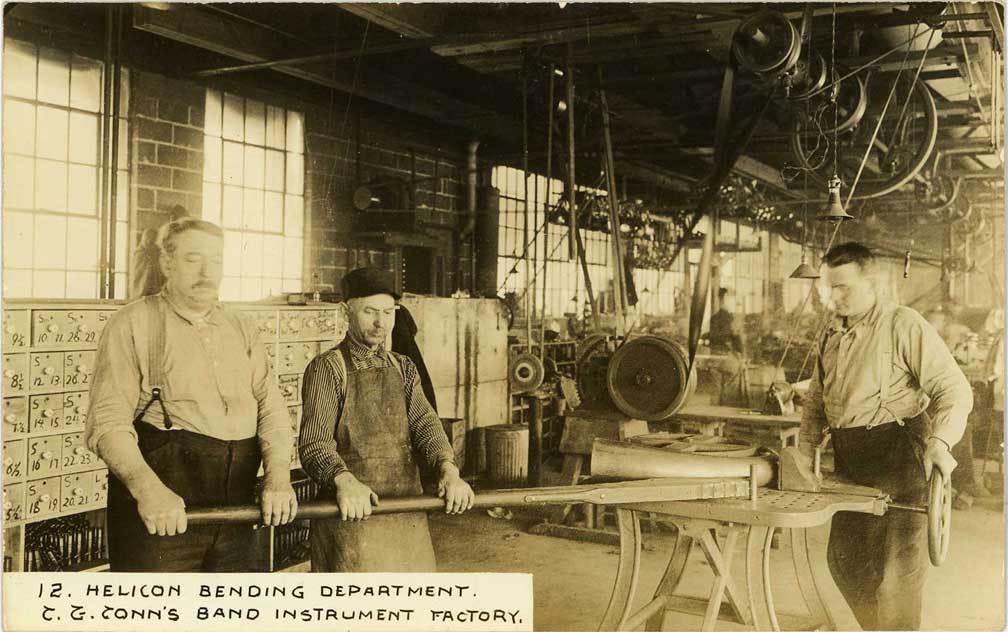 With the use of a large cheater-bar, the large lead filled branch of a helicon bass (marching tuba) is accurately bent to the proper radius.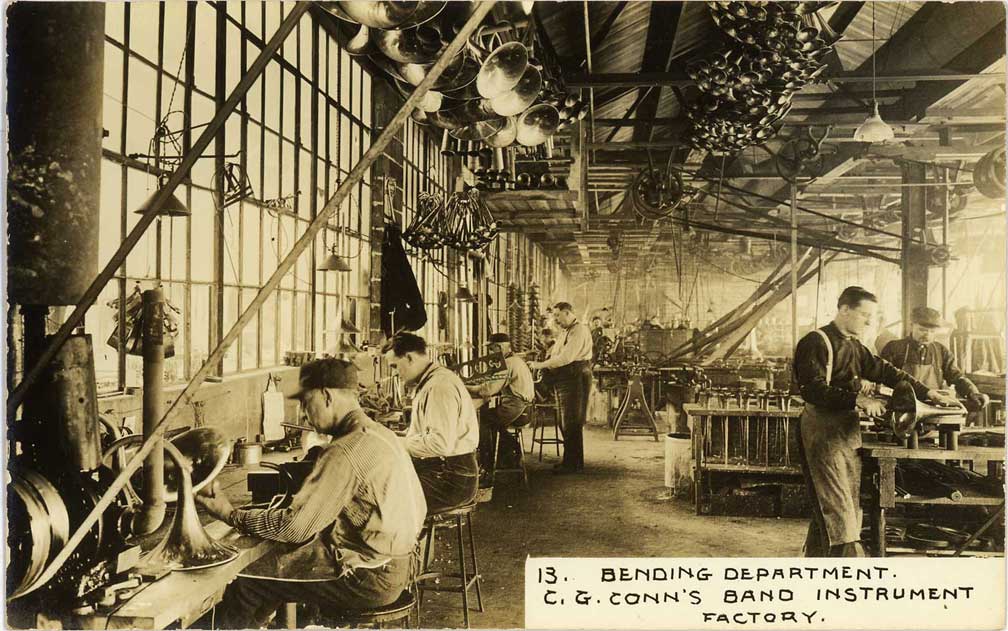 r Smaller branches, like those on french horns and baritones were also filled with lead and bent to the desired radius. The "Bending Department" is where large bows, branches and bells are. well bent. Seen here is where the ripples that occur during the process are hammered and burnished out.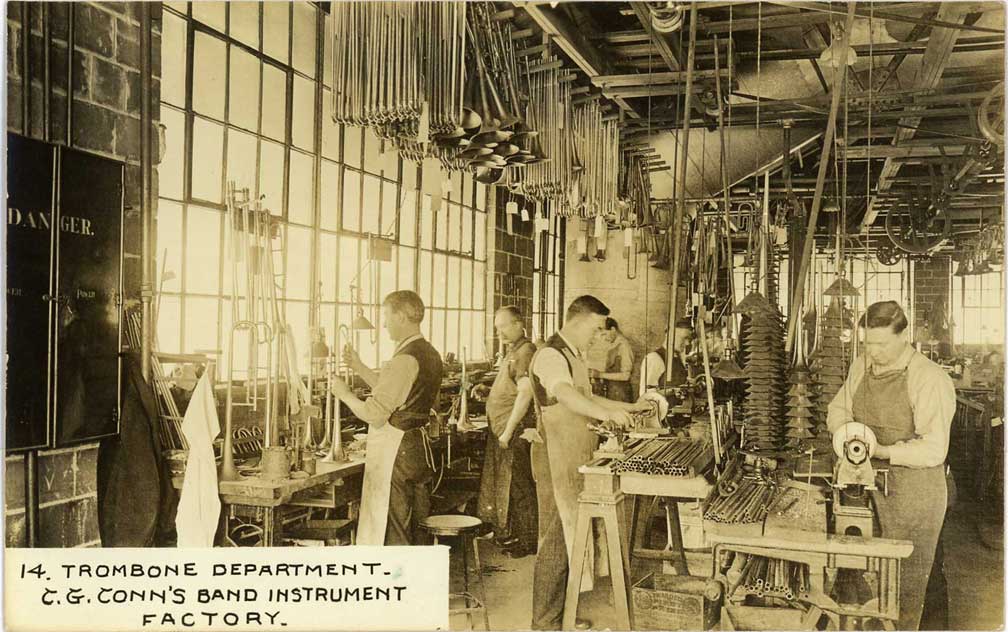 The magical trombone department.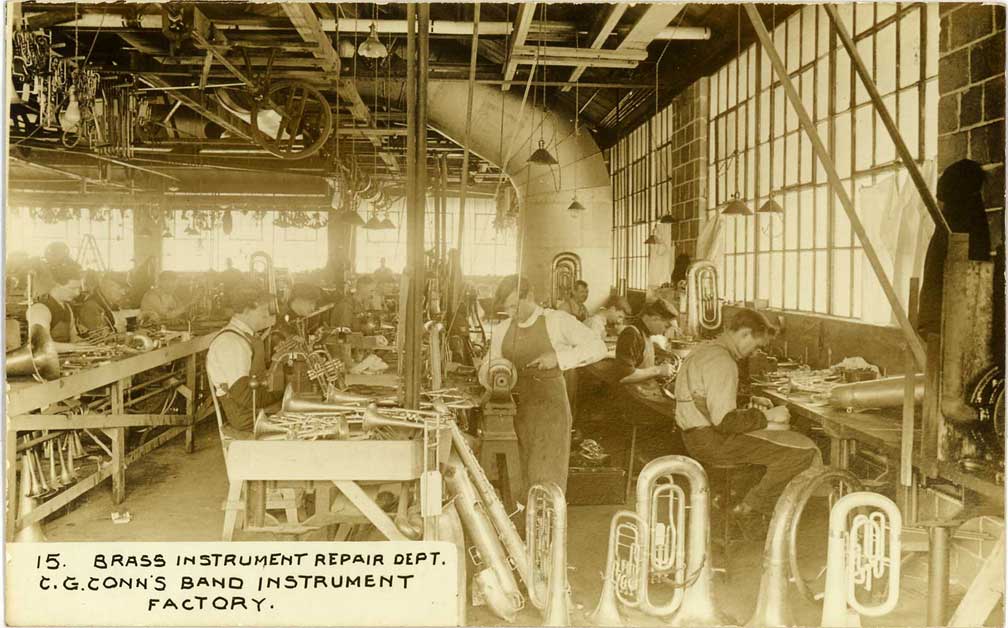 Unlike today when you have local repair and restoration shops (like Oberloh Woodwind and Brass Works), there was a time when getting a brass instrument repaired meant shipping it to a manufacturer in the mid Western US.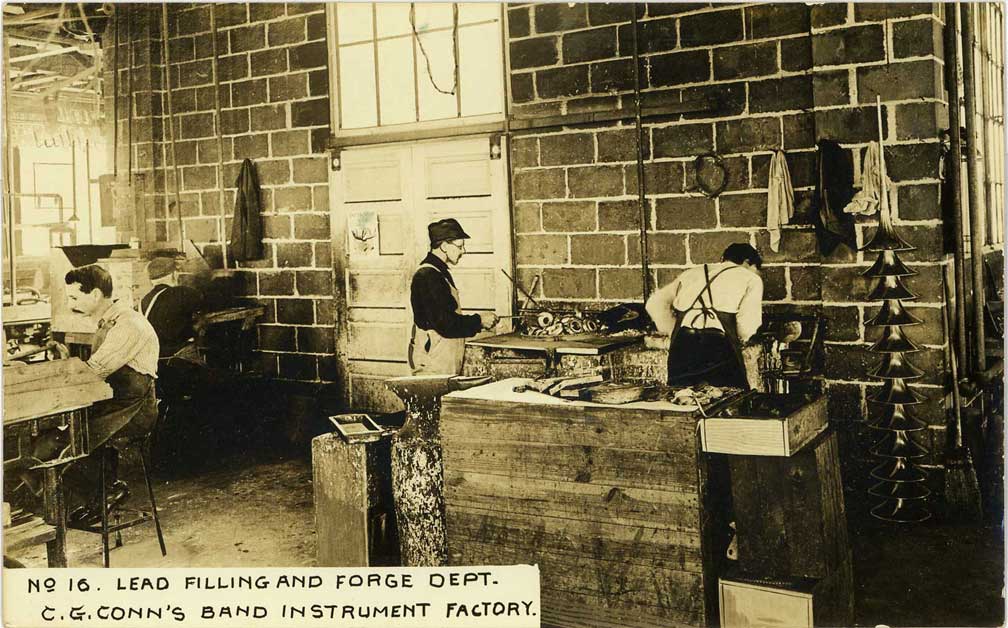 Filling the branches and bells with lead keeps them from kinking during the bending process.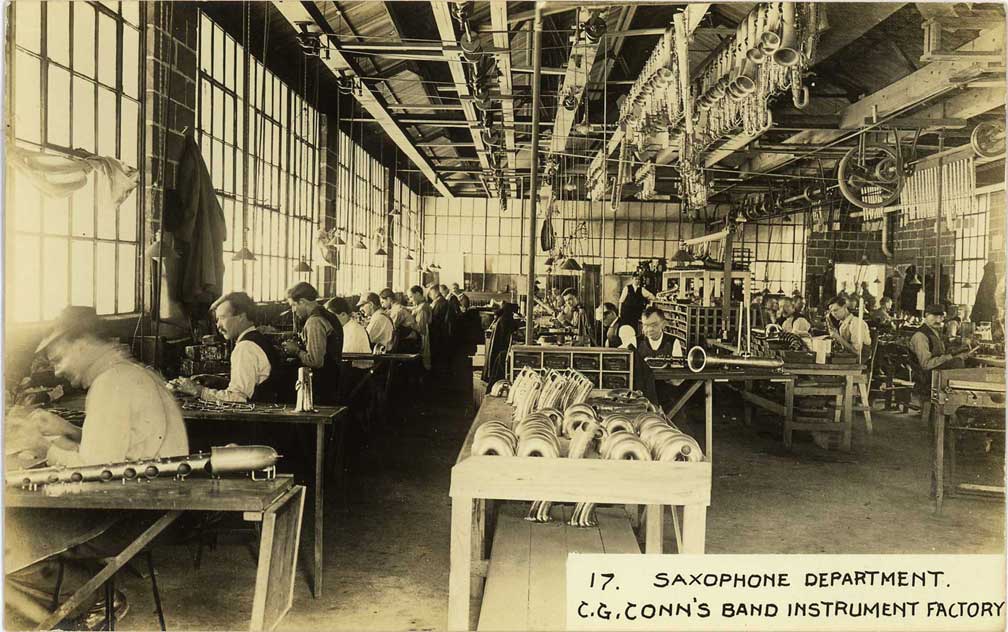 Yup, they got to come from somewhere.
Once it is together, it's ready for polishing. Here is a shot of the "Buffing Department". Very dirty work.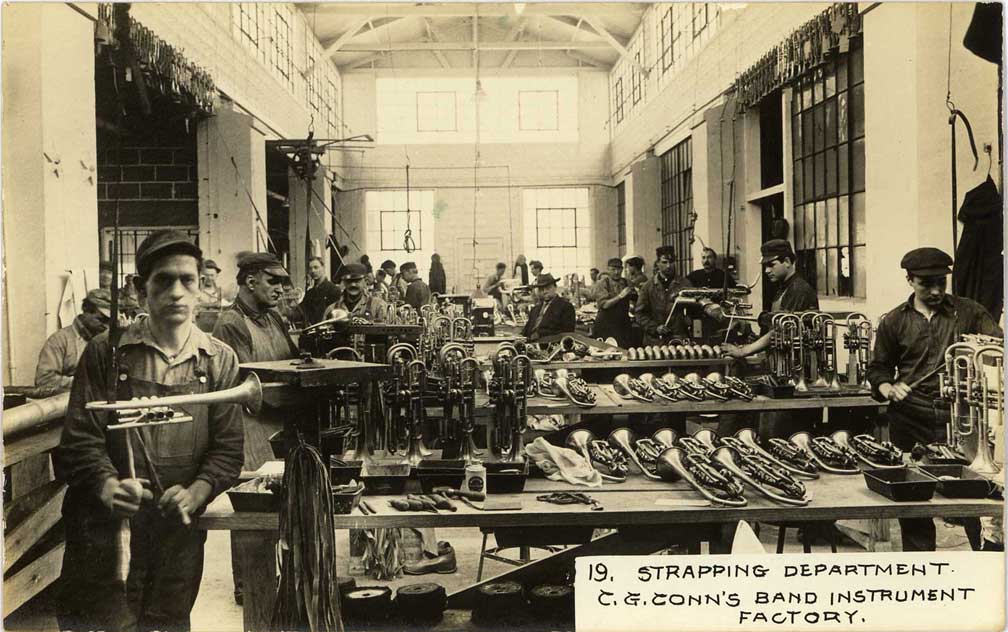 Strapping horns is the process that polishes the brass in all the tight spots. Mmm' good times.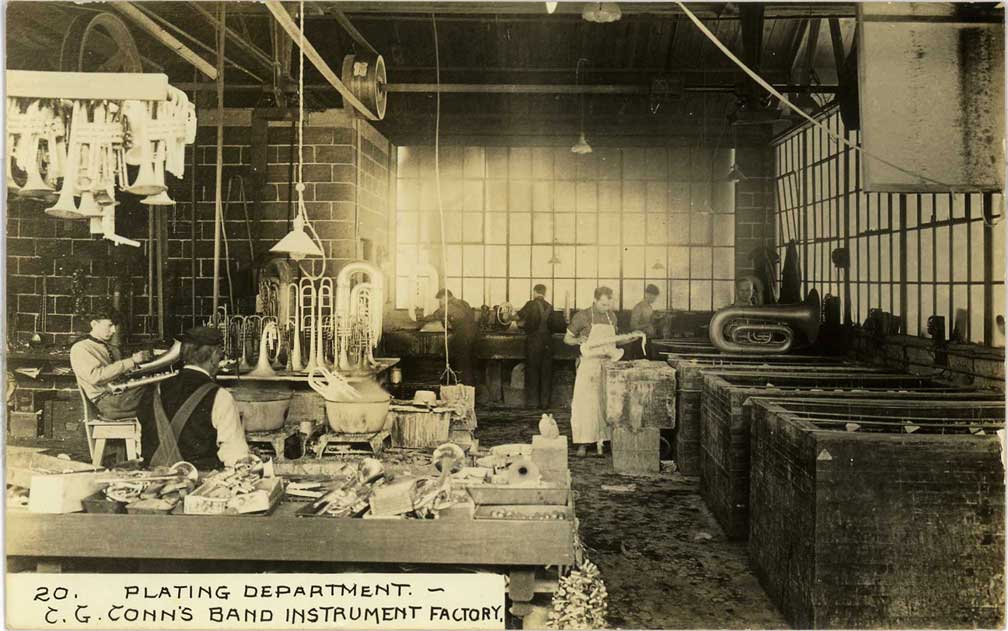 After polishing and buffing instruments that are to be nickel, silver or gold are sent to the plating department.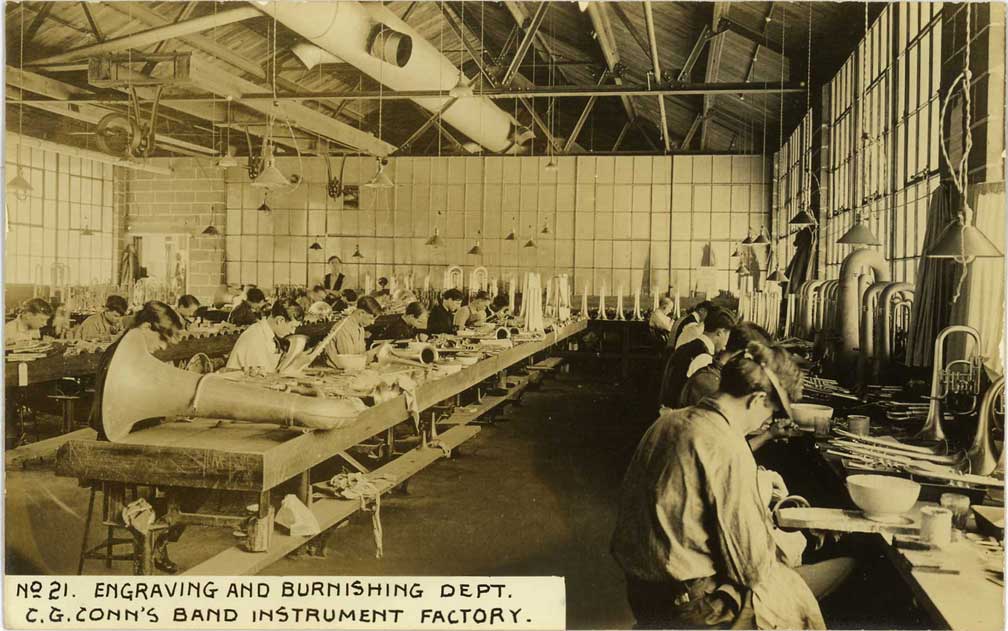 Back in the day, Conn had a huge engraving department that was always a bottle neck in the production. Unfortunately, this was cut back quite a bit when the new owners took over around 1917. Standing to the left in the back of the room looks to be Conn's famous engraver Julius Stenberg. And in the back right corner is most probably his brother Charles AKA Doc who worked at C. G. Conn nearly there entire lives (from the 1880s to the 1950s).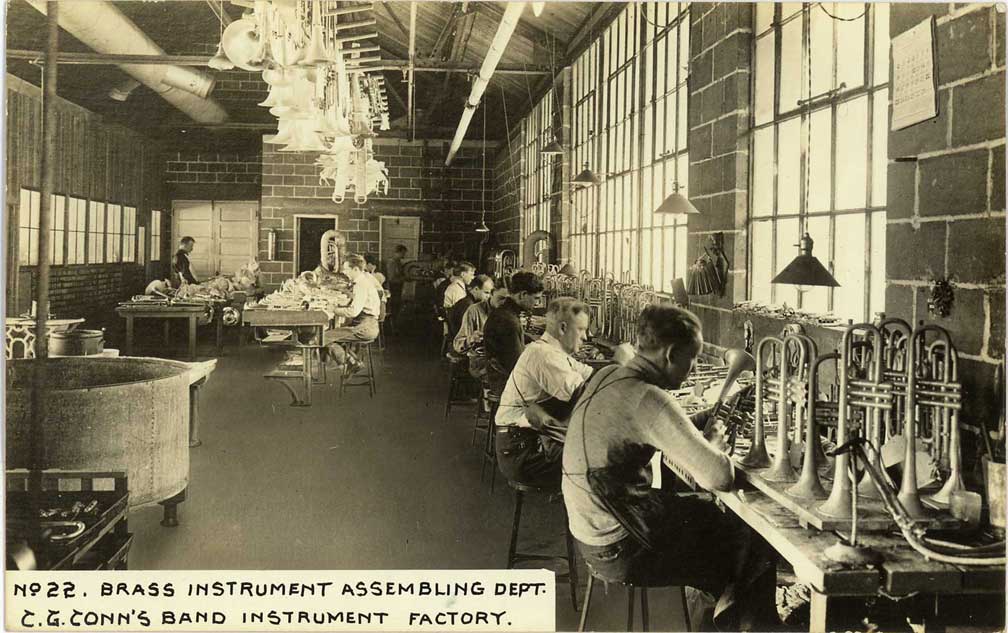 Trumpets and cornets, Once all the parts are made its time to put them together.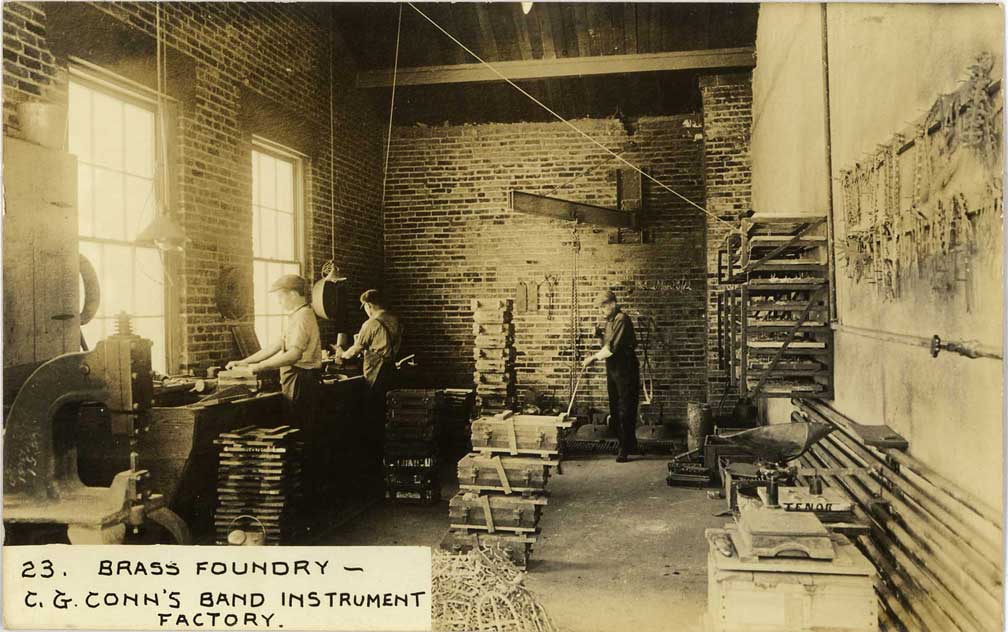 Many parts are cast from molten brass and nickel-silver. Parts like clarinet, bassoon and sax key levers as well as percussion and banjo hardware.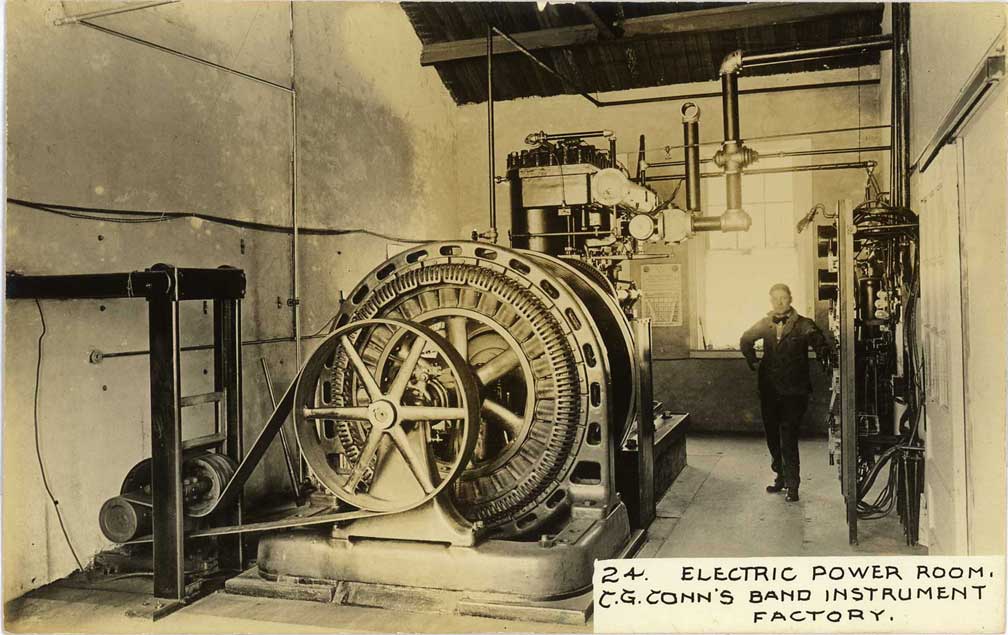 In 1911, electricity was still new and worth showing off.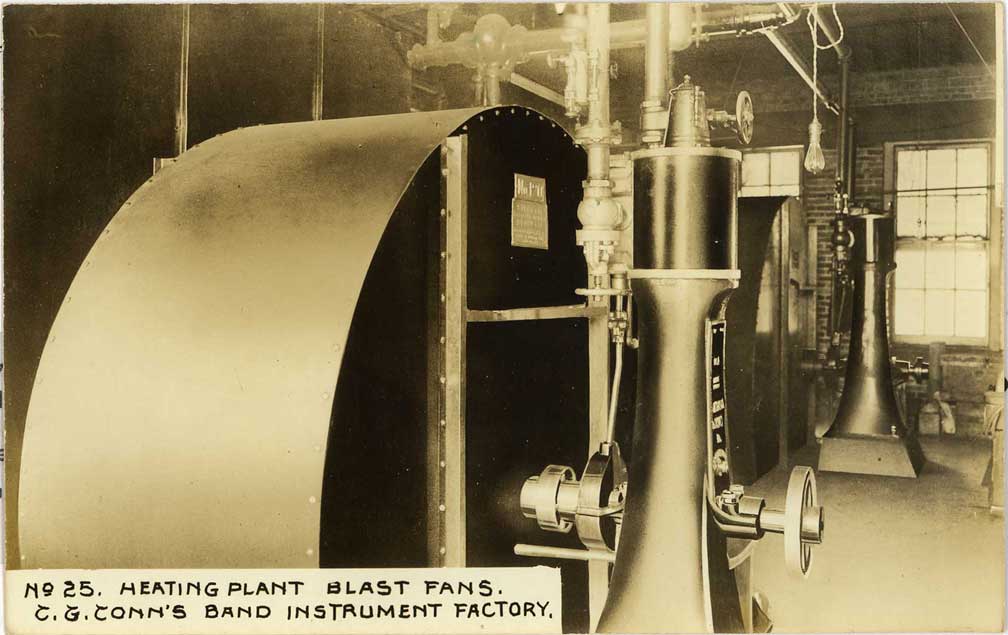 In winter time; warm and comfortable workers are happy workers.
Boilers make steam, steam powers the generators that make the electricity that makes the machines go. Very modern... for 1911.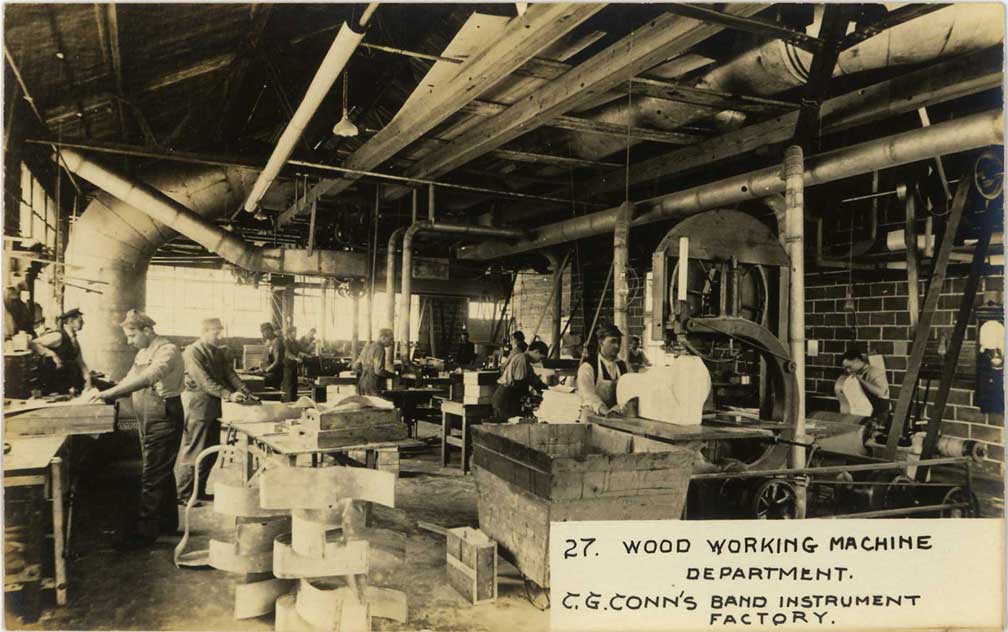 How many manufacturers make there own cases today?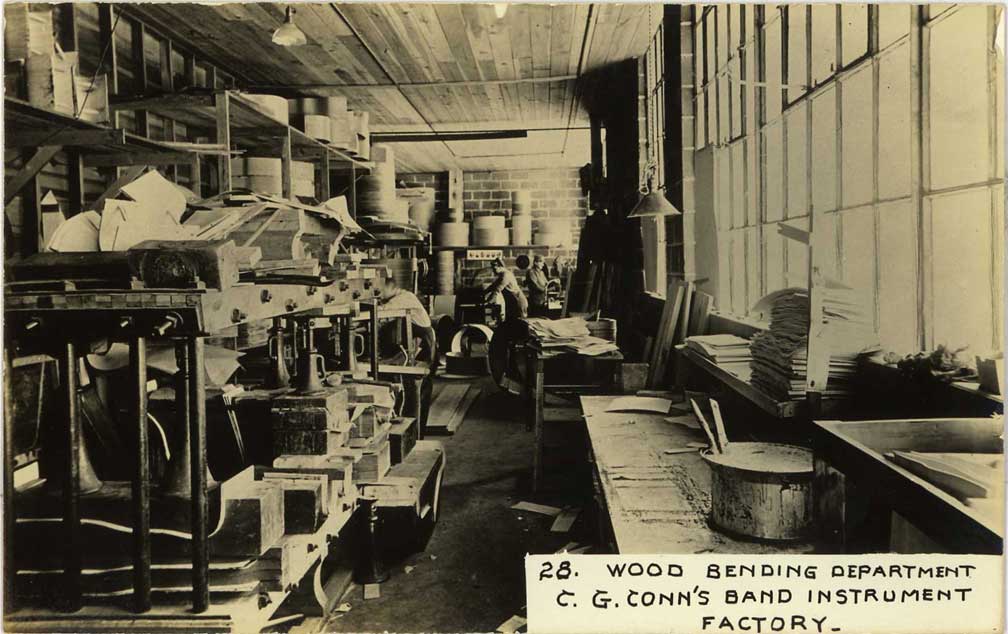 Case shells, drum shells... Same dept.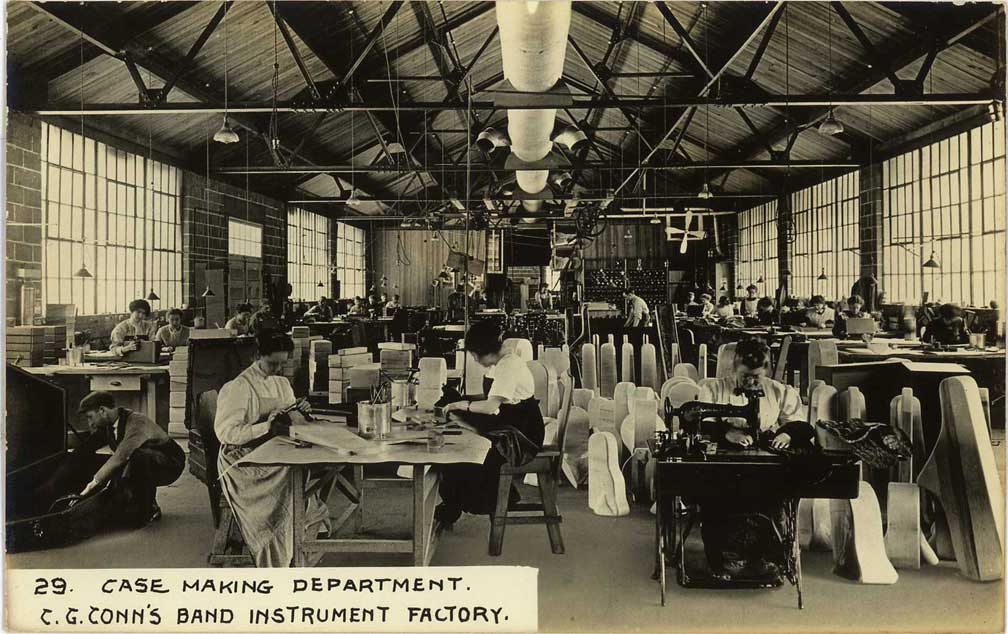 On the factory floor, Women in the work place???... Gasp!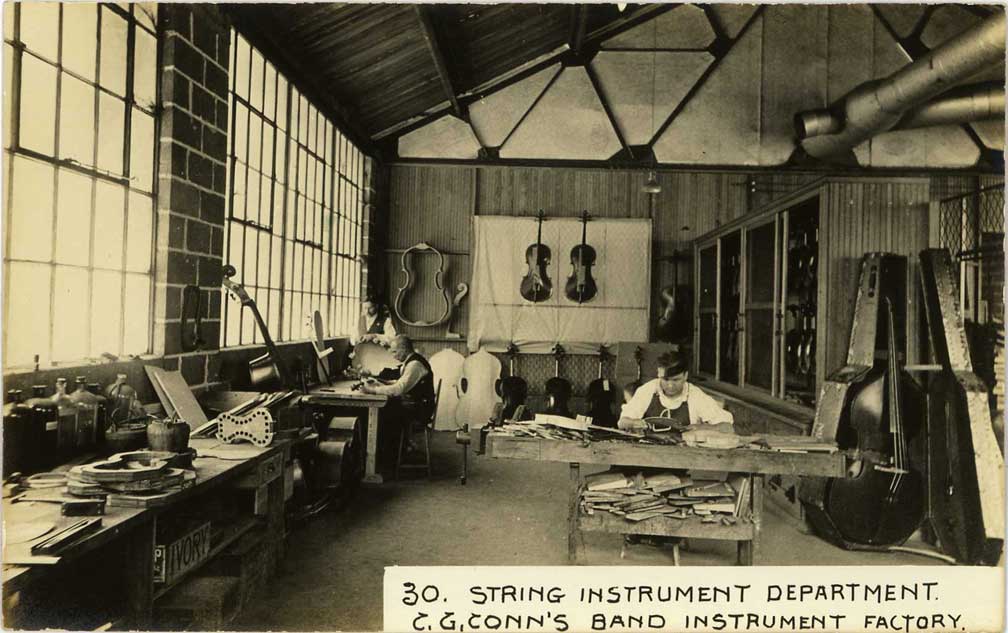 Compared to the rest of the factory, it looks like they were just dabbling in luthier work.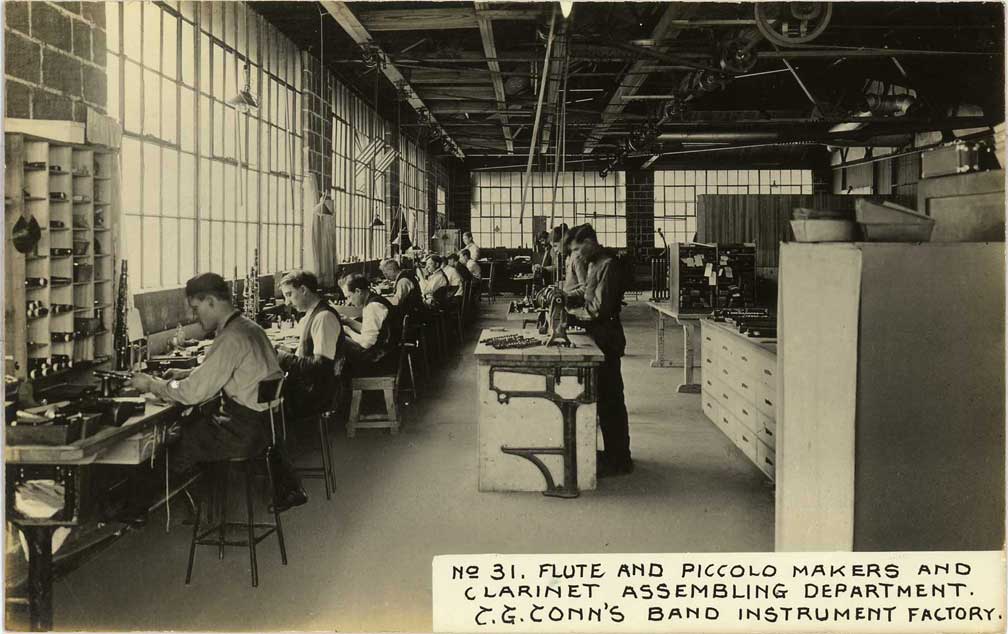 Flute work is much cleaner.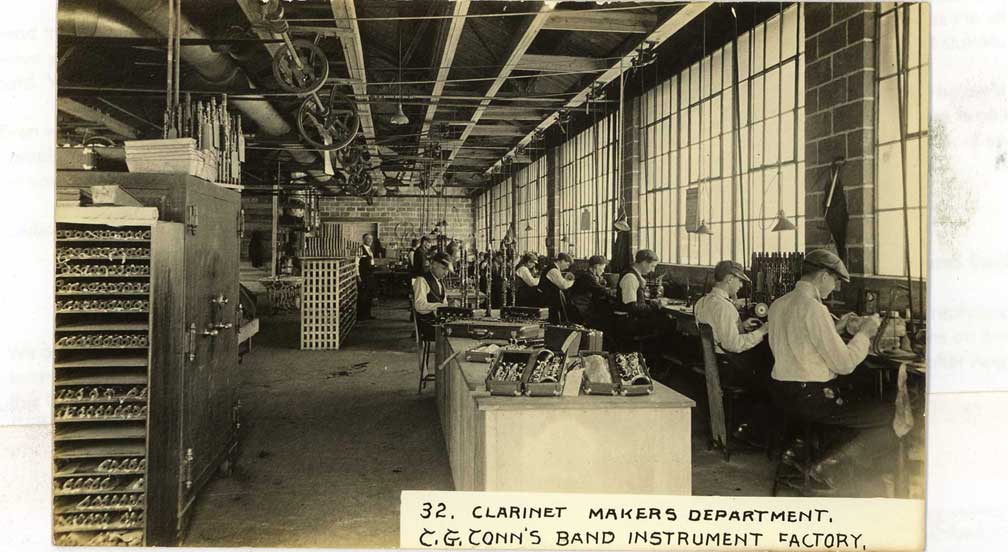 Clarinet work is too. I don't think I want to do brass anymore!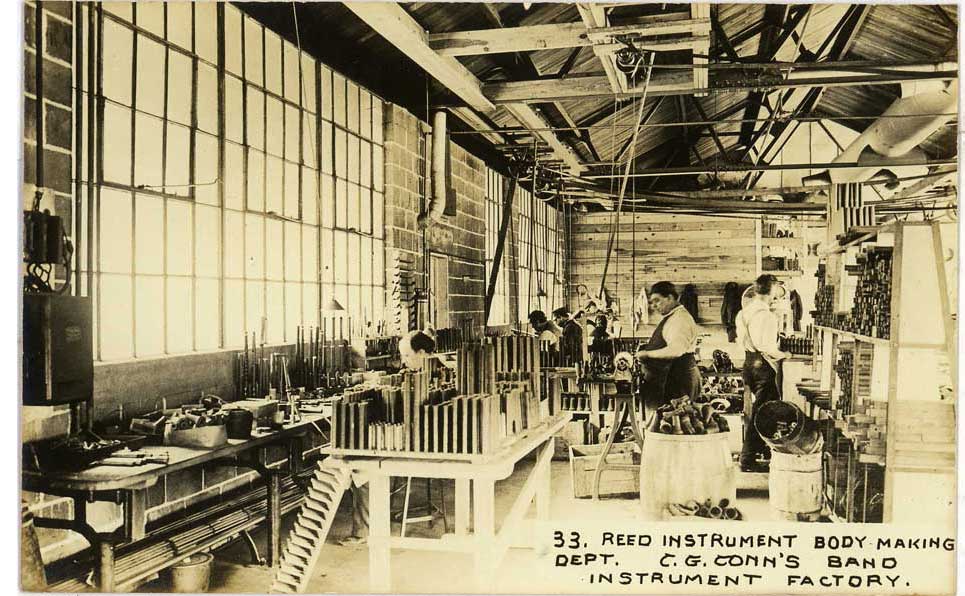 That's it, I want to do woodwinds from now on! There dept. is nicer! What?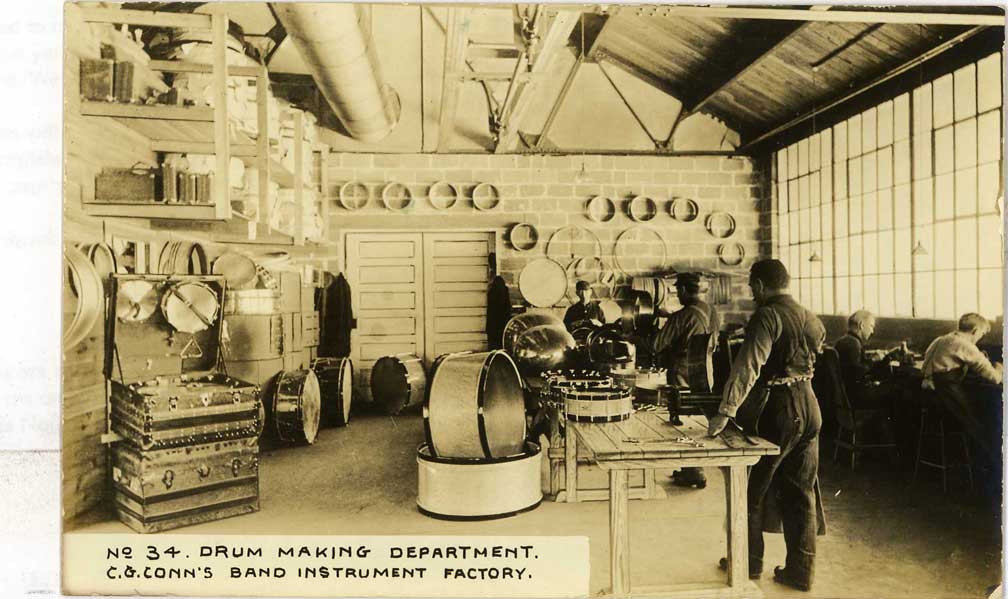 Eh, drums.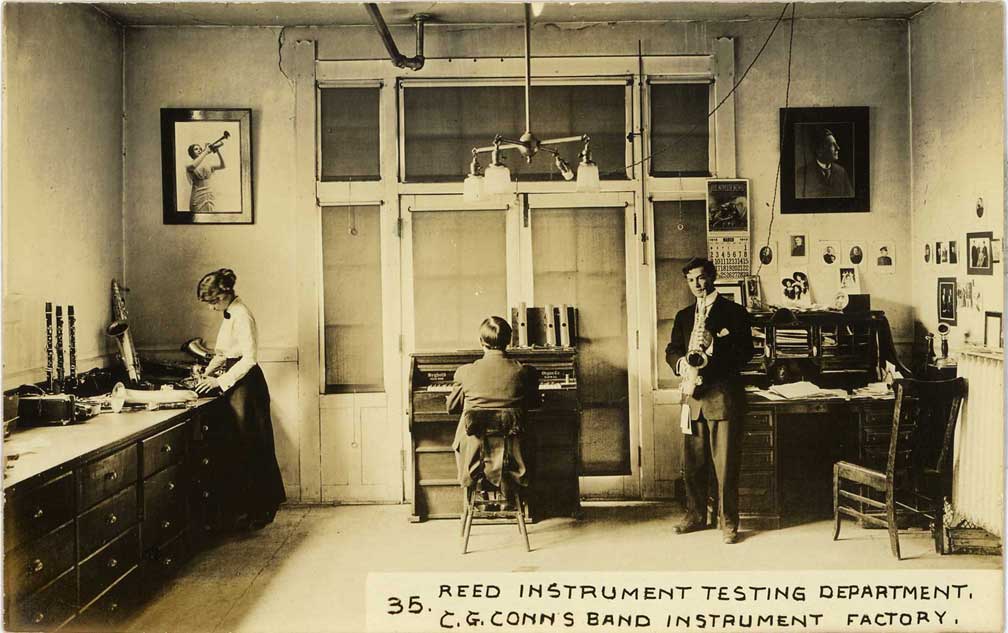 I guess they found a real day gig .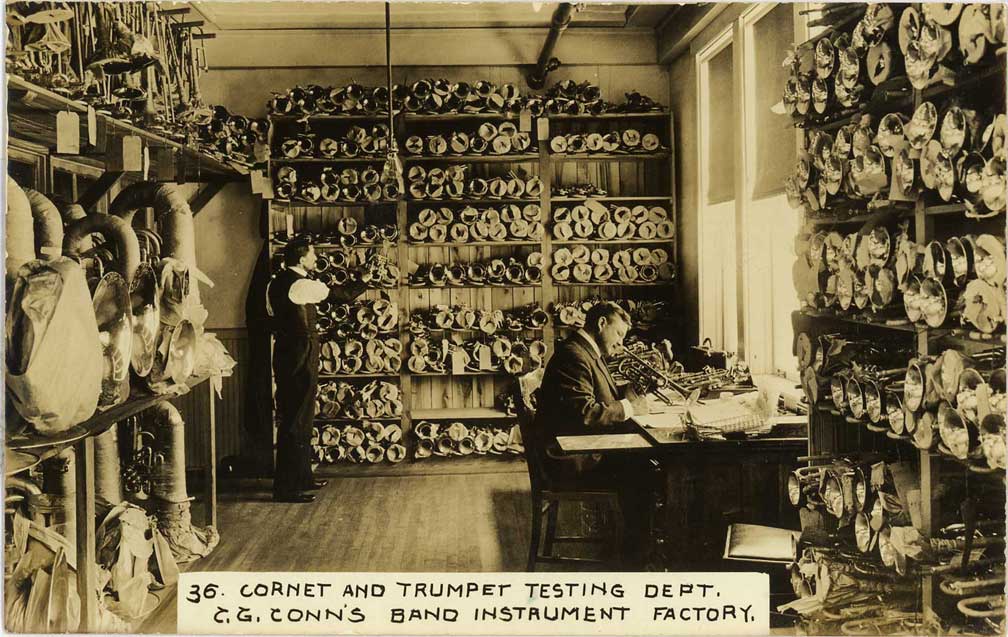 Testing? Looks pretty quite in there to me.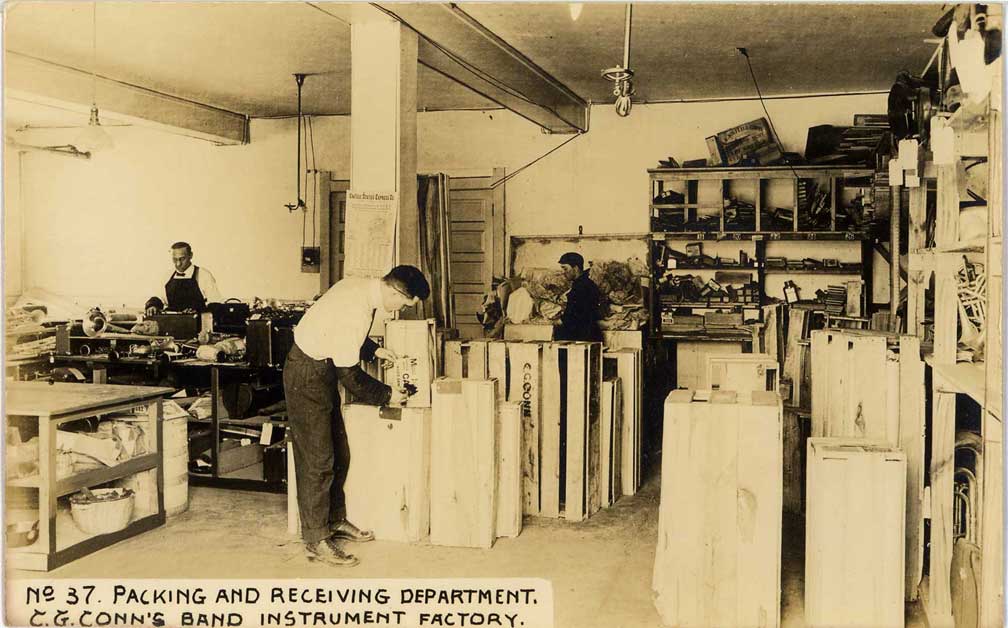 Before cardboard boxes.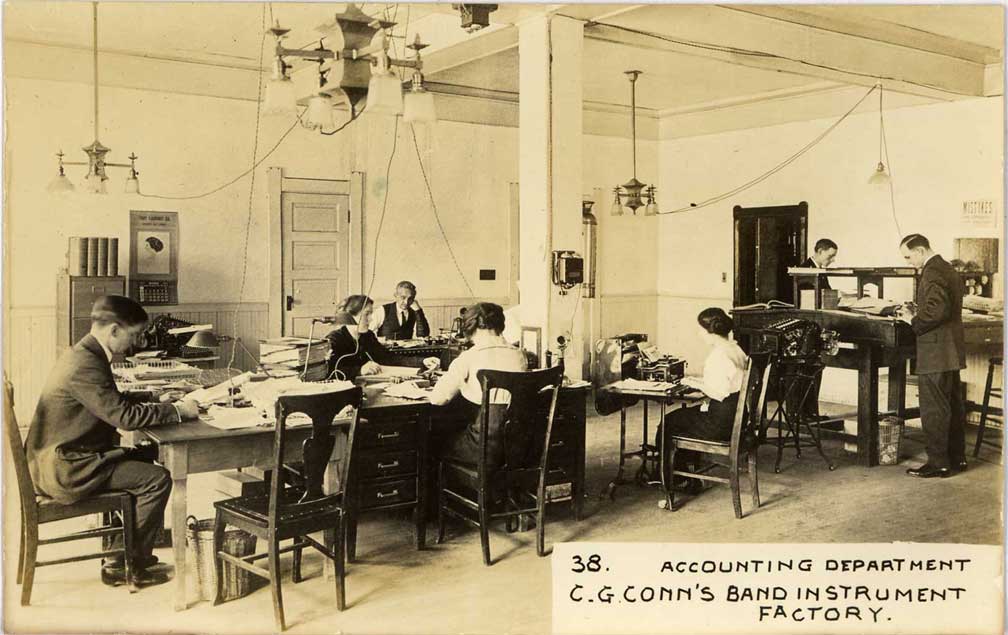 Before cell-phones, computers, television, radio, ball-point-pens...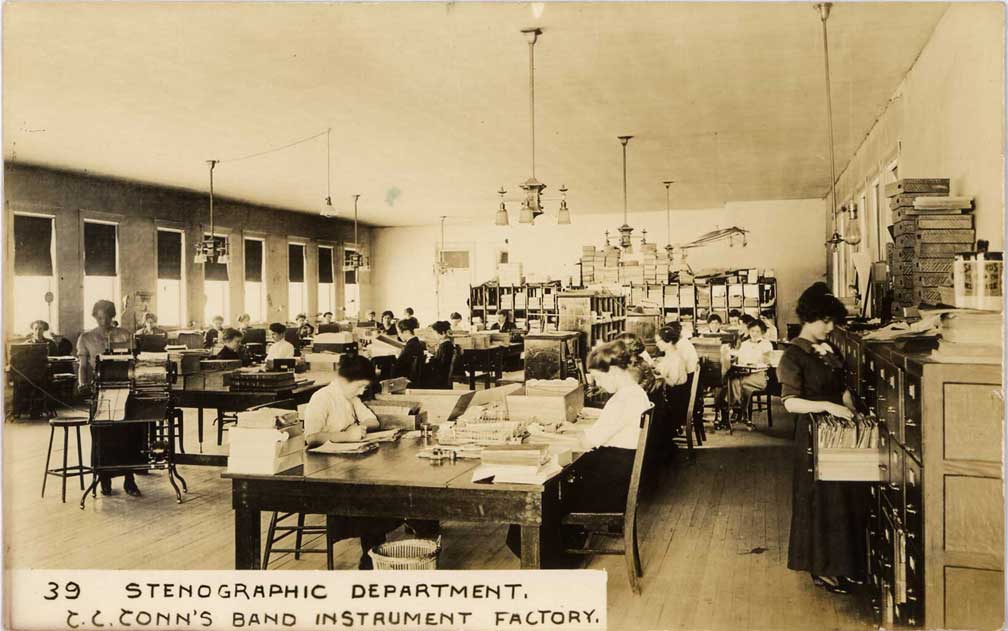 What's a stenograph? I bet it was cool in 1911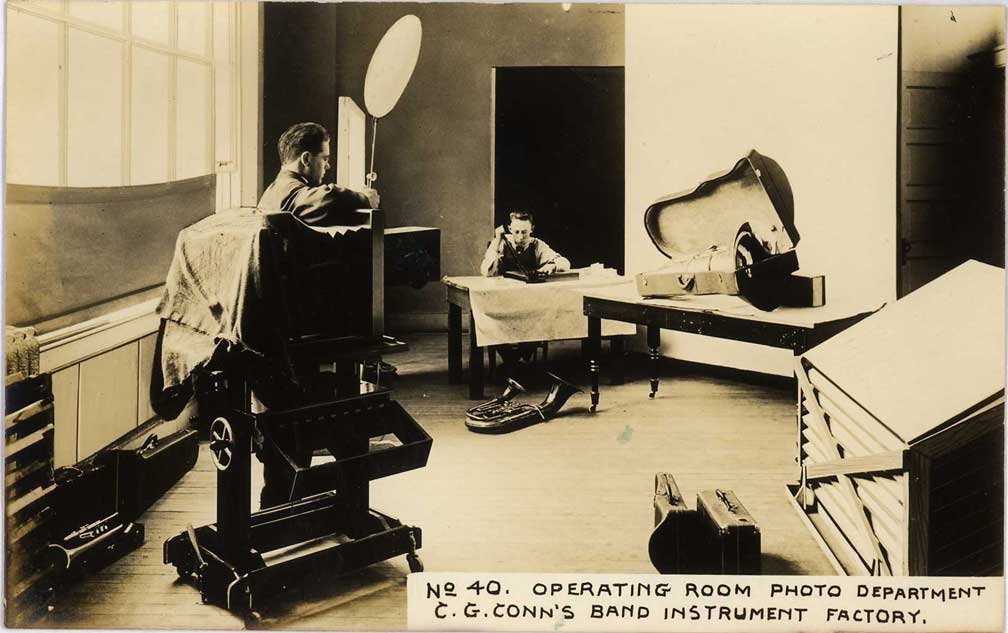 Scalpel. No. Say cheese.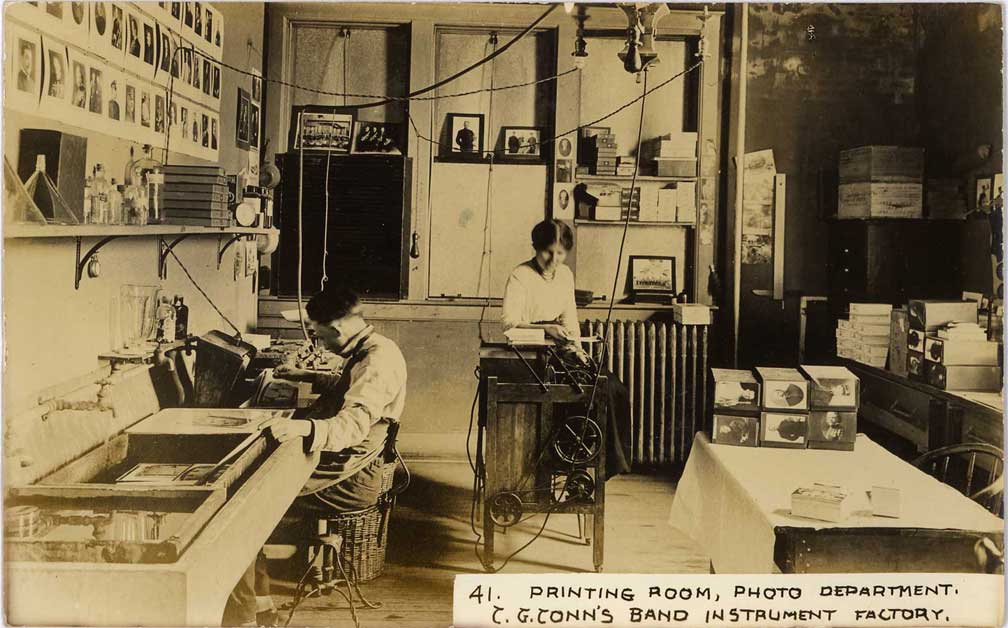 Eight by ten please.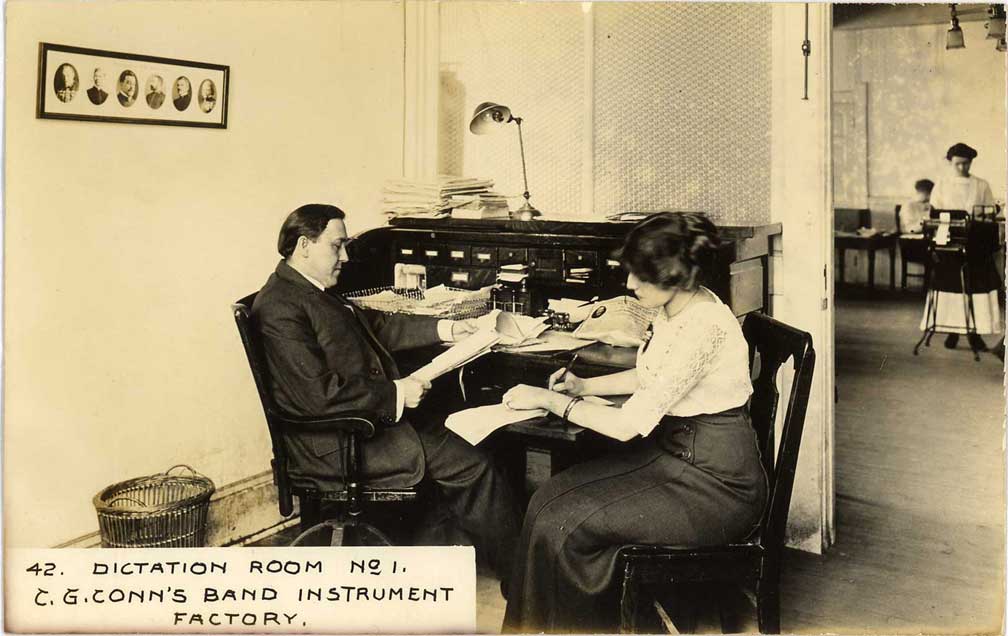 Blah, blah, blah...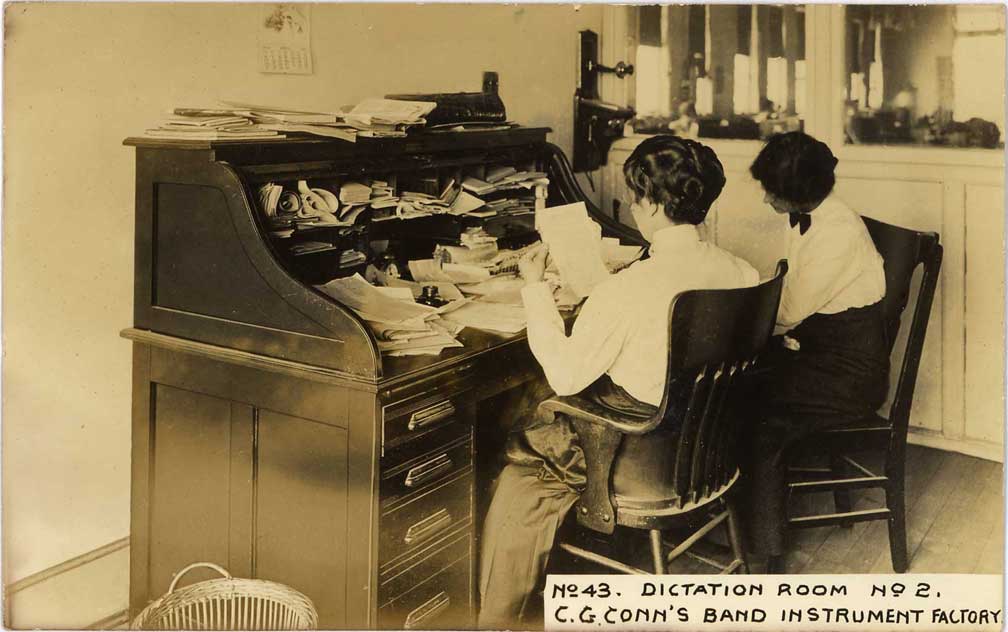 Continued: Blah, blah, blah...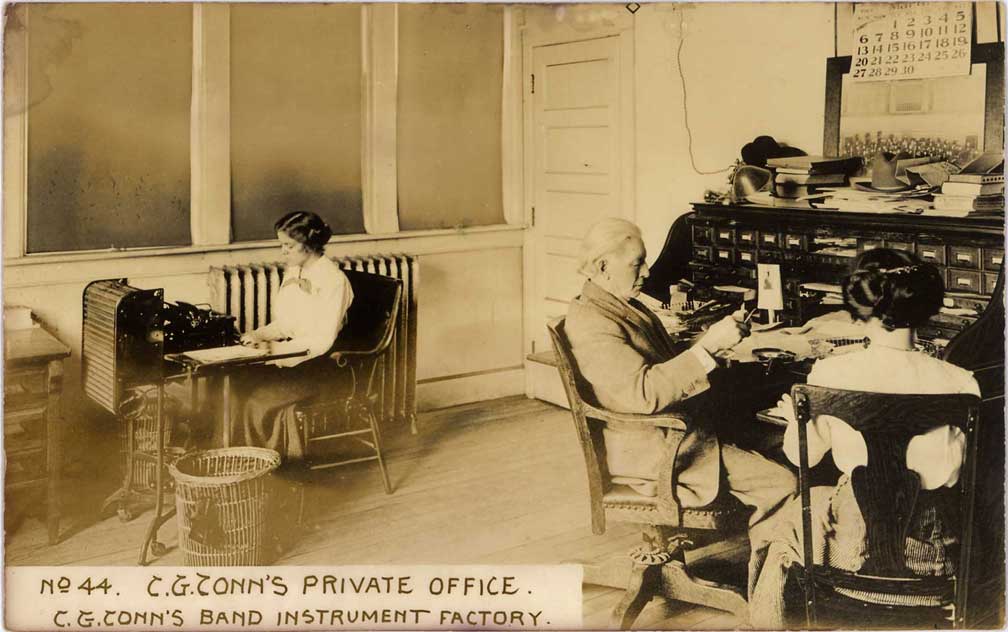 Mr. Conn.
We hope these images are of interest to our visitors.
Charles Gerard Conn. The company was founded by Charles Gerard Conn (b. Phelps County [disambiguation needed ], New York 29 January 1844; d. Los Angeles, California 5 January 1931). In 1850 he accompanied his family to Three Rivers, Michigan and in the following year to Elkhart, Indiana. Little is known about his early life, other than that he learned to play the cornet. With the outbreak of the American Civil War he enlisted in the army on 18 May 1861 at the age of seventeen, despite his parents' protests. On 14 June 1861 he became a private in Company B, 15th Regiment Indiana Infantry, and shortly afterwards was assigned to a regimental band. When his enlistment expired he returned to Elkhart, but re-enlisted on 12 December 1863 at Niles, Michigan in Company G, 1st Michigan Sharpshooters. At the age of nineteen on 8 August 1863 he was elevated to the rank of Captain. During the Assault on Petersburg on 30 July 1864, Conn was wounded and taken prisoner. In spite of two imaginative and valiant attempts to escape, he was recaptured and spent the remainder of the war in captivity. He was honorably discharged on 28 July 1865.
In 2000, UMI was purchased by Steinway Musical Instruments, and in January 2003 the UMI assets were merged with The Selmer Company to create Conn-Selmer, a subsidiary of Steinway Musical Instruments.