"SKB-RSF2U Studio Flyer"
(Detailed Information Below Photos On Page)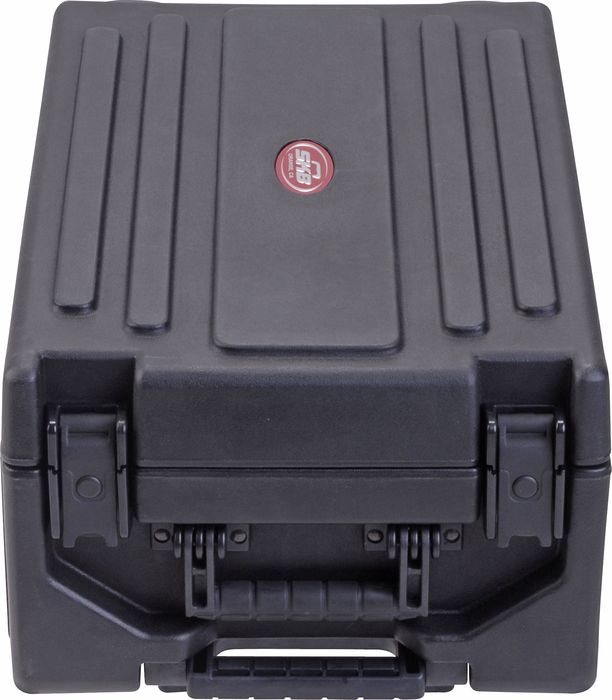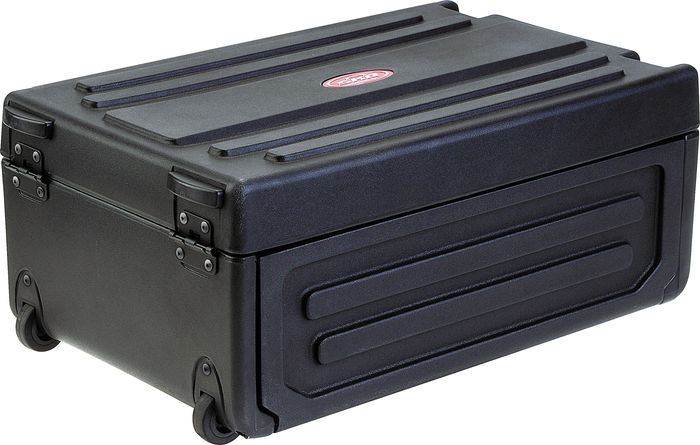 A Laptop/Rack Case that's a Perfect Fit for Your Mobile Recording Rig! The SKB SKB-RSF2U Studio Flyer case gives you an ideal transport solution for your portable recording rig. This roto-molded case includes a 2U rack for disk drives or recording devices, plus an adjustable storage space for your laptop. The Studio Flyer's easy-glide wheels, retractable pull handle, and rubber-coated carrying handle make the SKB-RSF2U Studio Flyer great for on-the-go musicians. Nylon-reinforced fiberglass latches have trigger releases, while features such as a removable cover and built-in mouse pad surface make the SKB-RSF2U Studio Flyer a performance-ready platform.
Street Price $199.99
SKB-RSF2U Studio Flyer Laptop and Rack Case Features:
2U rack and laptop combo case
Deep enough to fit a Digidesign 003 Rack
Nylon-reinforced fiberglass trigger release latches
Recognized and accepted TSA lock
2-stage retractable handle and easy glide wheels
Cable pass-through from laptop to rack
Built-in mouse pad surface
Removable cover
Reviews

Great way to travel with Receptor
by Groovology from San Francisco, CA, August 2008
Music Background: Pro musician

If you are looking for a way to take a Receptor hardware plugin player on the road, and keep either a laptop or an LCD screen with you, then you'll definitely want to take a close look at the SKB Studio Flyer.

I'm impressed with its ruggedness and the quality of materials, and I've used it on several gigs and have to say that I'm extremely happy with this case. The design is very clever, with the movable braces in the top lid, and the fold down lid that also serves as a mouse pad. The latches are super heavy duty, and the fact that it rolls around and has a built in handle... definitely traveling in style.

Two small drawbacks: this case is really tough, which also means its a bit on the heavy side - 15 pounds when empty. This might be a concern for musicians who need to fly to go to a gig. When fully loaded with a Receptor (15 pounds) and a laptop (10 pounds with power supply), plus the 15 pound weight of the case, you're pushing 40 pounds, and very close to the limit for US airlines for carry on luggage. (Most Us airlines allow a single 40 pound bag, but some are as low as 25 when travelling to places like Hawaii) The carry on weight limit on many European and Asian airlines is even less, which means you might have to check it to the destination, and I'm uncomfortable checking valuable things given the way that baggage handlers throw stuff around...

My only other issue is that when its fully packed, there isn't a lot of room for cables, but that's no big deal for me since I use a separate cable bag. But if you were looking for a complete all in one transport solution, you might find that there isn't enough room for all your cables if you have a big 2U rack device to mount in the main area... I hear they have a 4U case coming out though...that would be plenty of room for my cables AND my IO interface...

Having said all that, for local gigs around town or touring in a van or bus, this is an awesome way to have your rack and your monitor or laptop with you in a compact, convenient, and highly portable form.

One word about SKB quality. I've checked out a lot of cases in my life, and SKB's quality is simply beyond reproach, with their million mile guarantee... and its made in the USA as well.

My one sentence summary is this: I'd definitely buy it again!

Cool Case
by Ryan Potter from Aus, July 2008
Music Background: Composer/Producer

Great case for a solid purpose. I bought it with the idea of traveling overseas with a portable studio. Though i find myself now realising that a a high quality backpack that secures a laptop is a better option for me. If you regulary gig i would recomend this case. If its for twilight travel maybe a decent backpack that you can throw over your shoulder with your passport is the better option.

Very Cool Case, Handle a Little Weak
by Hendrik from Indecent Music from Boston, MA USA, May 2008
Music Background: Composer, Producer, Professor in Audio Technology

I just received my Studio Flyer from Sweetwater. I needed something to rack mount a MOTU Traveler, a MOTU 8-Pre and cart my crap-top around in and this fit fit the bill. The case is pretty well put together using some type of heavy plastic that seems slightly flexible (probably to prevent cracks). The extended handle seems pretty weak and makes a lot of creaking sounds when you pull the case around. The clasps are really nice and clearly are TSA approved. This is good medium duty case and probably fine for most applications. I wouldn't throw it an a truck of a car with the handle extended as I would be worried about damaging the handle. There were lots of little slivers of black plastic in the case that got into the carpet. They're probably from the manufacturing process, but they made quite a mess.