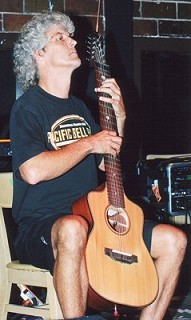 Bob with the Acoustic Stick
"Bob Culbertson The Acoustic Stick Artist"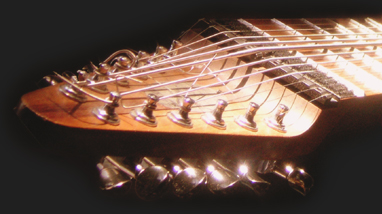 Maple Grand Stick Head & Tuning Keys
The Acoustick is a 10 string tapping instrument. The instrument has an acoustic body and a Chapman Stick neck.
There are several new projects coming out this year and into 2012. Due to my busy schedule it has taken me longer than expected. Also as opposed to the way I have worked on projects in the past, I am working on several things at once. I have found this to work best by going with my inspiration at the time. Here are the projects and the month I hope to release them. Sticklessons.com is now up and running with several new beginner lessons coming this month. Skype will be added in the next couple months.
Celtic Waters, an all traditional Celtic song CD. There will be solo stick and some sparsely added Cello and flute parts. Release August 2011
No name yet, a CD featuring original progressive classical with some traditional classical songs. Early 2012. Beatles, a new CD featuring all Beatles songs solo on the Stick late 2012-early 2013. Other projects are coming as they develop such as a new Blues oriented CD and Gypsy style CD.

The Acoustick
The Acoustick is a 10 string tapping instrument. The instrument has an acoustic body and a Chapman Stick neck. The music is created

Bob's Maple Grand Stick
It took a day to figure out the air conditioning at the Clonlara School in Ann Arbor Michigan. From Aug. 3-5 2002, 33 Stick players from across North America gathered at the Clonlara School for what may have been the largest gathering in the world for players of Emmett's instruments. There were many factors contributing to the overwhelming success in Ann Arbor: great organization, momentum carried over from past seminars, a general feeling that now is really exciting and special time to be playing The Chapman Stick. But many point to the combination of two great figures in the Stick community as the headline attraction and factor that made Ann Arbor 2002 such a resounding success. Of course I'm referring to Greg Howard and the victim of this Talking Sticks installation Bob Culbertson.

So by the end of the first full day of instruction, the Saturday, everyone was just baking. By Sunday, Steve Osburn had figured out how to control the AC in each room and things were nice and cool all around. My internal thermostat, set to its moderate Canadian climate, had adjusted and all was fine. Then, during the Sunday lunch break, I went outside with Bob to find a quiet place to do this interview.

And the heat!
by tapping the strings with enough energy to make them vibrate. This technique is used by flamenco and rock guitarists to embellish their sound. The Acoustick allows the player to play simultaneous melody and bass lines. This technique was thought to be facilitated only on electric guitars. But as you can hear in Bob's music, two handed tapping can be a major asset to the acoustic world as well.
The Acoustick was created in 2002. Bob always liked the sound of the acoustick guitar. As a dedicated Chapman Stick player Bob went to Emmett Chapman to see if he could build an acoustic version of the Stick. After meeting with Emmett and luthier Craig Anderson the Acoustick was ready to be built. After completion Bob had a mike/pickup installed to record the instrument. AcouStick Dawn is the first recording ever produced on an all acoustic instrument using the tapping technique as the primary style,
Biography
With well over 100,000 albums sold and several hundred students to his credit, Bob Culbertson is one of the most influential touch soloists today. His musical style ranges from light jazz with folk and blues flavor to classical with Spanish, contemporary, and traditional influences.
Bob began playing the Stick over 30 years ago when introduced to the instrument by its inventor, Emmett Chapman. The Stick is a ten to twelve- string instrument that bears both guitar and bass elements. The player taps the strings with their fingertips to make sound vibrations, similar to playing a piano. Each hand moves independently of the other to produce a rich blend of melodies, bass, and chords. The sound of the stick is transcending and the visual of the musician playing the instrument truly captivating.
Culbertson's recordings have been described as "the sound of the Stick in its purest form". His CD releases are live, solo recordings with the use of no effects except a small ambient use of reverb.
Bob's most recent projects broke historical ground in the music world. He played an integral role in the development of the first acoustic stick, designed purely for the tapping method of playing. Bob has since released Acoustick Dawn, the first ever recording with such an instrument.
Bob plays a variety of festivals, gigs, and concerts annually. He has toured nearly every state in the US as well as over fifteen countries worldwide including France, Australia, Canada, New Zealand, and Japan.
His concerts include openings and performances with the popular acts; Robin Trower, Robben Ford, Eric Martin, Tuck and Patti, Steve Morse, Doobie Brothers, Allan Holdsworth, Sheila E, Leon Russell, Dave Mason, Babatunde Olatunji, Neal Schon, Alex De Grassi, Fattburger, Micky Hart, Zakir Hussain, Fog Hat, David Grisman, Abraxas, Robin Hitchcock, and members of Santana
"The Segovia of the Stick" History
Bob Culbertson is one of the original pioneers of the Chapman Stick. Meeting Emmett Chapman in 1976, he immediately decided pick up the instrument.
Bob began playing guitar in 1968. His first interest was Bluegrass fingerstyle, later he formed 2 local Rock bands. After becoming a guitar teacher at Guitar Showcase in San Jose, California, he joined-up with his own guitar teacher Jim Bruno to form the Stickband. This band was created only a month after Bob picked up the Stick. Throughout the late 70's and 80's Bob, Jim Bruno, and various other artists played throughout the Bay area. Bob experimented with some of his wild creations featured in Guitar player Magazine.
These included: Mannequin Guitar, (Made of a 6' tall mannequin with fretboard in the leg) TV Guitar with (12" TV body playing videos) Frisbee guitar (Circular body Bob could spin, flip and roll across his body) Slide Harp. (Steel harp plus tap slide guitar played simultaneously) Double guitar, (Playing double lead solos in the Stick style)
During this time Bob also wrote the book Touch System for Guitar which displays his own unique double lead style.
After twelve very successful years with the band, Bob went on to continue experimenting with new concepts, forming the group African Rain. This group featured eight lead vocalists performing a unique combination of African and Western music. Later, the group teamed up with Babatunde Olatunji, know as the ambassador of African drumming.
After a four year stint with African Rain, Bob decided to go on a seven year tour of the US playing solo at almost every major festival in the nation. Focusing strictly on pushing the envelope on the Stick, he transposed music from Motzart, Bach, Beethoven, Albenz, Terriega, Segovia and others. Bob also continued to study World and Jazz styles as well.
While touring, Bob came up with a cutting edge idea that would have the Stick world buzzing. With the help of Emmett Chapman and luthier, Craig Anderson, the first all acoustic tapping instrument was created. Bob received a four star review in Down Beat magazine for his first recording of the instrument, a CD titled AcouStic Dawn.
Currently Bob is teaching at major seminars throughout the world with the Stick. And continues to tour the country playing at festivals. He has also authored the definitive video Stick course for Stick Enterprises, titled Lessons on the Stick.
---
Bob Culbertson, August 5, 2002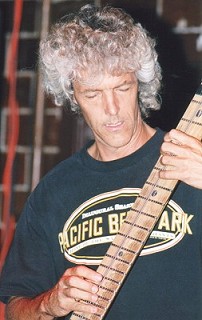 Bob with his maple Grand Stick
It took a day to figure out the air conditioning at the Clonlara School in Ann Arbor Michigan. From Aug. 3-5 2002, 33 Stick players from across North America gathered at the Clonlara School for what may have been the largest gathering in the world for players of Emmett's instruments. There were many factors contributing to the overwhelming success in Ann Arbor: great organization, momentum carried over from past seminars, a general feeling that now is really exciting and special time to be playing The Chapman Stick. But many point to the combination of two great figures in the Stick community as the headline attraction and factor that made Ann Arbor 2002 such a resounding success. Of course I'm referring to Greg Howard and the victim of this Talking Sticks installation Bob Culbertson.

So by the end of the first full day of instruction, the Saturday, everyone was just baking. By Sunday, Steve Osburn had figured out how to control the AC in each room and things were nice and cool all around. My internal thermostat, set to its moderate Canadian climate, had adjusted and all was fine. Then, during the Sunday lunch break, I went outside with Bob to find a quiet place to do this interview.

And the heat!

It felt like I was walking into an oven. But an oven with some sort of strange moisturizing system that not only cooked things, quickly from the outside, but somehow managed to soak things to the core both simultaneously and instantaneously. Maybe this wasn't such a good idea.

We found a picnic table under some totally useless shade. I set up my mini-disc recorder expecting it to melt as I put it between us and tried to recall some of my prepared questions from my quickly dissolving brain. Then we began.

Bob has a way of telling a story. It's kind of like the way he performs. When he plays, his eyes tend close, his head drifts from side to side sending his long mane of curly, graying hair into motion. The music seems to drift through him, past his fingers, onto his Stick and out into the world. Bob tells a story the same way. He brings you in, making you feel like you were there with him in San Jose leading the Great Stick Orchestra or in a music store hearing this guy named Emmett Chapman play his newly discovered instrument. You can hear the tone of his latest baby, the Acoustic Stick, as he talks about it.

A little over a half hour later, totally oblivious to the gallon of sweat that I had lost, we went back inside. Sounds of Stick from 1976, Bob's tackling the classic music repertoire on Stick, new sounds from the Acoustic Stick and visions of 50 year-old housewives grooving to Bob's music fought for space in my head as we opened the door and felt the refreshing blast of cold air.
Jim Reilly: Let's start at the beginning. Tell me your story about seeing Emmett play in a music store in San Jose.

Bob Culbertson: I was teaching guitar at Guitar Showcase. Me and a bunch of friends walked into the store on a Saturday and we heard this noise coming from upstairs, like a rumble. The guys in the store said, "You've got to go upstairs and check out the clinic."

I was on my way to the beach and I said, "No, I really want to go to the beach." A couple of people said, "No you've really got to see this. It's kind of like a guitar, but it's cool." I thought it was a synthesizer and I wasn't much into that, so I said, "No, I'll check it out later."

Then a buddy of mine who I played in a band with said, "No. Just go up there and look for a minute then you guys can go and do whatever you need to do."

So I went up and I saw Emmett play, he had just started his clinic. I didn't leave. I told someone to go and get my friends to come up, fortunately they were into it. So we just sat and watched the whole thing. As soon as it was over I new I wanted to buy one.

At the time I was experimenting a bit with playing piano. And there was a guy out at the flea market in San Jose who played two guitars, but it was a very limited method that he did. I was experimenting a little bit but nowhere near the concept of what Emmett was doing.

JR: There's a picture on your Website from 1967 of you tapping on a classical guitar but using the old Jimmie Webster style holding your guitar in its traditional position.

BC: Yea, but as soon as I saw Emmett, the whole thing came together.

JR: How old were you then?

BC: Twenty or twenty-one. It took me about five months to get the money up to get a Stick. The guy who played in my band, Jim Bruno, bought one right away. He let me practice on it from time to time. One time he let me take it home for a weekend. I was all excited, I took it home and I got a 102 degree fever. But I was playing anyway!

That's how I found out about it and I just thought it was the greatest thing.

JR: What kind of music were you playing back then?

BC: A lot of bluegrass, some progressive rock and rock

JR: And you brought The Stick right into a band situation?

BC: As soon as I got The Stick, in 1976, we formed a band called 'Stick Band' with two Stick players (Bob and Jim Bruno). It was the two of us and a drummer. We wrote our own music: progressive rock, jazz fusion.

JR: Were you doing solo stuff with The Stick as well right from the start?

BC: Not solo gigs but on my own I was having a lot of fun. Where the solo stuff would come in was while I was figuring stuff out. I was probably playing between eight and ten hours a day on this thing. I was out of college and I had the time and teaching didn't take up too much time. So I was fortunate enough to have the time to work on it. The solo stuff would work itself into the band thing when I had a little more of a lead part.

JR: San Jose seems like an early hotbed for The Stick.

BC: Yea, then we started teaching Stick. We actually did a Stick seminar down there. Everybody asks, "What's the most?" And I'll just say for the record that I believe it was 30 people. I believe. I have a picture and I'll check. Some people just heard about it and got a Stick so they could take part in the seminar so they weren't actual Stick players yet but there were 30 people learning.

After that it diminished a little. That was like the big excitement at first, then it diminished a little. But I had about seven regular Stick students off and on for a good eighteen, nineteen years.

JR: How long have you been a 'Professional Stick Player?'

BC: I've been playing the instrument for 25 years. Depending on how you define 'professional,' I started playing in the band about four months after I got the instrument. I played guitar so it was half guitar, half Stick. I played half guitar half Stick for many years but I played gigs and got paid. Most of my income came from teaching but aren't we all teaching or doing a side job?

So, almost the whole time.

JR: Let's talk about the 'Romantica' albums. What prompted you to approach the Classical repertoire on Stick?

BC: I've always really liked Classical. I've always listened to it but never really got into it. Some of the songs I wrote before had 'Classical' sounding stuff. So people would ask if I played Classical and I'd play this thing that was sort of Classical-esque.

Then finally, one day I thought, "I really need to learn how to play Classical." I mean really Classical, not 'Classical sort-of.'

So I started to put together a Classical album. I learned a couple of pieces and had about half of the CD done, then I did a gig in Mocanaqua, Pennsylvania. A guy walked up and watched me play for about twenty minutes, left, and never talked to me. I never even knew he was there. But he took notes.

I got a phone call 2-3 months later, not the next day, 2-3 months later and he was from QVC, which is the home shopping channel (Quality, Value, Convenience). So he calls me up and says, "I want to get you on QVC." And I thought that would be a great opportunity to sell CDs. He said, "Do you do any Classical?" I wasn't doing much of it at the gigs, but I said, "Yea, I'm actually finishing a Classical album, let's do it." And he said, "Well you have to have two albums." So I said, "O.k., I'll do two albums." That's why there's a 'Romantica 1 and 2.'

Then I decided to make it a little more interesting, I'd split it into genres where with 1, I'll really try to stick with true Classical and try and make the transcriptions as close as I could or wanted to. There're a couple of songs, like on the Minuet, where I changed all the notes to a minor key.

JR: How difficult was it to transfer the Classical repertoire to The Stick?

BC: The difficulty was in just physically learning it. I would take piano music and just figure out where the notes go. I would say about 90% of the notes just fell pretty much where they were supposed to go.

You know, Classical guitar players really have to move those notes around a lot. I was fortunate enough with The Stick to get a little closer. There might be a thing here and there that I left out and there might be a thing that I added, like in Ave Maria where I added some low notes to fatten it up a little.

On the Spanish album ('Romantica Vol. 2'), I took more liberties to improvise. So the Classical-don't improvise, on the Spanish one-jam, play flamenco stuff, learn the heads and chord changes and then be a little more free with it. That was a lot easier because I come from that background.

JR: And each of the albums have two of your own tunes on it which fit into those genres and round things out very nicely.

BC: Yea, thanks. I will say one thing for the record. The stuff, when I recorded it was difficult. I had to practice just 16 measures and get it down then record it and practice the next part. So what ended up happening was that by the time I got the project done I went out to play live and people would go, "Play this song, play that song." That's when I was really starting to know them and play them.

Now I'm coming out with a DVD where I'm playing some of the classical stuff live. Now I think I can really play them. It's hard to put in feeling when you've only played a song so much. I put in as much as I could but now I feel like I'm able to make the song waver more, and loud, quiet, play it, know it. The irony is that album comes first, then learn the songs. But it kind of had to follow that pattern.

And it was a lot of work. It took me a little over a year, and then I did the QVC thing.

JR: And now you make your living from playing and selling CDs. Tell me how you make a living playing The Stick.

BC: Basically it's CD sales. That's it. I'll play a show at a street fair, my agent tries to find a major street fair where they'll bring 100,000 people or whatever they bring. They'll find a corner, I'll set up a little stage area like a Peruvian group, that everybody has seen, might do. Then there's somebody out there selling the CDs and I'm out there just playing all day long. My gig will go eight to ten hours a day.

JR: And you sold over 80,000 CDs?

BC: I've gone over 100,000.

JR: Wow. Do you know if that's the highest selling Stick player CD without counting Tony Levin's stuff with some of his big name projects?

BC: I don't know. I would venture to guess. The other who has sold a lot that I know is Daniel Kane. He's doing the same sort of thing.

JR: Right, 'On the Street Where You Live.'

BC: Yea right. I haven't heard from him in years but people use to walk up to me and go, "Hey, I saw this guy on the wharf (in San Francisco) and he's playing the same thing you're playing."

JR: Me too. Up in Canada I've had people come up to me after I play and say the same thing!

BC: Right, so I bet he's sold a chunk. I'm sure he's up above 30 or 40.

I'm sure Greg's sold a lot. But doing it the way he's doing it, through concerts, you're not going to sell as many CDs because you're in an enclosed environment. Even if they really like it you're lucky if a third of the people buy them. It's weird. But, that said, with the type of gigs I do a lot of times I really want to do more of a concert thing.

One thing I will say, is that if people see me play and they're interested or they're a Stick player. Come up and say 'Hi' and introduce yourself because then I can take the time to shift gears a little. When you play for eight to ten hours in a row, I'm pretty mellow most of the time. Then I get to experiment a little.

JR: One thing I really like about your playing is that it's so musical, you almost forget that it's being played on The Stick. I know that's a conscience decision on your part but is it to the point yet where people aren't noticing the instrument so much and focusing on the music?

BC: That's a great question. To me, the best compliment anybody could say is just to go, "You know that's really pretty music, I'd like the CD." Then the person next to them will go, "Yea but check out that thing he's playing." And they'll go, "What, the guitar?" And then they'll say, "No it's different, check out what he's doing, the technique." And they won't connect to the technique.

And then it's cool. The Stick and the sound of The Stick and of course the playing are selling the music and people are into just buying the music. People say they want it to relax with or this with it or that. 'The Touch' was written to just drive around country roads. I tried to paint feelings and such with it.

If people do catch on, to me, that's the best. It makes me feel so good to hear that they just like the music. And The Stick, as we all know accommodates it. A lot of it happens because of The Stick.

JR: Have you always sat down when you played? (Check out the photos, Bob has modified his Stick so that a wooden bar, the Stick-stick, replaces the belt hook and sits across his lap, hold The Stick in the proper playing position while sitting.)

BC: No, I've been doing that for the last six years.

JR: What prompted that?

BC: At home, when I practiced I sat down a lot and I didn't feel comfortable with the belt hook pushed against me. So then I just started setting it down on things, trying different things, then I put the bar on there, the Stick-stick. Then I started practicing that way.

I was playing a little guitar at the time but Stick gradually took more and more of my time. One reason I played a little guitar was that I'd walk in the door, I'd sit on the couch, my Stick would be against the wall, my acoustic would be against the wall, The Stick would have it's belt hook, my amp would be in the corner somewhere, I'd have to put the strap on , get the belt hook, plug in the amplifier… And my acoustic I'd just have to lean over, pick up and just relax.

Sometimes I'd plan to play it for five minutes and it would end up being an hour and I'd go, "I just played an hour of guitar, wait a minute here!?!"

So I added the bar and now I can just grab The Stick and play it. Then it became more practical because of gigs. Sitting for eight or nine hours is easier than standing.

JR: So you've got your Stick set up now so you really can't stand. You've taken the belt hook right off and attached that 'Stick-stick.'

BC: Right. I put it on a stand for a while and was doing a little bit where I would play that Stick then put it down, stand up and play another Stick. I'm going to get another Stick and have one for standing up, I'm going to go back to that a little bit just to break it up.

There's certain things when you're standing that you can't do when you're sitting. You can just get up and move around. So I'll add that in.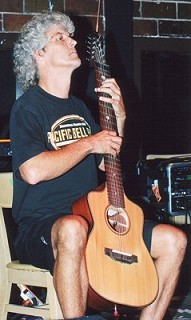 Bob with the Acoustic Stick
JR: Let's talk about the Acoustic Stick. What prompted that?

BC: I've always liked acoustic music. One of my favorite musicians was Michael Hedges. I want that sound. I tried to get it on 'The Touch' and I thought I came a little bit close but at the same time I thought that I really wanted acoustic. And I thought again that it would be neat to have something to practice that you don't have to plug in.

I called up Emmett and talked to him, we discussed it. I was very happy that he seemed to be for it. He said, "O.k. let's try it." I said I'd take all the responsibilities financially and all that, and let's give it a go. Emmett had some ideas. Everybody had some ideas. It was really and truly a collaborative thing.

JR: Who did the luthiering?

BC: Craig Anderson, up in Vermont. He was introduced to me by a friend of mine. He was small enough and high enough quality. He did really good work, he's building another one and we'll just go from there.

JR: From an acoustic standpoint, I'm thinking the top would have to be a little more flexible than an acoustic guitar to transfer the energy from the tapping.

BC: We thought that and he put light bracing in it that's why I've been having problems. Not sound problems but the fragility. He's now building another one with heavier bracing.

You know, that's the same theory we all had. Emmett thought it almost had to be like a banjo membrane or something. But I didn't want that tone. I wanted to go into the Hedges camp. I can take an acoustic guitar and really whack on it and it sounds fine.

JR: So are we going to see more Acoustic Sticks?

BC: Well he's making one more. If a few people want it and request it I don't see why we couldn't make more, there's no reason why not. They're probably not going to be cheap. I don't know how to get the price down. It's tough. Craig has a certain fee he needs and then Emmett for the Stick parts. But if people really want it are willing to pay for it I don't see why it won't happen. I'd like to see more made.

JR: So what's going on these days? What's upcoming?

BC: The new project which I've been working on is the DVD. It's almost done. It still may take a couple of months but I've already announced it on my Website.

The DVD is pretty much taking some of those classical songs and playing them in front of a camera, live. A few originals, Funeral for a Friend is on there, a couple of things like that.

I did all the performances in front of a green screen. Then I took a computer program and rendered all these different worlds that I'm playing in. Then I animated it. The performance is all live, everything is right there but then all the backgrounds are added. The focus is truly on The Stick but I just added a little twist and some originality and something I was into. It adds a fun element. If you're just looking for The Stick only, great because it's all there.

JR: Any plans to tackle more of the classical repertoire?

BC: Yea, I'll do a little more of that. I'm really debating what to do. I want to do an all Acoustic Stick CD. I think I'll add some musicians, I've talked to some people about that.

JR: And teach at some more seminars?

BC: Yea, this seminar has been a lot of fun and I've enjoyed it. For me it's a scheduling issue and how do I figure out how to make it all fit.

As far as my future plans, I've got about four CDs that I want to do.

Part of my goal and what I like to do is just bring The Stick out to the common non-Stick people. I love that. I love that I've got 50 year-old housewives sitting there playing Stick music in their kitchen. That is something really feel good about. It's nice to get The Stick into the public in a way that it's just another instrument. It's not strange, it's just different. Is it better than guitar? No. Is it different? Yea. Is it this or that? It's better in some ways. It's better to us! We like what The Stick does. It depends on what you're trying to do.

That is something that I'm proud of, that I'm able to play the instrument in a fashion that the common folk like and then still be able to do this other stuff. Playing for you guys though is the most fun. I get to open it up a little.

Update:
Just a few hours after the interview, Bob was part of what may go down as the greatest Stick performance of all time. Check out Glenn Poorman's full account of the 2002 Mid-West Seminar for the full story.
---
The Stick
"What is it?"
The Stick, invented by Emmett Chapman in 1974 is a 10 or 12 string touchboard. The instrument is built around the idea of tapping with the fingertips of both hands, parallel to the strings, to produce a full range of sounds. The construction, from the strings & pickup to the vertical playing position are centered around this innovative style of playing.
The three main components are the strings, frets, and the pickup. The sound is created by the pickup "hearing" the vibration of the strings and sending the sound to an amplifier, very much how a microphone does a persons voice. The instrument is similar to an electric guitar in its physical construction.
How do the strings vibrate?
The strings are hammered with the players fingertips between the frets. When the string hits the fret the momentum of the string causes it to vibrate. Another way to look at it is, if I were to pick the string, I would pull it to the side and release it, causing it to vibrate back & forth. When I hammer down onto the string it vibrates up & down instead of side to side. This is why the sound is similar to a guitar or harp. You are hearing string vibrations. However, the sound is somewhat unique because of the way the strings are sounded and the layout of the tuning.
How is it tuned?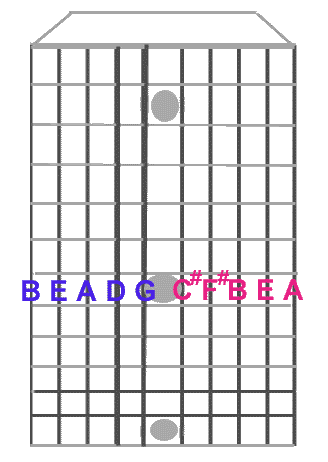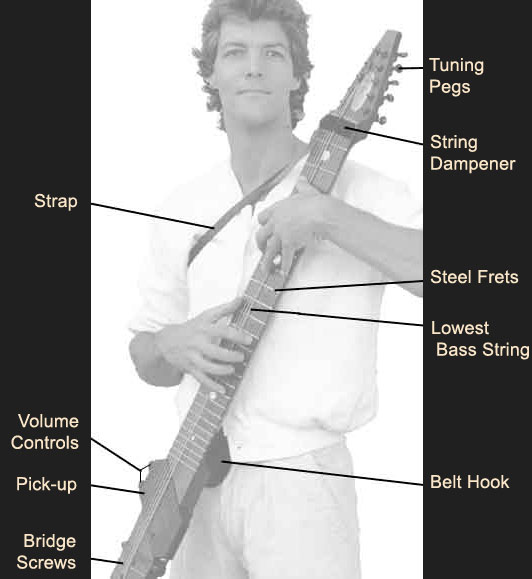 ---
12-String Classic
(6 melody and 6 bass strings)
This tuning combines the 10-String Classic™ and Baritone Melody tunings for a wide melody range on six strings, with an additional high 5th added on to the standard bass tuning.

Melody

D
A down a 4th
E down a 4th
B down a 4th
F# down a 4th
C# down a 4th

Bass

C
G up a 5th
D up a 5th
A up a 5th
E up a 5th (unison with 3rd string)
B up a 5th




Other 12-string Tunings



---
10-String Classic
(2 melody and 5 bass strings)
The original and still popular Stick tuning.

Melody

D
A down a 4th
E down a 4th
B down a 4th
F# down a 4th

Bass

C
G up a 5th
D up a 5th
A up a 5th
E up a 5th (unison with 3rd string)




Other 10-string Tunings
---
All contents of this website are protected by US and international copyright laws
©2011 Stick Enterprises, Inc.

The standard tuning for the Stick is in two parts. On the right half the range is that of a guitar. On the left side you have the bass and middle tones covered. Click here to see the notes of the various tunings.
What is the actual construction of the Stick?
The body is made of various types of hardwood. The pickup is stereo, one side for the guitar range and the other pickup is for the strings on the left side. Click here to see a diagram of the instrument.
Is there an acoustic version of the Stick?
In 2002 the first acoustic Stick was created, properly named the Acoustic. My CD, AcouStick Dawn was the the first recording of such instrument.
---
Emmett Explains the Origin of the 10-String Classic™ Stick Tuning
Interview by Greg Howard, May 2006
Even though Emmett and I have spent what might be considered a ridiculous amount of time discussing tunings, there's one question I always manage to forget to ask. How did he come up with his original patented Stick tuning? I have never seen an account of how he actually came up with what was called the standard tuning, and is now known as the 10-string Classic tuning.

I understood the logic of the 4ths and inverted 5ths, with their parallel geometric relationships and expanded left-hand chord possibilities, but I never know why he chose those particular notes. I always thought that the melody strings were simply tuned as high as they could reasonably go given the scale length, and the the bass was as low as it could go, to give the maximum overall range to the instrument. In a sense, the answers I got weren't far from my original assumptions, but I had no idea of the process that led to what is on its face a rather unusual way to tune a stringed instrument. Fortunately it's also a way that makes perfect sense considering the playing method.

Emmett with the first Stick prototype, 1970,
modified from his homemade 9-string 34"-scale guitar


Greg: How were your early guitars tuned compared to standard guitar tuning?

Emmett: From '61 to '63 I kept extending the guitar scale length and experimented with 7 strings. Up until '65 I kept adding high 4ths at the first string position to extend my chords in what I thought was modern harmony.

In the process, I had to drop the aggregate tuning each time so as not to snap the newly acquired high 4th. I was always interested in the intervallic relationships rather than the lettered tuning or actual key of my song arrangements.

By '65 I had "conceptually" added three 4th intervals at the high end of my home built 8-string guitar tuning, and each time the guitar major 3rd would shuffle down lower in the sequence, that is, from strings 2 and 3 finally to strings 5 and 6.

Greg: When did you finally settle on the scale length?

Emmett: In '64 I built my first 34" long scale 8-string guitar in the Air Force wood shop at SAC HQ in Omaha and its tuning was: 1-high D, 2-A, 3-E, 4-B, 5-F#, 6-D, 7-A and 8-low E.

Thus I retained the guitar's double octave between 1st and 6th strings, with the high D tensioned quite a bit higher than high E on the guitar's 25" scale length, and with a low E at the very low end as on the customary 4-string bass guitar. The guitar's major 3rd was now relegated to a lower register between 5th and 6th strings. Viola! "modern" chordal extensions in 4ths simply by adding a barre at the high end of a chord.

Greg: So were you looking for new ways to harmonize chords or to pick bass lines? What led you to invert strings 6-8?

Emmett: I wanted to make chordal accompanyment as easy as possible, given the complex jazz progressions I was playing together with jazz melody lines, and with so many strings on my guitar, I found the bass element easier to negotiate if those strings were somewhere in the middle of the sequence. It also opened up two sets of chordal strings, one in 4ths and one in 5ths. Around '67 I created the bass 5ths tuning on that Air Force guitar simply by dropping the D at the 6th position down an octave, extending my overall range by a whole step, and raising the E at the 8th position up an octave. The A was left as is, thus all lettered notes remained the same. Soon after, I added a 9th string (B, a 5th above the 8th E).

Greg: So the inverted 5ths were already there whan you made your tapping discoveries...

Emmett: Yes, I discovered two-handed tapping on nine strings on the evening of August 26th, 1969, although there were actually 10 strings on my long scale, spoon bodied guitar, the 10th being the "wild string" (you make my heart sing), a lever operated companion to the highest 1st string.

After this sudden and complete transition to tapping, I dropped all gadgets, including the "wild string", and soon added a 5th lower G at the 7th position and another 5th lower C at the 6th position, raising the remaining D, A and E strings up one octave. (I know, it's complicated.) This gave the following tuning sequence:

Melody 4ths: 1-high D, 2-A, 3-E, 4-B and 5-F#.
Bass 5ths: 6-low C, 7-G, 8-D, 9-A and 10-E.

Greg: So was the tuning in any way influential in the method discovery? Or is it just a happy accident that this expanded harmonic capability for the left hand arose? Were you dividing the instrument into 5ths for the left and 4ths for the right at the moment of discovery?

Emmett: I feel there was some relationship between my 4ths/reversed 5ths tuning and the tapping discovery. I had been picking chords on both the 4th and 5ths with a bass element on the 5ths, plus picking as free a melody line as I could on the 4ths (given the amount of fingers left over on my one fingering hand). Chords were voiced on whatever strings were available, often on both sides at once, 4ths with 5ths. When I started tapping independently with both hands, I initially kept the same approach - LH bass on the 5ths, LH chords on both 4ths and 5ths, and RH melody (and more chords) on the 4ths at higher frets.

Greg: So you had your tuning, but early on in production you made lowered tuning for some of the earlier models, didn't you? What made you shift it around?

Emmett: I lowered all ten strings by a whole step around the time I started Stick production in '74. It was a ruthless attempt to:

Have slinkier strings for pitch bending like Hendrix and Shankar, but not lose more volume with yet thinner, "roll your own" melody strings.


Bring the bass down to very low Bb. I was ambitious about extending my range, but I thought the instrument sounded better at my original 10-string tuning, so I raised them back up a whole step in '76

That's my story and I'm stickin' to it.

Greg: Thanks for telling us about it. Though I'll miss the mystery, I'm happy to have the answer.